Have you heard the good news? Today is a great time to buy in SoCal! So says the multiple flyers, e-mails, and recent phone messages I have been receiving from local real estate workers. What I find interesting is that in 2013, many were too busy to even pick up their phone let alone put out flyers as if they were searching for a lost and lonely pug. The market is slowing down dramatically because investors are pulling back. Real estate markets turn at a viciously slow pace for our instant gratification society that is hooked on news-o-tainment with multiple tickers and more split screens than NFL Sunday. It is all about entertainment and ironically this showboating has permeated into "staging" homes and putting lipstick on pigs to get house horny folks to commit to massive amounts of debt slavery. Yet budgets are being smashed as reality is now setting in and people are slowly gaining their sanity. You mean that piece of crap is $600,000? Indeed! And in some hot markets you get a juicy middle finger when it comes to upgrades and you will get a nice plate of deferred maintenance with your locked in bid. While the mania slows down, you now hear about steps to lower credit standards and going "non-prime" to goose the market again. Of course this is a great tell on an inflection point. In the mean time we are seeing inventory creeping back up and sales declining.
Inventory and sales make their way back into the SoCal market
The market has dramatically slowed from 2013. While anecdotal, the volume of e-mails and flyers touting "now is the time to buy!" has shot up to a level last seen when sales previously cratered. This says a lot given we now have tens of thousands fewer real estate agents. What isn't anecdotal is the drop in sales and increase in inventory. Many sellers have bought into the hype that their home is truly worth current prices even though structurally, it is a piece of crap. Sure, you are paying for land but you have to build something on it. Beyond the upper-crust of society, most require sizable levels of debt merely to buy. Of course house horny buyers are unable to control their urges when neighbors jump on the real estate band wagon. After all, you need to spend $600,000 to paint the walls.
So let us take a quick look as to why the market suddenly seems to be so different: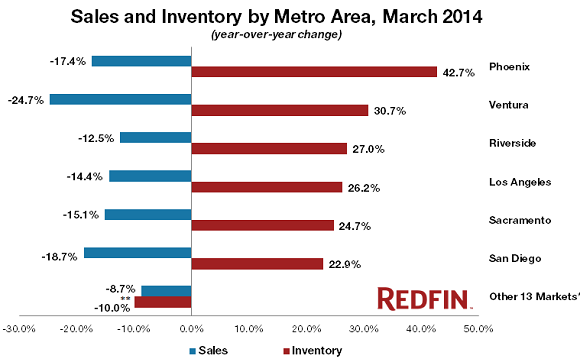 So much for the notion that the market is blistering hot. What you have is a heavily manipulated market where inventory was leaked out, large investors dominated buying, and fringe buyers were convinced that high prices are merely a new paradigm. If everyone that bought a home was a genius we wouldn't have a graveyard of more than 7,000,000+ foreclosures. Take a look at the growth in inventory:
-Los Angeles (up 27 percent)
-Riverside (up 26 percent)
-Ventura (up 30 percent)
-San Diego (up 22 percent)
Take a look at investor central Phoenix with a whopping 42 percent jump in inventory on a year-over-year basis. If you want to get an idea of a market with a glut of rentals take a look at Arizona. Then again, these investors were planning their exit route via selling to one another similar to a game of musical chairs. Wiser investors are already placing their bets on the other side of the housing trade.
Inventory is picking up because regular households are massively priced out! This is why we are hearing nonsense talk about weakening lending standards and edging back into non-prime goodness. It is worth taking another look at the craziness of SoCal real estate since 2000: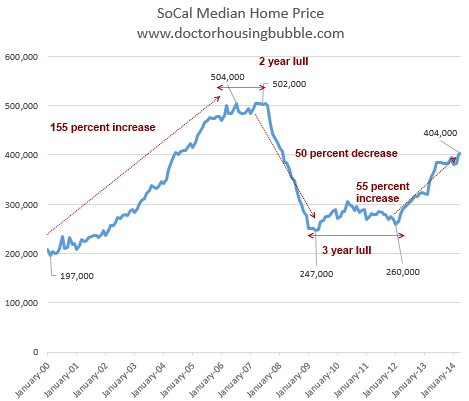 To think we will suddenly have an easy leveling off process is inconsistent with the manic nature of this market. People are psychologically bent on believing real estate appreciation will be built in at very high levels. The median SoCal home went up nearly $100,000 in one year while the typical SoCal family makes around $60,000. So basically, with no additional upgrades or special magic forces, a sitting piece of crap shack went up in one 12 month period by what a regular working family will make in two years (keep in mind net take home pay is much lower than gross). Of course those in the Kool-Aid drinking industry will try to convince you that this is normal but in fact, it is merely a bigger reflection of our rent seeking society. SoCal is the ultimate get something for nothing destination. We are the land where many make millions to pretend that they are something they are not! You have smug people thinking they have the intellect of a say a physicists merely because they were lucky on timing. Many a foreign despot is worth billions but to say they are the brightest among us is missing the bigger picture. To the contrary, the fact that those with such a narrow scope of knowledge can become wealthy is a symptom of our value system. We are a house horny nation. We have mathematicians from M.I.T. opting to go to Wall Street to trade derivates on housing instead of figuring out larger questions on how to make our society better. Selling poorly built crap homes with maximum leverage to sucker buyers is not exactly an added value endeavor for society. We have bigger question to answer in our universe instead of what stainless steel appliance is going to add $15,000 to your flip. Then again, don't tell that to our local real estate guru since the last flyer said prices are "out of this world!"

Did You Enjoy The Post? Subscribe to Dr. Housing Bubble's Blog to get updated housing commentary, analysis, and information.