Last month only 7 percent of homes sold in SoCal fell in the foreclosure resale category, a 7 year low.  This is a big trend change in the market as investors continue to be a big player in the real estate market while distress sales drop dramatically.  What is interesting from the data is that the typical mortgage payment for those buying with a mortgage is still very low signifying income pressures.  There is little doubt that SoCal is in a real estate fever.  That fever may be drawing back a bit with inventory rising and prices getting out of reach for many but the investor play is still sucking up a lot of new inventory that hits the market.  It might be useful to compare current housing data to figures reached during the peak of the market.  How far have we come and where do we go from here?
The current state of SoCal housing
The amount of foreclosures on the market is no longer a pressing issue.  Los Angeles County has about 13,000 active foreclosures while the market has 18,697 properties for sale.  Remember that there were times when the ratio was higher than 1:1 on the negative side so this has definitely dropped.  So it is no surprise that last month, foreclosure resales made up 7 percent of all sales (down from the peak of 58 percent).  Let us take a look at current price changes:

While prices are up dramatically, the Inland Empire is a long way from reaching their previous peaks.  Orange County is only 13 percent from reaching its previous peak.  A couple of reasons for these differences.  First, big money is targeting sought after areas in L.A. and Orange County.  All cash buyers for example from China may choose to put money into Irvine or San Marino but not so much into Riverside.  Flippers seem to be attracted to county location (older homes or outdated homes provide more upside potential).  Those buying in the Inland Empire as investors may be looking for cash flow properties and may be more sensitive to price.
This is why prices in Riverside and San Bernardino although up, are nowhere close near their peaks while L.A. and OC inch closer to their previous highs.  We can see that many households that buy with a mortgage are still unable to afford a large jump in home prices: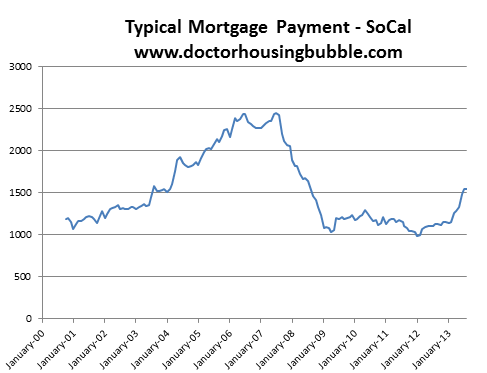 Those buying with a mortgage committed to a typical mortgage payment of $1,545.  I know many that read this blog are interested in prime areas and would do an end-zone dance if they ever got a mortgage at this payment level.  However, this is for the entire SoCal market.  It would be interesting if we had investor data for each respective county (and city) but that data is hard to come by.  What we do know is that 26.3 percent of all sales last month in SoCal went to investors (down from 31 percent at the peak).  This aligns with the trend for the state overall: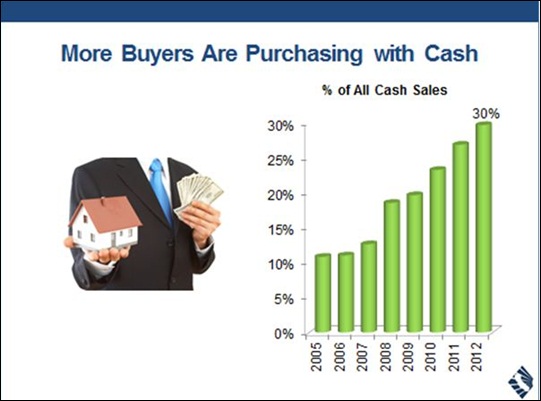 Source:  CAR
Even in the hot days of 2005, cash buying was closer to 10 percent.  Today it is at 30 percent for the state.  With inventory being so low, this is a big factor in the current rise of real estate prices.  As the market has heated up, flipping has increased once again in California.
Pushing out the marginal buyer
The marginal buyer is going to have a tough time in this market.  That is why the renting option has ballooned since the housing market first crashed.  Take a look at FHA loans as a percent of all sales:
SoCal FHA loans
Peak:                     40% of all sales
Today:                  19% of all sales
The big gap has been filled by cash investors.  Prices are going up at the rate they did during the last bubble but sales volumes are nowhere close to what they were in the peak because simply put, volume and inventory is still low:
SoCal Monthly Sales
Peak:                     35,522
Today:                  23,057
Even with the incredibly hot market of today, monthly home sales are still down 35 percent from the hot days of the last run.  This is definitely not a case of people holding back.  If the inventory was out there, people would be diving in because the mania is in full swing.  Investors especially with rentals are overplaying what they think they can yield.  This has become extremely apparent in 2013.  This is a large reason why we are seeing inventory increase even in more select markets: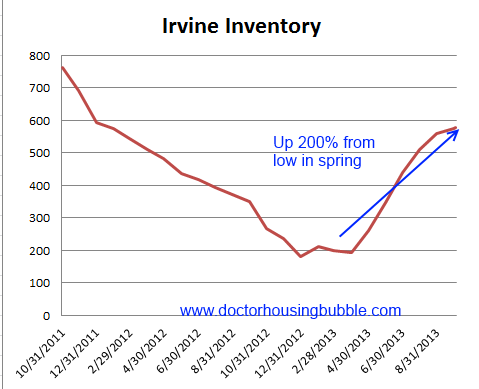 It is useful to track prime areas because we are now seeing homes having price reductions where a year ago, this was not the case.  This isn't limited to a smaller niche area.  Look at the city of Los Angeles: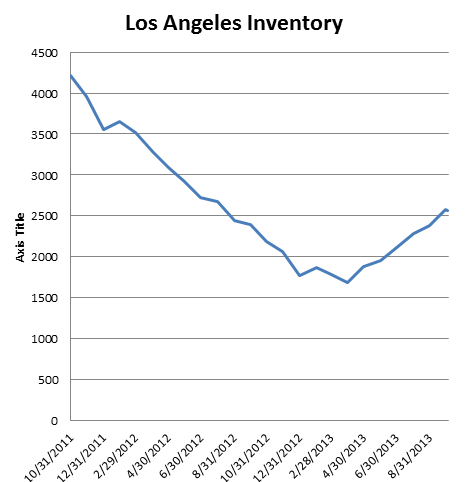 Inventory is definitely increasing.  Also, the government shutdown will have some impact on the market (depends on how long it goes).  Take a look at this perspective from someone in the industry:
"(Calculated Risk) We are still taking applications, locking rates, processing our little hearts out, and closing. Our principal problem: in the post-Bubble spasm authorities decided that ALL borrowers should produce two years' tax returns (not just the few self-employed, or owners of rental property, or those needing investment income to qualify). And authorities decided that neither the borrowers nor their CPAs could be trusted to give us true copies, so we must pull transcripts from the IRS (the dreaded 4506T).

The IRS is shut. When it re-opens it will have to process a backlog growing by the hour. Are the authorities helping by waiving the transcript, or granting good faith safe harbor? NooOOOooo. Many lenders — to their great credit — seem willing to defer the risk to post-closing. However, home sales and closings will suffer soon, if only by expired rate locks."
You can already see the seeds of making lending easier once again.  Why get two years of tax returns?  How about we just go stated income again because we can't wait a couple of days.  That turned out well last time right?  Of course those with access to alternative financing (i.e., cash, etc) are having no trouble buying.
Where do we go from here?  It looks like the market is frothy but if lending goes back to what it was in the last cycle, and we are already seeing more interest only loans, then the current run still has more gas.  However, if investors start seeing marginal or negative returns and flips start losing money, then you might see a big part of the market slowly exit the game and this corner of the market has been the foundation of the run for the last couple of years.  Although inventory is up from the lows in the spring, it is still only having a marginal impact on investor buying (with little help for average Joe and Jane buyers).
What is your prediction for SoCal housing as we enter the fall and winter seasons?

Did You Enjoy The Post? Subscribe to Dr. Housing Bubble's Blog to get updated housing commentary, analysis, and information.