Leave it to the Bay Area and Silicon Valley to outshine us in Southern California when it comes to commutes.  San Francisco has already shown us how certifiably insane real estate prices can go.  Now we find out that Silicon Valley and the Bay Area have a higher percentage of commuters stuck in what we call mega commutes compared to the Satan inspired roadways of SoCal.  A mega commute is cutely described as one that takes you 90 minutes or more each way to complete.  First of all, we already have an army of people that take mega commutes from the Inland Empire into LA and OC all for the sake of owning a piece of real estate in what essentially is a hot desert.  Even if this means sitting for unhealthy lengths of time clutching a steering wheel or starring at the tail pipe of cars for hours on end.  Humans are not meant for this.  We didn't evolve to sit in nice leather seats in a BMW moving along at an average rate of 5 MPH.  Hence the number of road rage incidents are now up along with YouTube views.  Frankly, driving up in the Bay Area and Silicon Valley I see little difference in traffic congestion.  This is one award that you probably don't aspire to have.
Silicon Valley and mind numbing commutes
While the report is largely looking at commuting times it is hard to disconnect the underlying cause of all of this.  Ridiculously overpriced real estate and hardcore NIMBYism.  Now I know there are many gut busting Taco Tuesday fans of mega commutes since they enjoy being stuck in traffic just so they can say they own a home.  Who cares about the long-term impacts of sitting in a box for hours, just to go to work in a box, to type away on a box, and finally to get back into the box to go to your box (aka crap shack).
If you look at the rise in these mega commutes in the Bay Area and Silicon Valley it shot up in 2010: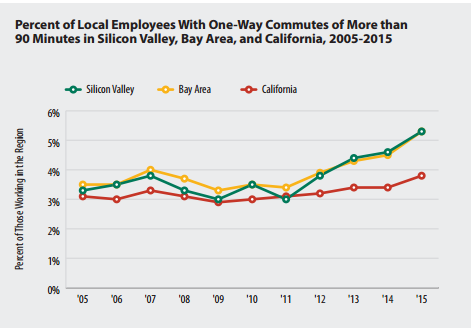 Something fundamentally shifted here.  Of course you have your house humpers saying that this is great and somehow reflects a healthy market but in reality, it simply shows a hyper manic market of people desperate to claw into a crap shack.  And many are now having to endure Clockwork Orange like torture in traffic.  Many Millennials are simply saying no and are renting closer to work (or living at home with parents).
This is a big problem and many of you already know this.  It is amusing that some local cities in LA and OC have traffic as their central or one of their central campaign issues.  Given the rhetoric of this election you can see how ridiculous it must seem for some cities to be focused merely on traffic as their main subject.  But of course, many of these areas are completely oblivious to what is going on around the nation, let alone the world so it makes complete sense that residents are obsessed with the candidate that will shave off a minute or two on their local morning commute into their industrial cubicles.  The candidate that can get you to your Starbucks coffee quicker is the winner!
Here is the daily fun that many people endure: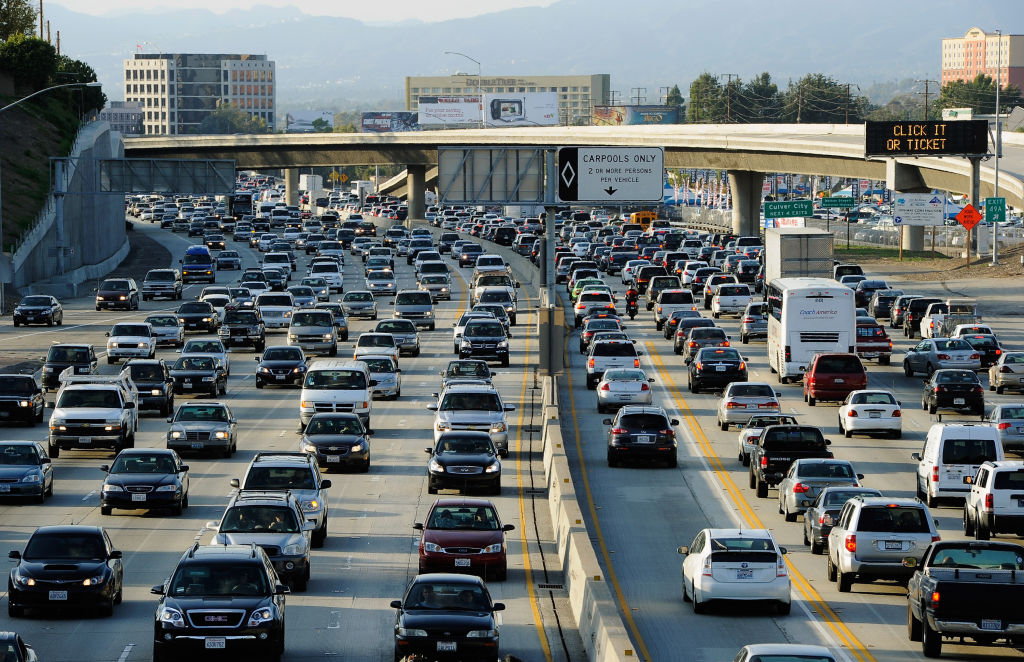 For those in LA you know how bad traffic can be.  Even driving within the city is nuts.  Just try taking main streets in Culver City, Pasadena, or Santa Monica and you'll see that people are already trying to find alternate routes beyond the freeways that run directly into residential neighborhoods.  And yes, it is bad for you beyond the psychological pain:
"(Science Daily) Pollution levels inside cars were found to be up to 40% higher while in traffic jams or at a red traffic light compared to free-flowing traffic conditions, new research indicates. The World Health Organization has placed outdoor air pollution among the top ten health risks faced by humans, linking with seven million premature deaths a year."
All for owning a crap shack or for living within the halo of this housing situation.  It is so interesting to once again see the "drive until you qualify" meme permeating the housing industry.  People seem to think this is now a new permanent plateau, a new normal, yet ignore the low home ownership rate and the reality that momentum is turning.  But of course many are not paying attention – they are stuck in traffic apparently.  Mega commutes, rental Armageddon, and insane prices for crap shacks are all part of the game today.

Did You Enjoy The Post? Subscribe to Dr. Housing Bubble's Blog to get updated housing commentary, analysis, and information.