We are in a process of financial de-evolution.  I'm not sure what Darwin would call this but each subsequent day without missing a beat produces another more progressively disastrous "idea" to save the market.  I am cautious about calling what we are seeing as ideas since it is better to define it as flushing money down the toilet which would be a better characterization of what the Fed and U.S. Treasury are doing to our country.
The genius crony capitalist now think it would be a magnificent idea to get mortgage rates to 4.5%.  Now why would the Treasury want to do this?  Well according to the Wall Street Journal:
"(WSJ)  Treasury views this plan as potentially halting the slide in home prices by enabling borrowers to afford bigger mortgages, thus increasing demand for homes and pushing up home values."
Bwahahahaha!  The solution to the problem according to these bandits is to go back to the genesis of what caused this housing bubble.  That is, people taking on bigger mortgages and home prices getting too high was the freaking problem!  These are the people running our country.  In fact, dropping home prices are proving in certain areas to actually increase sales.  I'm going to show you a chart for Southern California that may boggle your mind.  See, as prices dropped sales actually increased:

I know this is a shock to the MENSA members running our country into the ground but prices being too high is [was] the problem.  So why would you want to institute a policy that would artificially keep prices high?  And since these guys don't think two steps ahead, this problem is doomed to fail.  Why?  Well interest rates eventually will be set by market forces.  Mortgage rates are already at historical lows.  So let us take a look at a poor sap that buys a home with a 4.5% 30 year fixed rate.  In a few years when we have to face the repercussions of the squandering of our entire wealth in pathetic bailouts, rates will undoubtedly be higher since we are going to need to attract more capital to the U.S. since we are flat broke.  So in the future, let us say rates go back to 6.5% the price of the home will need to reflect that.  We are essentially screwing people once again and kicking the can down the road.  This is patently insane.  Let us examine a $300,000 home purchase at 4.5% with 20% down:
Down payment:                       $60,000
$240,000 mortgage at 4.5%:    PI  =  $1,216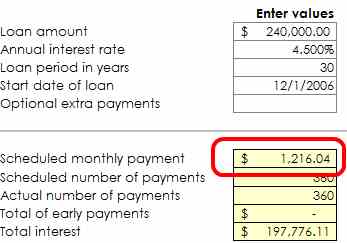 Not bad.  But what if rates go back to 6.5% in a few years when this person wants to sell the home?  How much would a person be able to afford if they want a similar monthly payment?
$193,000 mortgage at 6.5%:    PI  = $1,219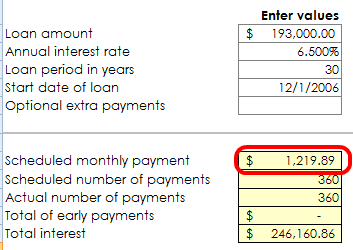 You have lost an extraordinary amount of purchasing power here.  The purchase price would now have to be around $241,000 if we are trying to maintain a similar monthly payment.  Remember the original purchase price is $300,000.  Do we really need to go through this exercise again when we just went through the pay Option ARM and subprime debacle that clearly screwed people over with a teaser rate?  Do we really think housing is going to appreciate that much in the next few years?  I doubt it.  Look at Japan and you'll get a glimpse into our future.  Trying to institute these low rates is simply unbelievable but like I said, the ideas get dumber as we go along so next year they may be giving free mortgages with your next GM car purchase.  Who really understands what the cronies are brewing in their ministry of bad ideas.
People are running to safety right now with 3 month treasuries coming in at 0.005%.  Bwahahaha!  We've become a big gigantic mattress for the world.  Banks are flat out sticking their money here and holding on to their pants for dear life.  Remember when the money was given to them for lending to the public?  Never happened.  Why don't we go back and yank that capital out of their corrupt hands and use that to fund infrastructure projects and everything else we'll be launching next year.  If they aren't going to lend it, might as well use it for something that will benefit the country.  I have always been adamant against any bailouts but allowing these banks to maintain this capital was a big freaking joke.  We've just been ripped off by Wall Street and the bankers.  How long are we going to allow this to go on?
In fact, I know the big spectacle today was with the big 3 automakers.  Regular readers know I have as much sympathy for them as I did for Paris Hilton spending a few days in county jail.  Yet I can't believe the rage some Americans have at auto workers when the true crime is being perpetrated by Wall Street banks and our own Fed and U.S. Treasury.  Think about the ridiculous $306 billion back stop that was given to Citigroup on a Sunday night only a few days ago.  Did we see the CEO being forced to ride in on a mule to explain to us how they would manage the money?  What about AIG and their extravagant parties?  How about all those capital injections from the TARP into the largest banks?  Last time I checked, I didn't see anywhere in the bill that stated, "money should be parked in short term notes while country implodes."  It is our money folks.  We have a right to have it back if we are not satisfied in how it is being managed.  Do you think any of these people are following the laws?  They are the people who write the law!  Thomas Jefferson is rolling over in his grave:
"If the American people ever allow private banks to control the issue of their currency, first by inflation then by deflation, the banks and the corporations will grow up around them, will deprive the people of all property until their children wake up homeless on the continent their fathers conquered. The issuing power should be taken from the banks and restored to the people, to whom it properly belongs."
If this foreclosure crisis doesn't make you feel like we are quickly losing our national home, I'm not sure what will wake you up.
Layoffs Get Worse    
The employment situation is getting worse.  We are finally starting to look at the employment side of the equation but I'm afraid it is too late.  Too much money has been squandered and unless we are going to go and retrieve it out of Wall Street's hands, we are going to be limited to the amount we will be able to spend since so much has been committed by the ministry of bad ideas.  Today, these were some of the announcements:
Du Pont:  Looking to dismiss 6,500 employees
AT&T:  Cutting their work force by 12,000 jobs
State Street Corporation:   Cutting 1,700 jobs
This doesn't even include the 50,000 jobs from Citigroup or the 19,000 from JP Morgan or even the job cuts that will come from the big 3 no matter what happens.  Bailout or bankruptcy a lot of jobs will be gone.  That is a certainty.
State budgets aren't exactly swimming in the green either.  Earlier this week I went into great detail regarding the dire situation in California and the group of incompetent boobs running the state.  Many states are in a similar situation with their own set of circus clowns.  The jobs report set to be released tomorrow will once again show much more damage.
Until people realize that this is about the lower and middle class of America getting fleeced over by Wall Street and puppet politicians, we are going to continue to see poorly planned bailouts that reflect the interests of a very small number of our population.  Do you realize that in our country, only 10% of all households make more than $118,200 a year?  In places like California and New York that doesn't go too far.  The most recent Census data tells us that there are about 110,000,000 households in the U.S.  So let us breakdown the raw numbers: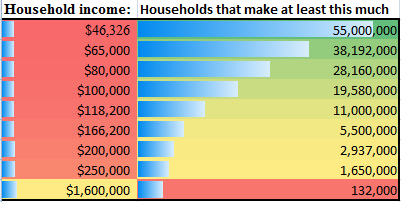 And this data is one or two years old from the Census Bureau so given the economic collapse, I would imagine that the numbers would still be accurate or even show lower numbers in many categories.  So when these banks talk about the people, they're probably talking about 100,000 households in a nation with 110,000,000 households.
Frugality Revisited
The unfortunate aftermath of decades of massive consumerism is that now many people conditioned on believing they are what they buy will have to come to terms with not buying as much.  This is going to be a shock for most.  We are so conditioned that things always get better as time goes on especially when it comes to finance that it is hard to believe that the current players have just set us back a decade or two.
The notion that today's car is better than one that came out last year because it has a $50 plastic iPod slot is absurd because it will cost you $5,000 more.  Doesn't make sense.  But if the core of a society is simply consuming blindly then anyone that doesn't consume is usually at the fringes.  Here in California, I know many of the readers from this state even though they had solid incomes and were prudent, probably felt like paupers in their groups because practically everyone around them were buying bigger homes and driving around in leased cars.  Yet it was never really wealth.  Yet the mind is hard to convince when you see everyone flocking together as a herd.
Frugality is coming whether we want it or not.  During the Great Depression, there were many people pining for the heyday of the Roaring 20s but it never came back.  It couldn't.  It was one gigantic bubble just like the one we've lived through.  All these bailouts and the gimmick of lowering rates to 4.5% keep on grasping at this notion that we somehow aren't a poorer nation.  We are.  We can try denying this but the sooner we come to terms the quicker we can get to being productive.  Yet so much of the money is being funneled into unproductive activities like propping up banks that should fail.  Fail as in right now.  Otherwise, we are going to have a lost decade like Japan where capital is diverted from productive activities to keeping pathetic banks on life support.
Think of wealth this way.  Why did gold cost $35 an ounce during the Great Depression and now is going for $765 an ounce?  Did it somehow become 21 times more valuable?  Well gold is actually tangible and has a fixed amount.  With a fiat currency our central bank can print as much as they like or create all these absurd facilities to channel the wealth to their own self serving interests.  Yet that is the problem.  Too much power is concentrated in a few hands.  This is the end effect.  There is nothing holding us back from printing or bailing out anything and everything.  Isn't it funny that we haven't heard someone say, "well you know what, we only have about $1 trillion more left for bailouts."  They'll never say that because theoretically they have nothing keeping them in check.  They can print but our U.S. Dollar is being under siege by the people who we put into power to protect it.  Don't listen to their words.  Every action they are taking is to lower the dollar value to hopefully help us with our enormous debt.  Debt that is going to their crony Wall Street and central bank friends.
Did You Enjoy The Post? Subscribe to Dr. Housing Bubble's Blog to get updated housing commentary, analysis, and information.