The banking industry has proven that you can legalize financial corruption with enough funding to lobbying groups.  The current banking industry keeps pointing to laws on the books, laws they paid lobbyist to write, so they would have a system that generously protects their interest.  The first attempt to do something about the corruption comes in the form of a banking tax and the banking industry is none too happy.  Ironically, it is the same taxpayer dollars that saved them from financially going into the history books.  Yet they are having none of the tax and plan to challenge this measure.  On the housing front stories are leaking out that banks are now colluding with crony insiders to create scams with short sales.  In brief, a short sale occurs when a home is sold for an amount less than the actual loan balance.  This needs to be approved by banks holding the notes.
The scam with short sales is merely one of the thousands of ways the financial industry is siphoning off money from productive sectors in the economy.  What is occurring is that in many cases, during the housing boom people took out two (even three or four) mortgages on their home.  Since second lien holders have possession of the property as well but in a junior position, they need to agree on the terms to make the short sale occur.  Yet in places like California where the housing market has imploded the second lien, (as we will show with an example in Orange County today) are largely just lost bets.  In other words the second lien holder will likely get zero but may hold up the sale of the property.  However, information is now coming out (surprise, surprise) that the same FIRE employees are working their same magic that led to the bubble:
"(CNBC) In order for a short sale with two loans to happen, the second lien holder has to drop the lien.
If they don't, and there's no short sale, the home goes to foreclosure and the first lien holder gets the house because second liens are subordinated debt to the primary loan.
In short, the second lien holder gets nothing. In order to get the second lien holder to drop the lien, the first lien holder generally negotiates some partial payment to the second lien holder. The second lien holder doesn't have to agree, but more and more are doing so.
That's all legal.
But here's what's not legal and what's apparently happening quite often recently. Since many second lien holders are getting very little, they are now allegedly requesting money on the side from either real estate agents or the buyers in the short sale. When I say "on the side," I mean in cash, off the HUD settlement statements, so the first lien holder doesn't see it."
Good times.  But of course some would argue that short sales are a tiny part of the market.  In a place like Orange County short sales are a big part of the market that the public can see: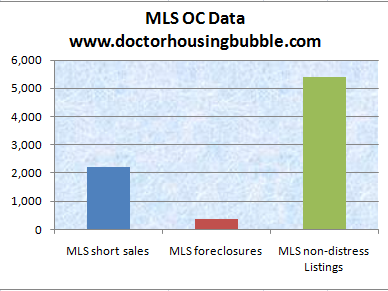 27 percent of all MLS listings in Orange County (of the roughly 8,000 viewable by the public) are made up of short sale listings.  Now knowing what is going on with the industry, you can understand why so many odd deals are happening.  I've gotten many e-mails of people putting in bids to homes that suddenly sell to someone else, even at lower prices.  Take a wild guess what is occurring.  That is why the entire financial industry needs to become like a utility.  That is it.  Break up the banks and bring back a new form of Glass-Steagall.  This notion that bankers will somehow go to other countries with financial innovation is nonsense.  When things are booming they are global citizens but when times went bad, they sure know which country will bail them out.  And the insider horse trading with short sales is merely another reason of what is wrong with the financial industry.
The amount of short sales in Orange County is large, almost one-third of the entire MLS market.  But again, this does not factor in the shadow inventory.  Some in Orange County think that they are somehow immune to shadow inventory.  If anything, they have an equally large amount of shadow properties.  Let us run the data for the county: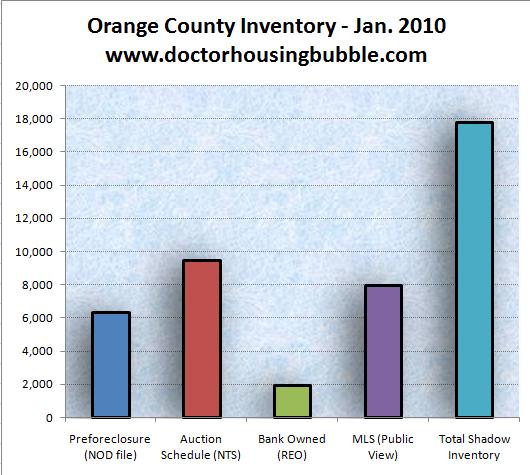 It is interesting that properties scheduled for auction dwarf the entire MLS public data.  Total shadow inventory is twice the size of the actual MLS data.  In other words, Orange County has many properties pent up in the pipeline.  And here is the thing, those pre-foreclosures are people who have missed at least three housing payments and this number is as large as the entire MLS.  Distress is deep in Orange County as well although like in some areas of Los Angeles people choose to ignore this data.
And Orange County hit the highest peak during the housing bubble in Southern California: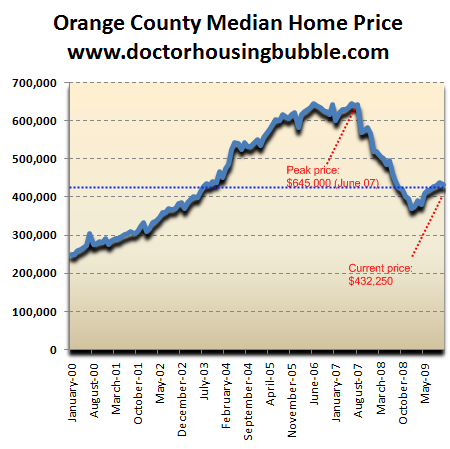 The median price is still down 33 percent from the peak.  And just because prices fell hard doesn't mean prices are now affordable or make for a good time to buy.  Let us look at two counties that are still in bubbles and two that are not in Southern California:

That is why for those buying in the Inland Empire, prices may make sense.  Prices have corrected sharply.  But saying home prices in L.A. and Orange County are now affordable ignores the entire bubble decade.  And like a narrowing path, some places in these counties are getting prices slammed like Palmdale, Compton, Stanton, and areas of Santa Ana.  But the thing is people have narrow focuses on their tiny prime locations.  Now if we assume the ratios to even out with L.A. and OC prices still have a way to go down.  Interestingly enough both L.A. and OC had similar price gains over the decade; that of 70+ percent far outstripping actual income gains (zero).
Just because your small zip code is still in a bubble doesn't mean that the overall market isn't correcting.  And eventually it will correct.  Let us look at a "prime" area in Orange County, that of Ladera Ranch:

Here's an area with supposedly no bubble and good values on prices.  The MLS lists 101 properties which means only about 2 months of inventory are on the market.  Yet if we include shadow inventory, this number jumps up to 11.5.  You notice the median price?  It currently stands at $632,500.  At one point during the bubble in 2006 and 2007 the median price was up to $1.6 million!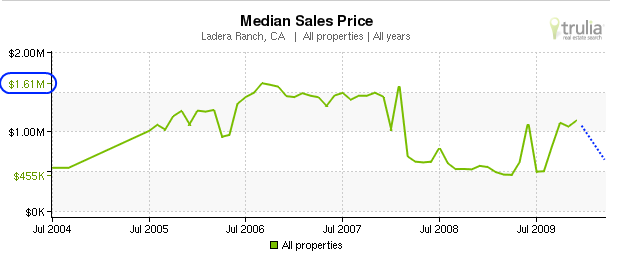 And to show you that even high priced homes can fall let us now look at an example: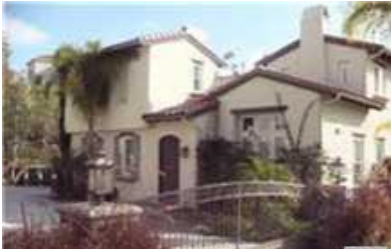 The above home has only been on the MLS for 9 days.  The home is a 5 bedroom and 5 baths home and is listed at 5,118 square feet.  This is a nice home.  If prices were holding up in prime areas you would expect this home to hold up as well.  This is a "prime" OC area.  But let us look at some history on the place:

The home sold at the peak in 2006 for $2,200,000 and it looks like the buyers put 20 percent down taking out a $1,760,000 first mortgage.  One year later in 2007, National City Bank decided to give them back that down payment via a second mortgage of $325,000.  Of course, this was right at the point that the market imploded.  The notice of default was filed in May of 2009, auction was scheduled in November of 2009, and now it is bank owned.  So what is the current listing price?
List Price: $1,100,000
A perfect 50 percent discount from the 2006 sale price.  And keep in mind this is a recently listed home.  In this place the first lien holder isn't even getting their full balance back so the second lien is largely a distraction.  In cram downs, this is what normally happens but instead we have insiders making their own deals with others so even if you put in a competitive bid you have no idea if some deal was already made.
So is Orange County in a bubble?  Absolutely.  Just like L.A. is but OC will artificially look higher because they don't have zip codes like those in Palmdale or Compton where home prices are now in the five digit range.  So clearly this drags the median down.  Yet the overall math is similar.  A large hidden amount of shadow inventory while prices in prime areas remain stubbornly high but prices are coming down.  If things were back to the good days why isn't the above home selling for $2.2 million like it did back in 2006?  Some people in California still have a hard time understanding why 2010 is still a poor time to buy a home.
Did You Enjoy The Post? Subscribe to Dr. Housing Bubble's Blog to get updated housing commentary, analysis, and information.