For a state like California the real question in 2010 will be how exotic mortgages like Alt-A and option ARMs react to recast dates and a slumping economy.  It may be the case that some other states may be finding bottoms quicker financially but California will be wrestling with another $21 billion budget deficit in a matter of months promising additional gridlock.  California lived and fell by the housing sword.  We have one of the highest unemployment and underemployment rates at 23 percent.  This hasn't changed even though the stock market has been raging.  Some states have already washed out a large portion of subprime mortgages but California holds 58 percent of all option ARMs.  This is a uniquely California problem.
People have so much blind faith in the notion that somehow the stock market leads the way before jobs even recover.  If you want to plot this trend on a chart it would look like: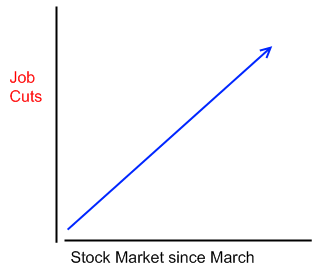 At this pace, we are going to see an unemployment rate of 12 percent and a Dow of 20,000.  Clearly there is a disconnect in the current economy.  If we dig deep into the balance sheets of many companies, many of the short-term gains have occurred because of eliminating one of your biggest line items, employees.  Now this might be a problem given employees usually use their wages to pay for a thing called a mortgage.  So a few cents in profits for shareholders might be good, but this trend cannot continue.  At some point companies need to hire AND earn solid profits.  We are not close to seeing that given that the recent GDP growth was purely based on government spending.  It is also important to understand that anything looks up when you are floating in the abyss.
One of the major wildcards in California is how the shadow inventory is going to impact the housing market.  On the surface, things might look to have stabilized but there is a growing backlog of homes that are in pre-foreclosure, set for auction, or are now bank owned that the public cannot readily see.  This has been well documented.  Initially, shills for the industry claimed that this was somehow a myth but that has been largely discredited because even banks have admitted to this!  We know that many homes are being temporarily put into mortgage purgatory into programs like HAMP.  If early re-default rates are any indicator, long-term success is not assured.  In fact, many loan defaults that are now happening are based on job and income loss and no amount of modifications can help that unless the modification includes a W-2 job.  Prime, near prime, and subprime are all seeing spikes in defaults.  We have yet to see any trend reversing this.
But I want to focus on shadow inventory today because this really highlights the next battle in 2010.  Many locations that are considered prime have yet to see any significant correction in California.  I pause when people say, " only the low end fell but the middle to high end will remain fine."  I would agree with this if our economy wasn't seeing unemployment that is the highest on record since the Great Depression and wages have been stagnant for a decade.  Keep in mind that overall, the median price in California is still down by 50 percent.  We have not seen prices increase.  So far, what we have seen is the low end get obliterated while the mid to upper tier has fallen, but at a much slower pace.  Couple of reasons for this.  Higher end homes typically have higher incomes that provide a stronger buffer than say someone who stretched into a subprime loan.  That doesn't mean that distress won't happen but they can hold out longer.  The drop in sales at the higher end means current buyers are no longer able to afford homes because:
-Their income cannot afford the place
-They can't buy the home with government financing
-They don't have maximum leverage products like Alt-A and option ARMs anymore
This is the eye of the hurricane: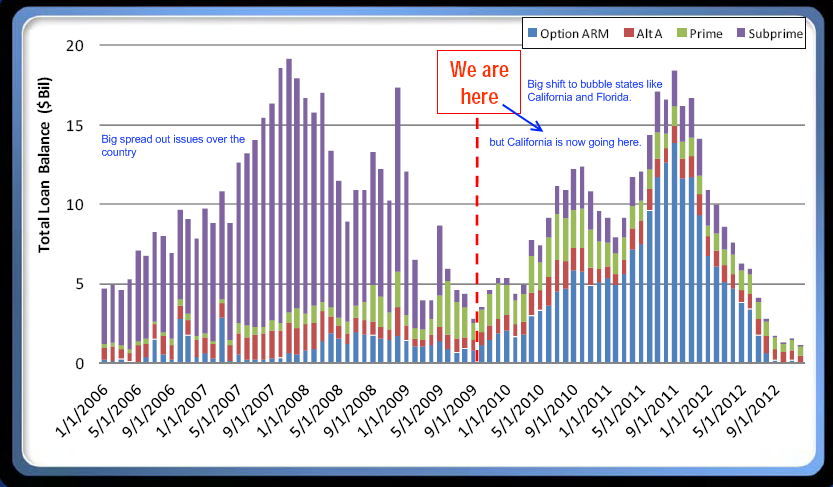 So while wave 1 was largely a nationwide issue, wave 2 is largely focused on bubble states like California, Florida, Nevada, and Arizona.  It will now become a more concentrated and targeted problem.  Contrary to popular belief, 78 percent of option ARMs have not recast and 350,000+ of these loans are still active with over 200,000 here in California.
I spent some time gathering 10 hot spots in Southern California to highlight the shadow inventory.  Some cities like Cerritos are geared to middle class families while areas like Beverly Hills are more targeted to the 90210 crowd.  Let us look at the data: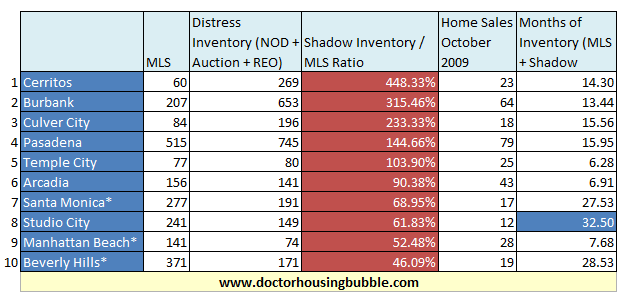 The above data I believe is the next front in the housing war in California.  If we are fighting the current battle looking at past data we are doomed to repeat additional mistakes.  We need to recall why sales increased in California in 2009:
-Big drop in price
-Lower end sales
-First time buyers (cheaper homes)
-FHA loans (3 out of 10 loans)
-Investors
-Fence sitters
The last category I believe has kept price drops in mid to upper tier markets more moderate.  I received many e-mails this year from people saying, "me and my partner can't wait any longer.  We've waited for years and don't want to wait anymore.  We are buying because we want to [start a family, establish roots, own a home, etc] and are moving now."  Mix this in with the belief that the bottom is in and you can see why the market currently looks like it does.  But the above data tells us another story.
The data in the chart tells us a growing number of homes are in distress.  Take for example Cerritos.  A good middle class area with good schools.  60 homes are listed on the MLS but 269 homes are in distress.  The shadow inventory is nearly 5 times as large as the public data.  Many of these are major defaults waiting to happen.  Take for example this home:

The above home is 3 bedrooms and 2 baths listed at 1,252 square feet.  The most recent loan is listed as:
02/22/2006:        $544,000
A notice of default was filed on:
08/27/2009:        $20,043
Do you think people are going to be able to catch up to something like this?  This isn't like a $100,000 loan across the country where you go in arrears and you owe $3,000 or $4,000.  You miss two or three payments in California and you are in the hole for tens of thousands.  People won't be able to catch up and many of these loans don't qualify for HAMP because they are past the underwater requirements of the program.
This pre-foreclosure is one of many in the area.  The buffer is getting weaker and this will align with wave 2 above.  What will this do to prices?  We'll wait and see but clearly anyone betting on prices rising is out to lunch.
If you look at the 4 cities with the highest shadow inventory above, they all fall in the "middle class" range.  Cerritos, Burbank, Culver City, and Pasadena.  These are all areas where most housing blog readers are itching to jump into.  You can also find some other unique dynamics above.  For example, Manhattan Beach although high in price, doesn't have an enormous shadow inventory number.  But then again, there isn't many low priced housing in the area.  Including shadow inventory MB has one of the lowest inventory at current sales rates.  But looking at Beverly Hills, you'll notice that the public data is open yet sales have slowed down dramatically.
Studio City has off the chart inventory if we include the MLS + shadow inventory.  And this is something that has no precedent.  We don't have any past trends where banks held off on so much inventory with such high levels of toxic mortgage waste.  But at a certain point, home prices need to reflect local area dynamics.  There is no avoiding the long-term trend.  But looking at this data we still have a rough ride ahead.
Did You Enjoy The Post? Subscribe to Dr. Housing Bubble's Blog to get updated housing commentary, analysis, and information.