The U.S. Government wants you to stay perpetually broke.  The lenders and banks want you to stay in the poor house.  Why?  Somewhere along the line the notion of saving money got perverted to the point that now people equate access to credit as actual money.  This psychological shift didn't happen overnight but there is no doubt that many of our current economic struggles are rooted in this misguided perception.  Earlier this year a colleague called me up all worked up about something.  I asked what was going on and he conveyed to me that his home equity line had just been reduced.  Sacré bleu!  How dare the lender take away his money!
I had a really positive response to a previous article stating that you should only purchase a home that is 3 times your gross income.  One quick clarification is that I was referring to the actual mortgage amount and should have been clearer on that point.  In essence, you should not buy a home that carries a mortgage 3 times your gross yearly income.  However at the peak of the boom in California more and more people bought homes with no down payment: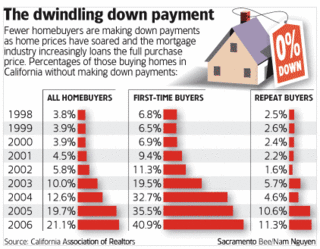 We went from 3.9% of all homebuyers purchasing homes with no down payment to 21.1% of all homebuyers in 2006 at the peak of the bubble in California.  This was simply unsupportable.  Yet even given the current credit crisis, people are still able to buy homes with 10% down and this is data from last month.  How can we figure that out?  Let us look at some data:
"(DataQuick) The typical monthly mortgage payment that Southern California buyers committed themselves to paying was $1,458 last month, down from $1,566 the previous month, and down from $2,198 a year ago. Adjusted for inflation, current payments are 31.9 percent below typical payments in the spring of 1989, the peak of the prior real estate cycle. They are 44.4 percent below the current cycle's peak in June 2006."
Since the vast majority of loans are now backed by the government, the prevailing rate for the summer was about 6%.  It has gone up a bit but the above data would not reflect that.  The current Southern California median price is $308,500.  With that, we can get a rough estimate of how much home buyers are putting down: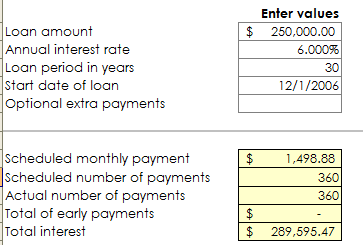 That gives us a good idea.  We are looking at 10 to 15 percent down for current homebuyers.  We are simply returning to more old school standards.  And this idea of no money down is another direct consequence of this notion that no one should save and delayed gratification is for chumps.  We are going to see a major shift in the next few years especially when there is a silent and disturbing economic depression going on already in our country.
Today we are going to look at 5 reasons why the U.S. Government wants you to remain a perpetually broke debt hamster that is motivated by spending.
Reason #1 – U.S. Savings Instruments
One of the best kept secrets was the U.S. Savings I-Bond.  This simple instrument provided the purchaser a fixed rate and also a variable rate that adjusted with the CPI.  You know that I think the CPI is a cooked stew of economic alchemy but hey, it is what it is.  But at least this was a form for people to save money and be assured that they wouldn't lose any money.  I started purchasing these things earlier in the decade and at the time, the rates seemed low given the tech bubble (which bursted) and the subsequent housing bubble (which is now exploding).  But take a look how the government has decreased the actual fixed rate over time: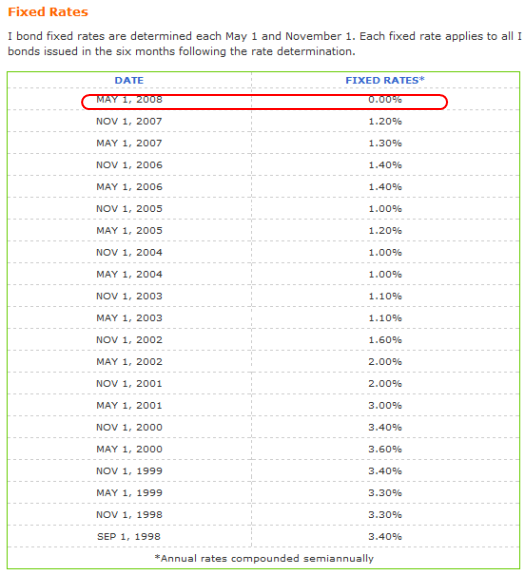 In fact, some of the bonds in the portfolio are now earning 7% which isn't a bad deal.  But look at how the government has slashed the fixed component of the bond to zero.  Now how does this encourage savings?  So that is one strike.  They can easily increase the rate of savings for Americans by simply upping this rate.
In addition, buyers were also able to purchase up to $30,000 worth of these bonds a year.  So when I got an e-mail earlier this year that they were lowering the amount cap to $5,000 a year, I was getting a hint as to where the government was heading:
Okay, another strike.  Now those few folks who actually have some money to save in this struggling economy would be capped at $5,000 per year.  So if you had other money your options were to stick it into a mattress, stocks, or banks that seemed to be collapsing everyday.  They were limiting options creating an environment were the consumer was forced into riskier products.  Just look at the return on some institutional savings accounts: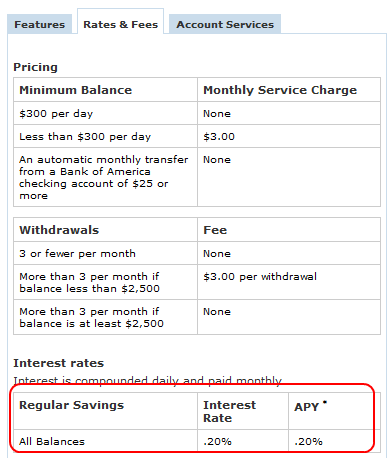 This is for your run of the mill Bank of America savings account.  0.20 percent is almost comically low.  You might as well stuff your money into a mattress.  But going back to the I-Bonds which are offered through the U.S. Treasury they also implemented this online security feature which makes it much more difficult to login: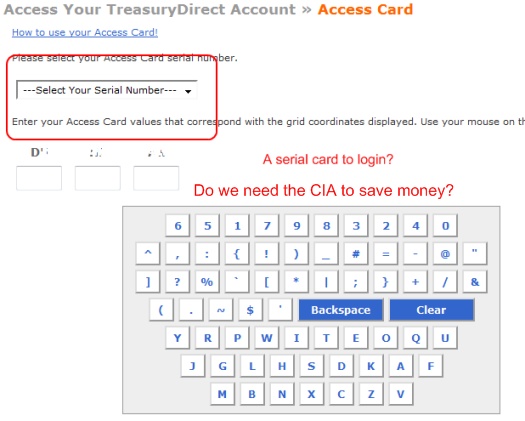 For those who hold I-Bonds and other instruments you now need a plastic card to decode an online password that would make National Treasure seem like a walk in the park.  This is also after an online keyboard where you have to click with a mouse your password.  What this does is that it makes it utterly hard to save your account information in your browser to log back in.  Maybe one day you get a nice little bonus and you want to save it.  But your serial card is at home.  Too bad!  Why not log into your Amazon account and blow your money on reading Ben Bernanke's book on the Great Depression.  They'll even ship it out tonight with a one-click ship!  Where is the one-click save here?
I understand the need for security but even top notch brokers and high powered banks like JP Morgan and Bank of America don't make it this hard to login.  And for $5,000 this has now gone from being a viable option to a flash in the pan.  Too bad.  This was a good way to get Americans to save.  I think many are looking at a 7% return as stellar given the current stock market shenanigans.
Reason #2 – U.S. Consumption Based Economy
Our economy is based on consumption for the most part.  The GDP equation of:
GDP = consumption + gross investment + government spending + (exports – imports)
GDP has a heavy emphasis on consumption.  That is why last month when retail sales fell 1.2% when the market expected a drop of 0.7% the economy when gaga.  In fact, people should have been cheering that Americans are actually tempering their manic spending but this actually had the opposite effect of sending stocks into their proverbial corner which is now becoming a more common occurrence.
It is estimated that nearly 70% of our economy is fueled by consumption.  That is, buying cars, homes, boats, computers, televisions, furniture, movie tickets, and all those other great consumerist items.  And much of that consumption was fueled by debt.  Many Americans during the bubble pulled out equity from their homes to upgrade the kitchen to something Emeirl would envy even if they rarely had the time to cook.  Many also used the money to fund extravagant vacations and purchased numerous technological gadgets.
This was great but buying on credit simply meant you dried up the well for future expenditures.  Now, that debt is coming back home with a vengeance.  We are spent out.  That is why the world central bankers nearly had a heart attack when they saw the credit (debt) markets freeze up.  See, we really can't say debt since it carries a negative connotation.  Credit seems much more pleasant.  Sort of like interchanging high yielding bonds for junk bonds.  Same thing, different name.
So the central banks encouraged by the government did what they know best.  Loaded the system up with more debt.  Now we are in a debtors spiral and they are hoping beyond all else that people will spend.  One small caveat.  People need freakin jobs!  And many of these jobs were based on people spending money they never had!  We need sustainable jobs and industries and not those that are fueled by debt spending.
Reason #3 – Our Government is in Massive Debt
Our government itself is in massive debt.  With over $10 trillion already on the national debt book we have additional debt in every other imaginable area:
Home Mortgage Debt:                        $10.54 trillion
Consumer Credit:                                $2.55 trillion
Corporate Debt:                                  $6.8 trillion
State and Local Governments:           $2.19 trillion
Everywhere you look there is this perpetual debt circle.  The government doesn't want you to save because they aren't saving either!  How can a government ask its own populace to be prudent when the are spending beyond their means?  The people are merely taking note from their political leaders encouraged by the lending and banking apparatus.  Frugality is now however making a comeback but not by choice.  It is being forced down the throat of many.  After all, you as an average American don't have the same access as a Wall Street bank for a corporate crony and perverted capitalistic handout.  This is not capitalism because this has nothing to do with the free markets.  This is not socialism since the majority of the people will not be helped by these actions.  This is an economic system fueled by a government that is now a plutocracy fueled by a very concentrated group of people and wealth.
The disconnect is even larger than it was during the Great Depression.  Here is the gig.  The lenders, Wall Street, and central bankers want you to continue to believe in a false economic system that has clearly failed.  They want you to believe in those Barnes and Noble books that if you save 5% a month for 40 years, you'll retire a millionaire.  What they don't tell you is the way we are currently spending money we don't have, a million dollars in 20 years might only buy you a used vintage Hummer.
Most people right now that invest in a 401(k) plan trust their advisors to do the right thing.  That is why so many have lost $2 trillion in their retirement accounts in the last few months.  Where did they put this money?  Into Fannie Mae/Freddie Mac, A.I.G., and across the board companies are having hard times.  To lose 40% of your portfolio is not an easy thing to take especially when a large number of baby boomers are edging closer to retirement.  Now imagine if there were no Social Security for example.  Now according to the Social Security Administration we get these facts:
Retired Workers
Monthly Amount:  $1,086 average monthly payment
32,113,000 fall in this category as of August of 2008
Keep in mind you also have 2,399,000 spouses and 499,000 children that fall under the "old-age" component of Social Security.  Their payments are $534 and $539 respectively.  Not big bucks at all.  It also goes to show how inadequate this system is going to be in the future since our government is simply kicking this can down the road: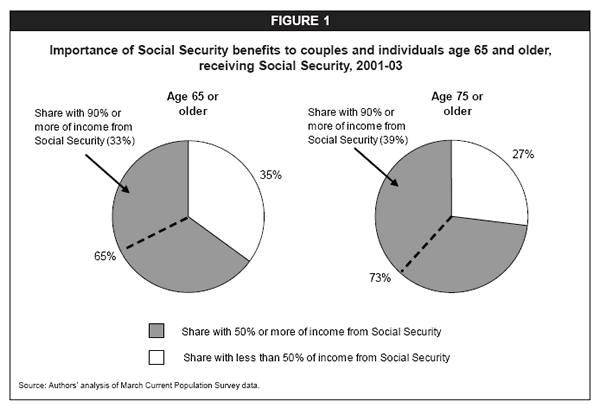 Now that you know the awfully low amount, this above chart should startle you.  33% of those aged 65 and older get 90% of their income from Social Security.  32% get more than 50% of their income from Social Security.  Only about 35% of those aged 65 and older have other sources of income that supplement their Social Security payment.  And they wanted to invest a portion in the stock market?  Great idea.
What in the world is the government doing about this given that the tsunami of baby boomers is coming down the road?  All the government is doing is bailing out toxic lenders and banks.  Absurd and frankly disturbing.

Reason #4 – Psychologically People Need Instant Gratification
But are people also ready for a change in psychology?  That is, can people accept the fact that we will not be able to spend as we did during the past decade?  Many will have no choice but will the cultural mood be one of acceptance and sacrifice or of foot stomping on the ground because someone couldn't buy a Kawasaki jet ski?  I'm not sure.  But if you flip around media stations I'm not sure we have the demeanor as a society of the 1930s.  There is a much angrier sentiment and contingent in our culture.  Clearly we have come a long way in many other areas since the early 1900s but in other areas, we have actually gone backwards.
Many who have grandparents from the Great Depression may laugh or mock the frugality by which they live.  They live frugally because they realize at any given point, the system can come to a crashing halt and you need to be prepared to confront that.  The biggest mocking is done by places like CNBC that skewered any tempered view during the heyday of the bubble.  "Doomer" or "naysayer" where all words charged against anyone that didn't buy into the Pollyanna religion of most anchors.  Many have not seen an economic calamity like this one.  Frankly, I have not lived through one myself but I've studied enough to realize that history can happen again and I am not arrogant enough to think that "this time it is different" when history clearly tells us where we may be heading.
So are we ready as a nation to become savers?  It is amazing when we realize we have a negative savings rate.  If this were another smaller country our foreign credit card would have been taken away a long time ago.  Either way, we don't have a choice on the coming austerity.  The only choice we do have is how we adjust to it.
Reason #5 – Saving Money is Good for You
Most importantly, saving is good for you.  It does the body and country good.  It creates a buffer zone from calamity.  It provides a piece of mind and cautious optimism which is necessary.  Make no mistake, those prophets on CNBC are nothing more than a person jumping off a cliff with no parachute saying things are good in mid-air simply because they have yet to hit the ground.  They preach diversification but when someone comes on the show during good times and mentions bonds or U.S. Treasuries they get laughed off the show.  Talk about practicing what you preach.
Finally it is your responsibility to educate yourself and see the system for what it is.  The government doesn't want you to save.  Lenders and Wall Street don't want you to save.  You may be fighting the environment here and going against the current but like those that decided not to buy a home at the peak, they knew that something was wrong when most of their money would be going to finance debt.  We are going through a major cultural and economic shift and those that expect this thing to be over in a few months are going to be in for a major shock.
Did You Enjoy The Post? Subscribe to Dr. Housing Bubble's Blog to get updated housing commentary, analysis, and information.