The median home price of a home in Southern California is down to $270,000.  Would you like to know the last time we were at this level?  You would have to go back to 2002 to find the first crack at the $270,000 mark.  To sum it up we have now reached a nominal lost decade for Southern California.  In reality the data highlights a much darker picture for the housing market here.  You have two main groups buying up homes; first you have investors picking up low hanging fruit in locations like the Inland Empire for very low prices while first time buyers are hanging by a thread diving into the market with FHA insured loans.  These are the two largest purchasing blocks in Southern California.  Contrary to the rich foreigner myth or pent up demand meme, absentee buyers paid a median price of $200,000 for their purchases.  Does this sound like they are eating up homes in Corona del Mar or San Marino in large numbers slowly purifying the market from shadow inventory?  Let us dive into the figures.
Typical mortgage payment at decade lows
Since a large part of buyers, 29 percent are paying cash, they are not factored into the typical mortgage equation.  But those diving in to buy with a mortgage can only afford very little: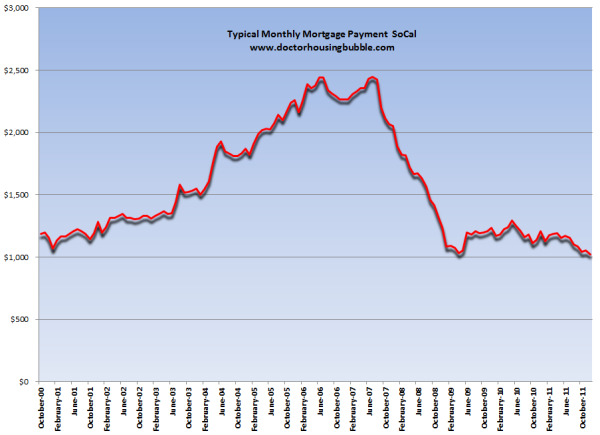 The typical mortgage payment of those who bought last month was a stunningly low $1,026.  We would have to go back to the 1990s to find levels this low.  What this tells us is two things.  First, many recent homebuyers are not flush with large incomes.  Second, it tells us the Federal Reserve's artificial low rate policy may backfire when real rates enter back into the market.  At this point, with artificially low rates many buyers are simply keeping the asset column healthy for banks but their own balance sheet is stretched thin.  What they can pay out of their working capital each month is low and hence the amount committed to a mortgage above.
Part of this has to do with the still very weak economy and the lost decade in wage growth for households.  The recent Census survey shows that a lost decade hit the country when it comes to household wages.  This is the most important factor in determining a future healthy housing market.  Just because we replace no-down no-doc loans with 3.5 percent down FHA insured loans does not mean we suddenly have a healthy housing market.  Default rates by the way are surging for FHA loans as would be expected and the cost of bailing out the banks has cost us trillions of dollars either in outright handouts to banks or the hidden costs of currency devaluation and inflation through other items which will be paid over the next decade(s).
The rise of the investors
As mentioned, investors are dominating the market: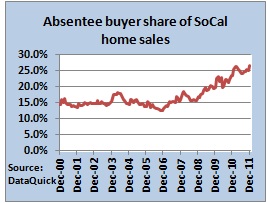 Last month the number of absentee buyers hit a record at 26.4 percent.  Yet these buyers are purchasing homes for a median price of $200,000 so this isn't your rich foreigner eating up million dollar properties as if they were eating cake at a party.  These are more likely investors looking for cash flow properties.  This data series only goes back to 2000 and has an average of 16 percent.  Not too useful for the average figure over the bubble.  I would be more interested in seeing the figure go back to at least the 1970s.  My assumption would be that this figure needs to be in the single-digits to be considered healthy.
As stated before the $270,000 median home price now puts us into an official lost decade for home prices: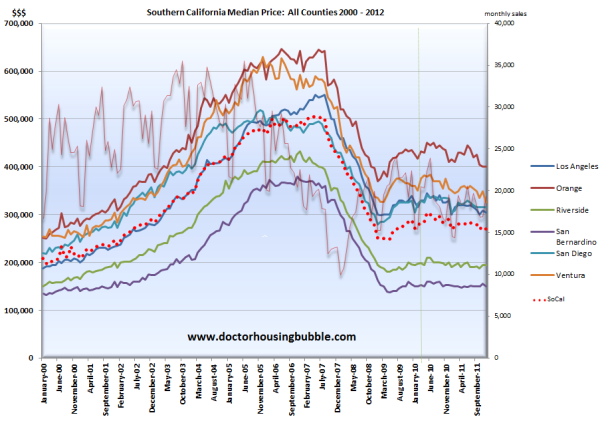 More expensive counties like Orange and Los Angeles are now back to 2003 levels.  The trend is obvious and this is happening at a time when interest rates are comically low: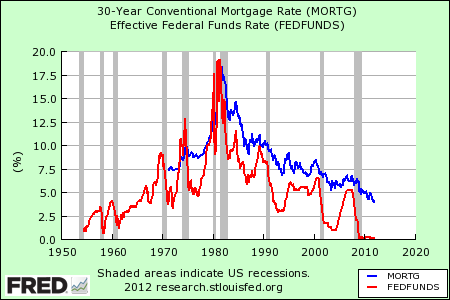 To clarify this is incredibly unsustainable given that we have over $15 trillion in national debt and have no signs of stopping on this path.  2012 is now here and we are making new lows on home prices.  So much for all those claiming we would see a price bounce in 2009, 2010, or 2011.  And the answer to this is obvious; when it comes to household incomes they are moving backwards and the only way this is covered up is by digitally making more debt cheaper by the Federal Reserve buying up mortgages no one in their right mind would buy.  This story has been played out before and as you know, unintended consequences are bound to hit when you artificially juice markets.

Did You Enjoy The Post? Subscribe to Dr. Housing Bubble's Blog to get updated housing commentary, analysis, and information.