In the last year, very little analysis has been done regarding the option ARMs floating out in the market.  Part of this has to do with the fact that option ARMs are really a problem for a handful of states.  California and Florida lead the charge with option ARMs so this may keep national analysts from digging deeper.  As we all know, option ARMs are not made anymore but their legacy problems are still lingering in the market.  Since 50 percent of these loans were made in California, I have an interest to see where things currently stand with these loans yet not much updated data is readily available.  I went ahead and dug into the SEC financial filings of the top three banks in our country; Bank of America, JP Morgan, and Wells Fargo. The fact remains billions of dollars in option ARMs still remain.
Let us take a look at the total option ARM nominal value for these top 3 banks: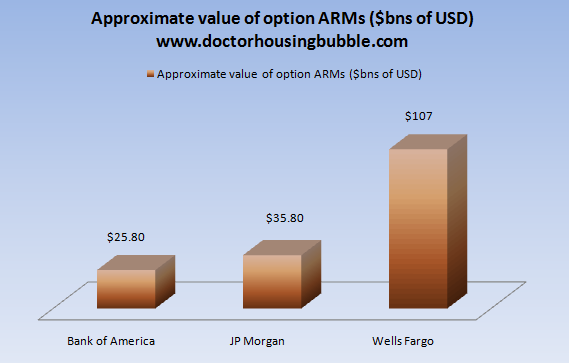 Source:  SEC, 10-K
It is hard to find an actual source within the banks own reports.  For example, we don't get a loan breakdown of where these loans reside or their average balance outstanding.  From previous data we know that these are typically higher.  Subprime seemed to be the choice in poorer low income areas while option ARMs were the loan of choice for over extending in middle class neighborhoods.  Keep in mind that the above banks inherited the option ARM portfolios through their mergers with Countrywide, Wachovia, and WaMu.  From what I can gather from these three banks it looks like $168.6 billion in option ARMs remain.  If half of this is in California, that is a large amount.  And keep in mind you have other option ARM lenders like Downey Savings and First Fed that are no longer here, but their loans remain.  That data is buried deep in FDIC reports and hard to gather.  So it is obvious that the option ARM loans are still out there and we see this through individual foreclosure filings.
Wells Fargo late last year announced that it was planning on converting option ARMs to interest only loans which is another variety of toxic mortgage.  The bank as of last year had modified some 43,000 Pick-A-Pay loans into this new interest only conversion.  So I'm not sure if in their accounting statements they are keeping the Pick-A-Pay modifications under their option ARM line item.  Technically they are no longer option ARMs if they are converted to interest only loans.  This is why the toxic mortgage Alt-A and option ARM issues are much bigger than merely one subset of loans.  Banks are trying to comingle good loans with bad trying to hide the bad taste of these loans.
Let us take a bigger picture view of the option ARM market: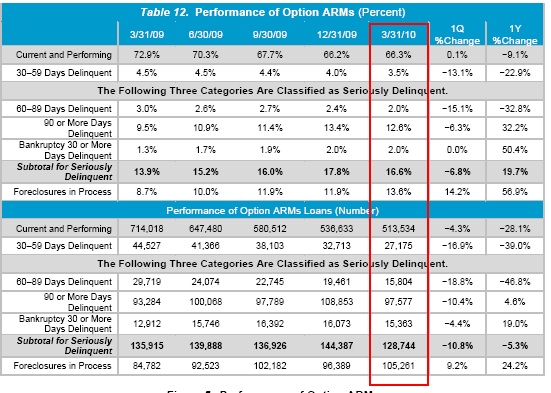 Source:  OTS
As of April, there were 513,534 active option ARMs in the market.  This is a reduction of nearly 200,000 from only the previous year of data.  But again, are banks doing odd modifications like converting them into interest only loans and then, these loans aren't categorized as option ARMs?  The more disturbing point in this data is the absolute deterioration of this loan product.  As of Q1 of 2010, roughly 4 out of 10 of these loans were either behind on payments or in foreclosure.  Just assume that half of the 500,000 option ARMs are here in California.  Do you think this will cause further problems?
Wells Fargo by far acquired the biggest option ARM portfolio: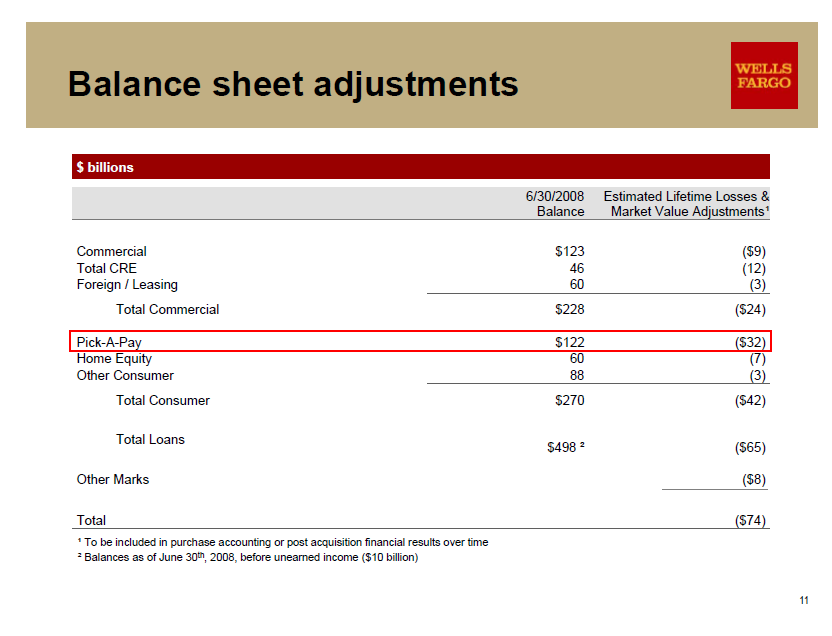 When Wells Fargo took over Wachovia it ate up $122 billion in option ARMs.  As of last December, that number was down to $107 billion.  Hard to tell how this portfolio now looks since not much data is released on this and banks won't even be explicit on this data because this is the cream of the shadow inventory.
If we look at JP Morgan, the LTV ratios just show that more defaults are on the horizon:

For option ARMs the LTV ratio is 112%!  Even more interesting is in their home equity impairment issues.  Option ARMs and home equity loans are all products that focused on destroying equity or at least avoided building any of it.  More and more write-downs will be coming forward but banks are buffering these problems through their access to the Federal Reserve and speculation on Wall Street.
I'm sure all of you heard that the recession is now over.  After that news was released, the California unemployment rate went up again to 12.4 percent meaning we have an underemployment rate of over 23 percent.  Not that it matters but people should now realize how disconnected Wall Street is from the actual real economy.  Let us examine the option ARM data for Bank of America:

In total it looks like BofA has nearly $26 billion in option ARMs from their Countrywide acquisition.  This is still a sizeable number especially when most of it is concentrated in one state.  This can disrupt the market conditions of one market since many areas were heavily favored and sprinkled with option ARMs.  Many banks are benefitting simply because the Fed has artificially pushed rates lower thus making the COFI, COSI, and other indexes used to adjust option ARMs lower: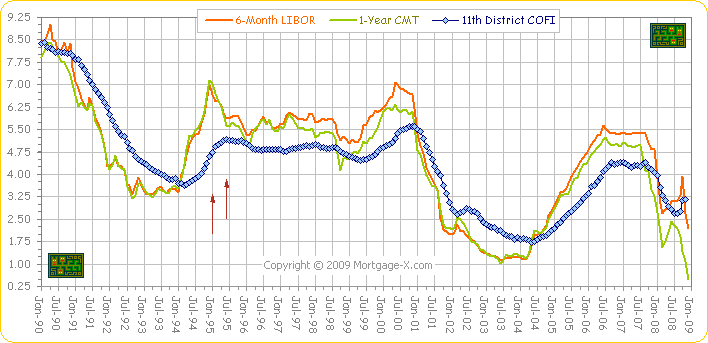 But again, the reset issue with Alt-A and option ARM loans isn't the problem so much as the recast issues.  That is why the default rate on option ARMs is now following the path of subprime debt.  In other words, option ARMs are still here hidden in the attic of bank balance sheets but that doesn't mean they are gone.

Did You Enjoy The Post? Subscribe to Dr. Housing Bubble's Blog to get updated housing commentary, analysis, and information.