Option ARMs are arguably the most devious, insidious, and deceptive mortgage products to spawn out of the housing bubble mania.  For those of you only starting to follow the housing market in the last year or so, an option ARM was essentially a mortgage product that sought to lower the monthly payments with extremely high commissions for mortgage brokers and Wall Street and gave the illusion to borrowers of a buffet of reasonable monthly payments.  Wall Street loved the option ARM because it allowed incredible leverage and this added billions of dollars in mortgages to their pot to speculate on.  One feature of a traditional mortgage, actually paying principal and interest on a monthly basis was actually removed from many option ARMs.  This negative amortization actually increased the balance owed on a mortgage.  Think about how financially backwards that is.  This is like the dark ages version of a mortgage.  The option ARM was a loan designed to function only in a bubble.  It could only succeed in a market with incredible manic real estate appreciation.  Most that took on option ARMs (unlike subprime borrowers) realized what they were doing.  They were fixated on a low monthly cost even though it meant long-term disaster if they were unable to sell.  They never expected home prices to crater.  Banks have kept the implosion of option ARMs under wraps.  In fact, many are now implementing shadow bailouts of those who entered into option ARMs while putting the screws on those who diligently pay on prime mortgages.
Rewarding the speculators
Many of you sent over a New York Times piece discussing the principal reductions being conducted by some of the too big to fail banks.  If you wonder what is occurring with some option ARMs, take a look below:
"(NY Times) I used to say every day, 'Why doesn't anyone get rewarded for doing the right thing and paying their bills on time?' " said Ms. Giosmas, who is an acupuncturist and real estate investor. "And I got rewarded."

Option ARM loans like Ms. Giosmas's gave borrowers the option of skipping the principal payment and some of the interest payment for an introductory period of several years. The unpaid balances would be added to the body of the loan."
The "option" in an option ARM meant borrows had the ability to pay varying amounts each month.  They could pay the principal and interest and have it function like a regular mortgage, they could pay the interest only and have the loan work out like an interest only loan, or they could go for what the vast majority went for and go into the negative amortization dark waters.  Not much interest has been shed on option ARMs in the last year even though 2011 and 2012 would be the worst years for these products (and it still is for those loans that haven't already imploded).  The reason for this is:
-Many have flat out imploded

-Banks are implementing a new strategy of simply ignoring loans (so who really cares what kind of loan you have if banks take up to two years on foreclosing on properties)

-Lowering the principal on many option ARMs
First, we should examine some data on the current state of option ARMs: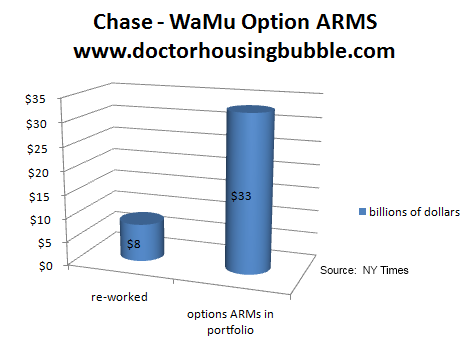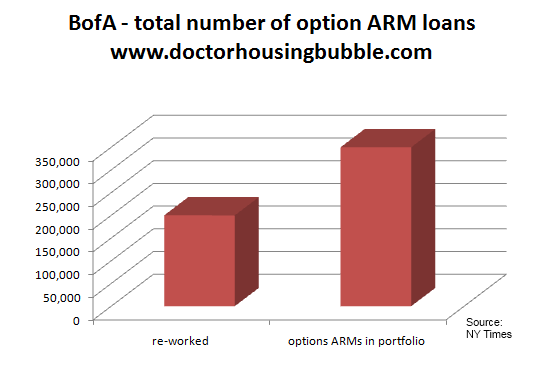 Let us be clear to begin with.  Option ARMs have the highest default rates even passing up many subprime products.  So it isn't like these loan products are being remedied over time.  What has changed over time is the trillions of dollars injected into banks (remember when a billion dollars actually meant something?).  The same banks that benefitted from dishing out questionable loans have inherited these options ARMs through their acquisitions of Countrywide Financial, Washington Mutual, and Wachovia.  From the NY Times article, we are told that Chase has re-worked $8 billion in option ARMs leaving $33 billion left in the portfolio.  We are also given the data that Bank of America has re-worked over 200,000 loans but still has a portfolio of 350,000 option ARMs.  We should also be clear that over 50 percent of option ARMs were made in California in terms of mortgage balance.  This is not a nationwide problem.
The article was sent over many times and what I believe has infuriated people is simply the lottery like dolling out of modifications from banks that have been bailed out by taxpayers.  Many of these taxpayers have loans with these too big to fail banks and they have received little reprieve during this crisis.  So when they see banks being rewarded for bad behavior and then these same banks reward mortgage holders who are the biggest speculators many questions have to be asked:
"(NY Times) Meanwhile, the value of the apartment nosedived. By the time Ms. Giosmas got the letter from Chase, the condominium was worth less than half what she paid. "I would not have defaulted," she said. "But they don't know that."

The letter, which Ms. Giosmas remembers as brief and "totally vague," said Chase was cutting her principal by $150,000 while raising her interest rate to about 5 percent. Her payments would stay roughly the same.

A few months ago, Ms. Giosmas sold the place for $170,000, making a small profit. Having a loan that her lender considered toxic, she said, "turned out to be a blessing in disguise."
The article states the place was purchased for $359,000 in Florida with a "large" down payment.  The mortgage of $300,000 was cut in half automatically and in the end, a speculator made a profit on this investment courtesy of taxpayer bailouts even though the property value has fallen by 50 percent.  I know this appears on the surface as a giant moral hazard (it is).  The too big to fail banks realize this and that is why they are keeping it under wraps.  It looks like they are simply hand picking certain borrowers to reward (ironically the majority of borrowers who diligently pay their mortgage get no aid and actually now have to deal with more banking fees and hassles).  What do you expect from the same financial industry that profited from the housing bubble?
The silver lining (if you can even call it that) in all of this is that looking at the data closely we see that principal reductions are still a very rare form of modifying loans:

Out of all loan modifications roughly 2.7 percent are being modified via principal reductions.  Now for those that are claiming that things are looking up for housing even the big banks realize there is little hope for some markets.  Why else would they offer, right off the bat a 50 percent cut in principal in Florida for this person?  This will actually add lower priced properties on the market and this speculator eventually sold the home for $170,000 (a far cry from $359,000).
If we look at the futures market, many see no rise in home prices in expensive locations: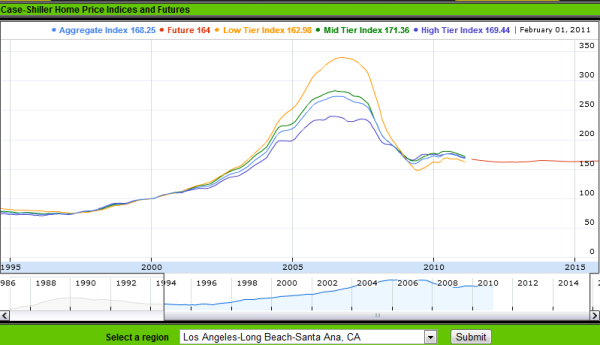 Source:  ZoyZoy
For some locations in California those placing bets with money see no rise in home prices well into 2015.  And why would prices rise?  Household incomes show no sign of going up.  In fact, option ARMs were a symptom of weak household incomes and big housing appetites.  There were countless stories of households barely making $100,000 but taking on option ARMs that were $600,000, $800,000, or even higher during the boom.  In the end the only salvation for home prices is higher household incomes or lower home prices to reflect actual incomes.  My bet was always on lower prices and that is what we currently have.  There is no sign of rising incomes so to expect home prices to rise because of cutting loan principal makes absolutely no sense.  Given what we have lived through in the last decade, there is little that surprises me at this point when it comes to our financial sector.

Did You Enjoy The Post? Subscribe to Dr. Housing Bubble's Blog to get updated housing commentary, analysis, and information.