It seems like an odd combination that you have rising home prices, higher rents, and a stagnant household income all coming together under the same economic landscape.  Yet the perception on the surface of higher home values is somehow mixed up with higher incomes.  In fact, what has really happened is extreme leverage via negative interest rates by the Fed.  This clearly has impacted the housing market.  Yet how is this messing with the rental equation?  Los Angeles County has a majority of renters and rent is paid via net income with no subsidized deductions so is the rise in rents a sign of higher incomes?  According to Census data the answer is no.  However, a study by none other than the Fed shows a large number of those who lost a home via foreclosure shifted to renting single-family homes.  Contrary to what many believe, people largely stayed put in California but a big shift in home ownership did occur.
The magic of lower interest rates
Some people are brainwashed with the current euphoria that they think current sales are somehow an underlying reflection of larger household incomes.  Some even believe no housing crash occurred!  First, Let us take a look at Southern California housing and examine the typical mortgage payment people have committed to for over a decade: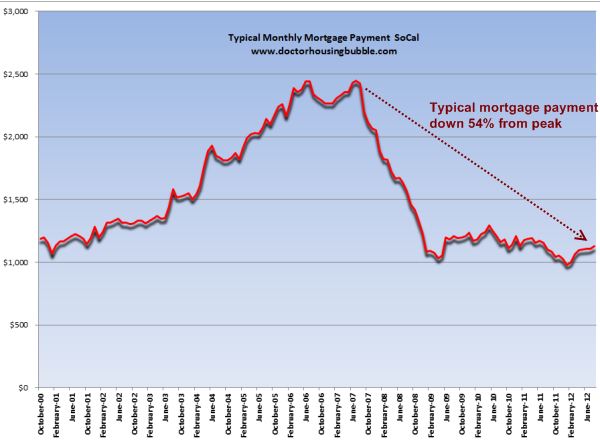 Last month, the typical mortgage payment of those that bought in Southern California came out to be $1,124 according to DataQuick.  I'm not sure if this is simply principal and interest but let us assume that this is the case.  According to this data, the typical SoCal mortgage payment for sales has fallen a whopping 54 percent from the peak in 2007.  What is more important to note however is we are back to levels last seen in the early 2000s.
The above is a better reflection of what households can actually afford.  The bubble is obvious and the pop is also very clear.  Yet what is telling is that California households are no better off than they were over a decade ago at least when it comes to affording a bigger mortgage payment.  Sure they can pay more for a home but this is merely a magical trick courtesy of the Fed's insanely low interest rates.  The pop has resulted in a shift of home ownership.  Let us drill down even deeper into data for Los Angeles County alone.
The data behind Los Angeles County
It is helpful to note that even throughout the biggest housing bubble people largely stayed put especially in Los Angeles County.  What occurred is a shift from owning to renting but it is hard to tell if anyone really left at least at a statistically significant level: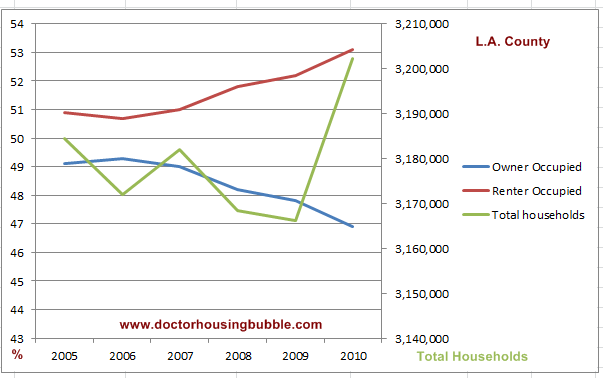 Source:  Census
The chart is not to scale obviously but is set to drill down on two points:
-1.  Today Los Angeles County has more households than it did during the peak of the housing bubble in 2007

-2.  The number of renter occupied households has gone up from below 51 percent to over 53 percent
The above is important because it coincides with data from a new study.  A Fed study suggests that householders that experienced a foreclosure from 2006 to 2008 ended up renting a single-family home (up to 60 percent) and a good amount (up to 23 percent) ended up renting a unit in a multifamily structure.
So it should not come as a surprise that many of these families ended up looking for rentals after a foreclosure hit.  With many investors buying up places as well the rental market has become tighter but not for the reasons one would typically associate with rising rents.  SoCal rents are going up:
The above is for SoCal in general.  How are rents doing in mid-tier to upper-tier neighborhoods?  It is hard to get any aggregate data on specific cities but overall, household incomes in Los Angeles are only slightly higher than the US median: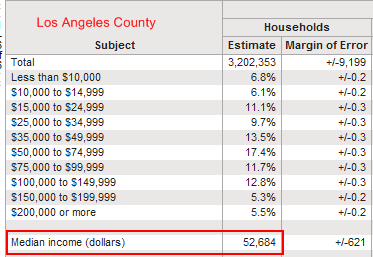 To put it bluntly, of the 3.2 million households in L.A. County half make less than $52,000 per year.  And what is fascinating is that 23 percent make more than $100,000 per year and for many that are looking at homes in the $500,000+ range, I would suggest a household income of $150,000 and higher is a smart starting point to begin with and only 10 percent fall in this range.
So what has driven rents and home prices up?  Rents are being pushed up because of those who have been foreclosed shifting to rental units (more rental demand) and home prices are largely being driven up by lack of inventory and the Fed pushing interest rates in negative territory.  Again the typical mortgage payment chart above is important because it underlies a bigger trend.  Household incomes are stuck.  So how are rents being sustained here?  I think you are seeing many California households that clearly could not afford the prices they paid on bubble valued homes but can afford the current rental market and want to stay in the area.  This group is likely a big push on the rental side.
The Fed is trying to unlock the wealth effect by pushing home values up with lower interest rates.  What you are getting is rising costs in food, energy, healthcare, college, and once again housing with no impact on wages.  In other words the standard of living is falling.  What is clear is that Californians are apt to spend more on renting or owning for a piece of the California dream, even if their incomes do not keep up.

Did You Enjoy The Post? Subscribe to Dr. Housing Bubble's Blog to get updated housing commentary, analysis, and information.