The number of homes foreclosed on in the first quarter of 2011 shot up in California by 22 percent from the fourth quarter of 2010.  Notice of defaults remained rather steady in California.  The reality of the situation is that the market is divided between normal home sales and distressed properties.  This divide is virtually down the middle nationwide and in California there are more distressed properties than normal homes for sale.  In other words the market is still incredibly flawed from multiple vantage points.  The only reason things remain stagnant is because of the Federal Reserve intervening in the mortgage markets and also allowing the suspension of mark-to-market accounting.  This is like pushing pause on your favorite sporting event when things are not going your way and expecting the results to remain.  However the major issue for the housing market is how do you get actual household incomes up to justify current price levels?  The Fed has tried unsuccessfully to boost prices and now inflation is leaking out in energy, medical, and food costs.
California foreclosure picture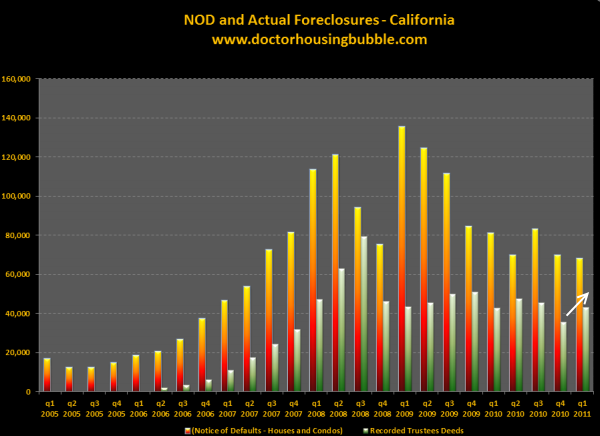 I think it is useful to put the overall market in perspective here.  From Q4 2010 to Q1 2011 actual completed foreclosures jumped by 22 percent.  Notice of defaults remained steady although how much of this is due to banks simply not moving on the current backlog of shadow inventory?  It might be useful to aggregate the data and see how things were during the good days of the market: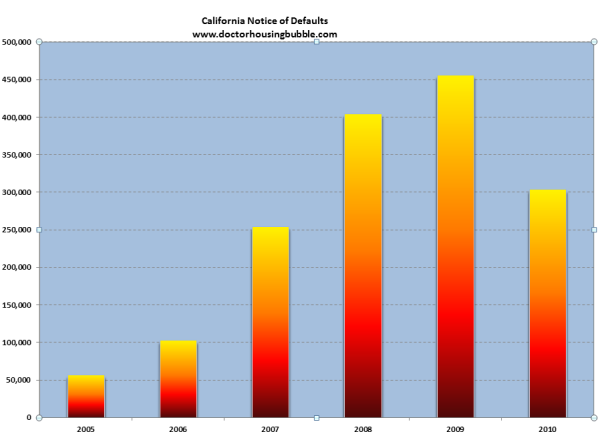 In 2005 notice of defaults for the entire year were slightly above 50,000.  Last year even with an artificial market we still had 300,000 NODs filed.  What about actual completed foreclosures?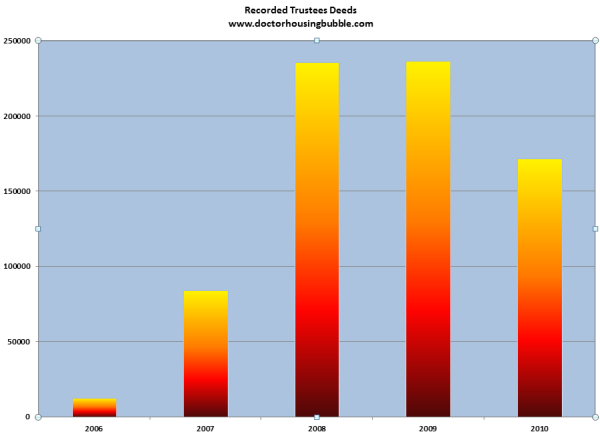 I always marvel at this chart.  In 2006 California witnessed roughly 12,000 actual foreclosures for the entire year!  In 2010 this number was up to 171,000.  Clearly the market is still battling with the aftermath of the bubble bursting.  Another item that is rarely brought up is the California budget.  Do people simply think that if we don't talk about it that it will somehow resolve itself?  I'm not sure if people really understand the deep changes that are coming down the pipeline.
Should I rent or buy?
This is a common question.  The answer of course depends on the home you are looking at and your income.  However many people that ask this question are usually looking at areas like Pasadena and Culver City that are simply entering the genesis of their correction.  I rarely get asked about buying a home in the Inland Empire to live in (many do ask about this area as an investment property).
The reason I think we are still years away from any normal market is the fact that there is still a large appetite for housing.  The current market is now dominated by investors and first time buyers.  These buyers are picking lower priced properties but again, a bulk of these people are speculating even for cash flow purposes.  Psychologically assessing the market I believe sentiment is still too strong in some areas.  The bottom will come when people look at homes more as a place to live instead of an investment.  The California market is facing challenges ahead: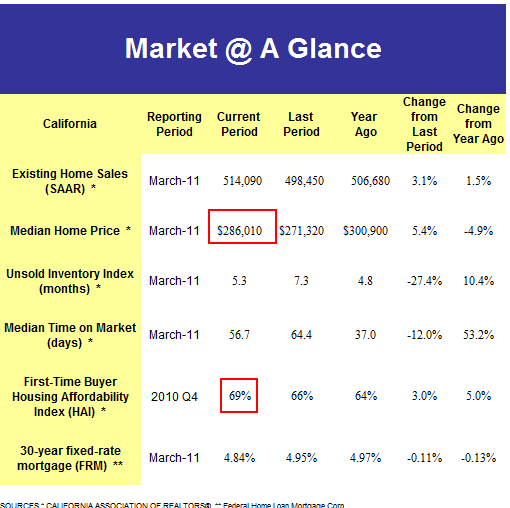 The only things keeping this market together is artificial methods of intervention like the Federal Reserve and accounting gimmicks.  These actions have kept the above data stagnant for a year but how long can this game of pretend go on?  If incomes are not rising then how are households going to pay for their home?  What if mortgage rates start retreating to their more historical average?  Ultimately incomes have to go up or home prices have to go down.
We see the same key players as the dominant players in the foreclosure game:
"(DQ News) The most active "beneficiaries" in the formal foreclosure process last quarter were JP Morgan Chase (9,634), Wells Fargo (8,329) and Bank of America (7,158).

The "servicers" (or the Trustees in the formal foreclosure process) that pursued the highest number of defaults last quarter were ReconTrust Co (mostly for Bank of America and MERS), Quality Loan Service Corp (Bank of America), California Reconveyance Co (JP Morgan Chase), NDEx West (Wells Fargo) and Cal-Western Reconveyance Corp (Wells Fargo)."
Bottom line problems still are deeply embedded in the California housing market.  Take a look at this example in prime Santa Monica: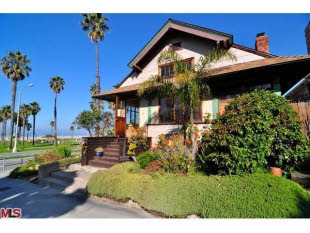 117 FRASER AVE, Santa Monica, CA 90405
Beds:                     2
Baths:                   1.5
Square feet:       1,909
This is a nice rental in the prime location of Santa Monica.  But look only a few homes away and you find this: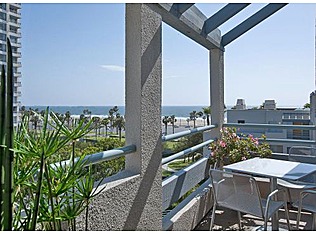 140 Ocean Park Blvd, Santa Monica, CA 90405
Beds:                     2
Baths:                   2
Square feet:       1,502
The rental is going for $5,500 per month while the home is for sale at $1,950,000.  How far apart are these homes?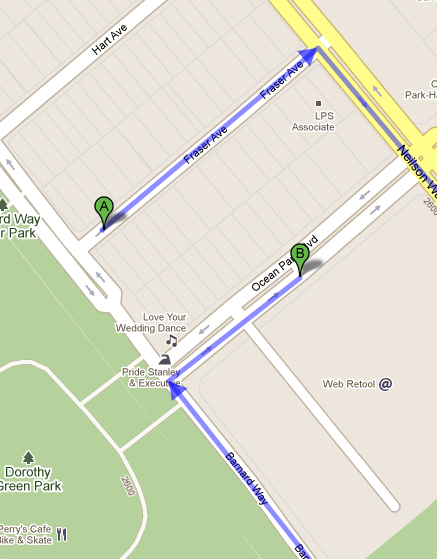 Technically you are a little bit closer to the ocean with the rental.  Welcome to California housing folks.

Did You Enjoy The Post? Subscribe to Dr. Housing Bubble's Blog to get updated housing commentary, analysis, and information.