This week we had two interesting headlines converge.  One had to do with home prices continuing to move up.  In fact, four markets hit new record levels.  These were mostly in Texas; Houston, Austin, Dallas, and Denver.  Given the lower prices of Texas, this isn't really a shock especially combining this with the record low mortgage rates courtesy of the Fed.  At the same time, we find out that the home ownership rate continues to fall reaching a multi-decade low while rental vacancies slowly decline.  All of this of course makes sense given a supply constrained market and a massive amount of investor buying over the last few years adding rental properties to the market (taking off market potential single-family homes for actual purchase).  What is troubling about the data is the difficulty for first-time buyers to enter into this odd market.  Having a larger share of our market as renters might make sense given economic constraints of household incomes yet it should be abundantly clear who the big winners were from all the Quantitative Easing that has occurred.  Welcome to rental nation.
Home ownership rate and rental vacancies
This chart should give you a good sense as to what is happening in this housing recovery: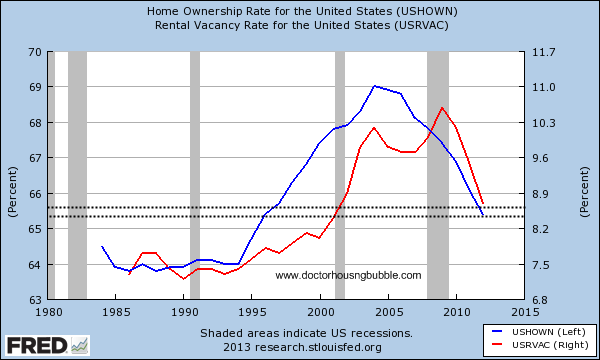 The home ownership rate is now down to 65.1 percent taking us back into the past of two decades ago (prior to any of the toxic mortgage shenanigans).  Los Angeles is virtually half renters and half home owners.  At the same time, the rental vacancy rate is also falling dramatically as more households become renters.  After all, when you foreclose on 5,000,000 households the needs of shelter still exist.
In housing unlike many other investment vehicles, the options are rather simple.  You either rent or buy.  Given the current market, many are renting either by choice or necessity.  In a place like California, many are simply being priced out by investors, flippers, or foreign money.  The all-cash crowd is hard to compete with and this year we have seen a record amount of cash buying in California.
For one, many people that "owned" a home during the last decade had no business buying just like banks have no business making the loans.  Even today, the home ownership rate would be a few percentage points lower if we inputted all the negative equity households.  If you are underwater you do not "own" your home.  Try selling it right now and see how much money you will get for it.
You would think that somehow with such a low amount of inventory that supply is nowhere to be found: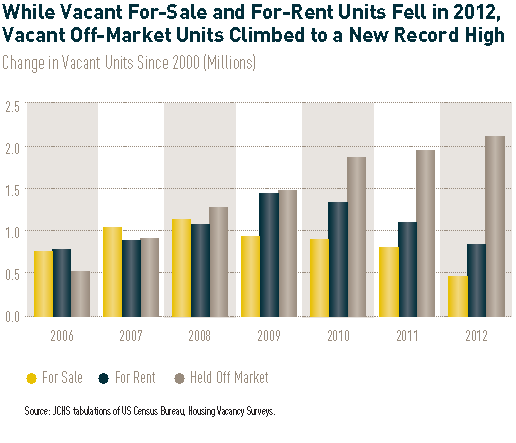 That is simply not the case as the chart above highlights.  In 2012 a record number of properties, over 2,000,000 were held off market.  In 2006 this was 500,000.  This is inventory that is in banking purgatory where foreclosure timelines are drawn out to comically long standards.  Why would banks operate differently when this climate is working fantastic for their bottom-line?  Although given the massive price hikes in this controlled market, banks are licking their chops and moving on some properties: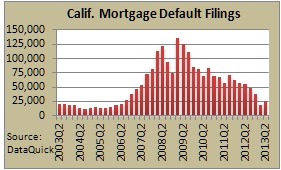 This is why in California, foreclosure starts are up 38 percent over the last quarter in what is supposedly a blazing hot market. This inventory didn't miraculously appear.  It was being held off.  And now that the market is frothy banks are choosing to unload but as the data has shown, banks in many cases are simply moving properties from one financial institution to another (say a hedge fund to turn a property  into a rental).
No place for the young
Unfortunately the recent bust and boom has been unkind to young Americans.  Household formation is still very weak:
"(WSJ) Americans will likely remain renters for longer than previous generations who viewed homeownership as the ultimate symbol of success. But many people remain scarred from living through or seeing someone else deal with a foreclosure or short sale. Despite home values rising in some markets, plenty of Americans owe more on their homes than they're worth. Meanwhile, consumers continue to face "tight credit conditions, shaky personal finances and competition from investment buyers able to offer cash," Mr. Diggle points out.

This has forced many into mom and dad's basement, slowing household formation. The 477,000 households formed this year is well below the norm of 1.2 million. That's a lot of money not being spent on everything from the hottest paint colors to dining room tables."
Given the record speed in which home prices are rising, constrained supply, and the supposed new demand you would expect that housing starts would be soaring: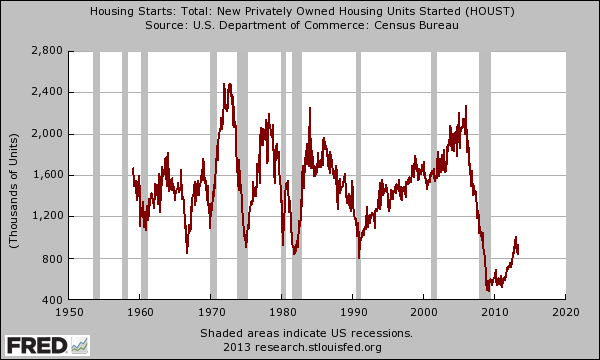 Housing starts had a big jump from the bottom but let us put this into context.  At the peak we were knocking out over 2,000,000 housing starts a year while today, it is at 836,000 (off the low of 478,000).  You'll also notice that we are recently trending lower (a few months ago we hit a rate of 1,000,000+ starts but have dropped nearly 200,000 in the recent point of data).
In essence, household formation is not justifying new housing starts since new homes typically cost more money.  A younger less affluent generation is challenging half-a-century of robust housing starts (we never dipped below 800,000 going back to 1950 and only until 2008 did this happen).
What is interesting is that housing starts for multi-family units are back to where we were in 2007 (pre-housing bust) although this has slowed down recently as well: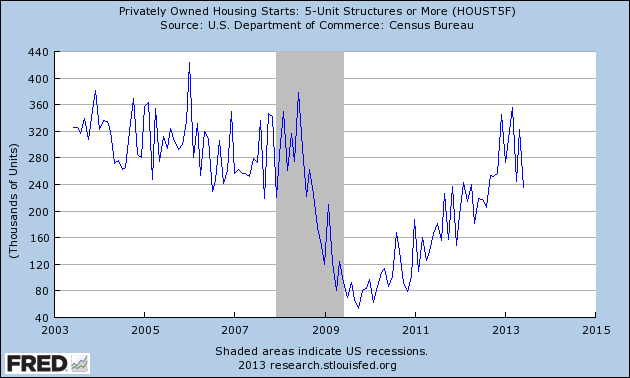 In other words, builders are betting on a rental nation for years to come since these projects will take time to fully go online.  With incomes lower for younger Americans, it will be difficult to justify building in any large number massive McMansions.  As we have noted however inventory seemed to have bottom earlier in the year and some areas are starting to see a softening of the mania.  And with the Fed telegraphing a slowdown in QE in September, it'll be interesting to see when the market-maker of the Fed eases back on the current housing system.
Is this renting increase simply a temporary outcome of the current real estate market or a longer-term trend?

Did You Enjoy The Post? Subscribe to Dr. Housing Bubble's Blog to get updated housing commentary, analysis, and information.