One often hidden story in the housing market is the boring rental market. Sure, we talk about investors and regular home buyers but there is rarely any deep analysis regarding renters in the mainstream press. There is no powerful lobbying group for renters or massive marketing engine out in the market to give a more nuanced view on renting. Any true funding and advertising goes into the buying and selling crowd. What is interesting is that sales figures are still abysmal even with the big 2013 mania with prices (not directly with sales). The rental market is definitely hot since many would-be buyers are being out played for one bathroom crap shacks. You also have professionals unwilling to plunk down $750,000 for essentially a dog house with a yard. While the mania of last year is cooling off during a typically hot selling summer season, the rental market is still very tight. In fact, a good portion of new permits being issued are going to multi-family units as demand for rental housing is booming. In California, you have 2.3 million adults living at home so their likely first step into forming a household would be a rental. You also have many places like Arizona, Nevada, and Florida where investors have been buying up for years now turning their single family homes into rental units. With the tight rental market, are we slowly running out of rentals?
Where are we building?
I'm obsessed with following the numbers when it comes to real estate. I really find the industry fascinating. For most people, the one segment of the economy that is going to eat most of your paycheck is going to be housing, either through mortgage payments or rents. People that own homes understand that there is always additional costs when you purchase a home. Upgrades, repairs, and for many trying to keep up with the Joneses with the latest cars, technology, and furniture. Buying a home creates spending in a multitude of other industries so it should be understandable why the obsession on housing exists.
Yet incomes across the country are stagnant. Employment growth in a lucky month is barely keeping up with population growth. Yet smarter builders realize that we will need more housing units in the future and many are building out multi-family projects: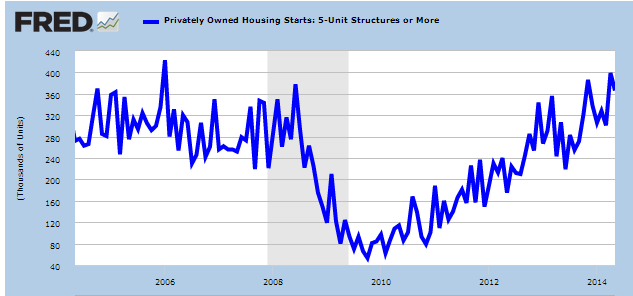 Multi-family starts are actually near a 10 year high. What this reflect is builders understanding the demographic changes hitting our country.
A few e-mails came through regarding the "epic" rise in new family home sales. So I went to the data:
Does that look epic to you? At the peak, we were selling over 1.2 million homes per year. Today, we are barely bouncing off the 400,000 mark with a much larger population than we had 10 years ago. You would expect this to be even more robust given the stock market is near a peak right? Since you actually need an across the board employment and wage recovery, you simply are not seeing builders putting in that much money into this sector with single family homes. Keep in mind those multi-family starts versus single family starts: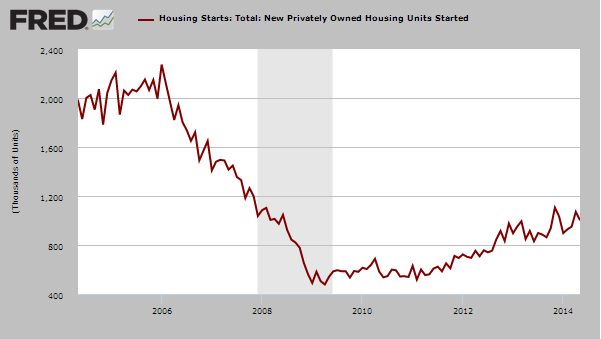 We have certainly bounced off the bottom but we are a far cry from the over 2 million starts back 10 years ago. Much of the excess housing units are being sold off in this low inventory market. The question of course is what happens when you price families out? Many have no other option but to rent or live at home with parents.
Household formation is still weak
Household formation is another good metric to look at to examine pent up housing demand: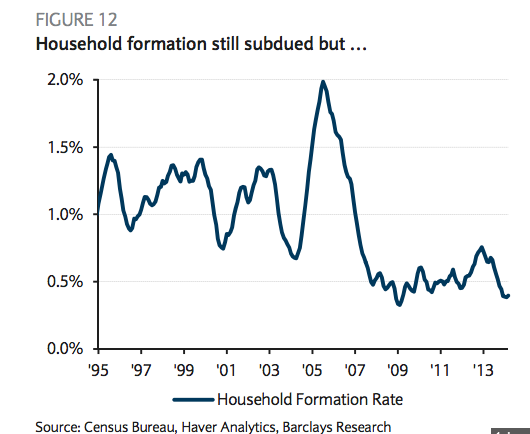 Household formation continues to be near a generational low. Until we start seeing this increase, there is little reason to believe that home sales will take off again. And keep in mind that when someone moves out into a rental, this is a new household formation. This would be the first step before thinking that someone is stepping out of their parent's home into a $700,000 stucco box. We are simply not seeing this and that is why investors have filled the gap for all the years since the housing bubble popped. They very much have cash or alternative methods of financing outside of mortgages.
Not much building pushing vacancies down
There has been little building of homes in areas with high demand. This is across the country. The home vacancy rate has plunged and this has soaked up excess capacity: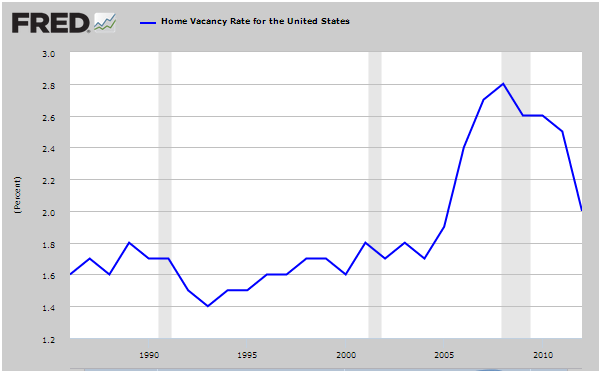 Higher prices and stagnant household incomes have also pushed families into rentals: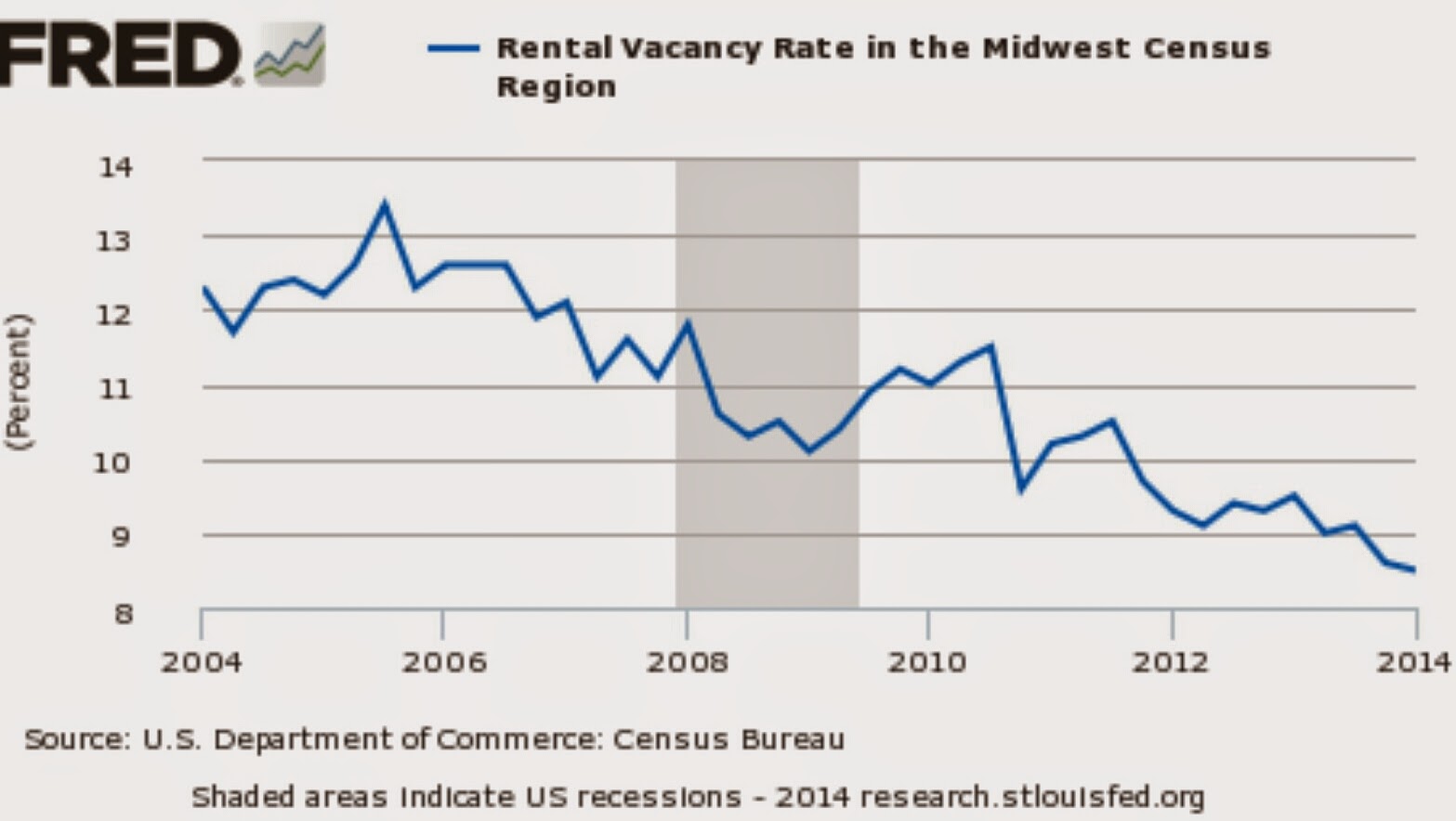 The demand is much higher on the rental side and is more in line with actual incomes of US households. People have champagne tastes but beer budgets. I still get many e-mails from people asking about buying advice (more like timing advice). I've always believed that you should rarely spend more than one-third of your gross monthly income on your total housing payment. California is a boom and bust market so good luck trying to time it but if you are comfortable with your monthly payment, go for it and buy that Great Depression drywall sarcophagus. Deep down though these folks are eyeing their next property on the revolving property ladder cycle. We know that people stay in homes from 7 to 10 years so this nostalgic notion that people will buy and stay put for 30 years until they have their mortgage burning party is more of a kick back to the Mad Men days when the "good old days" are more of a mythology story versus actual fact. Heck, talking to some in the industry they have already forgotten about the 7,000,000+ foreclosure graveyard we just passed up.
BLS measures rents or owners' equivalent of rent and prices are going up
The current tight market has pushed rent prices up: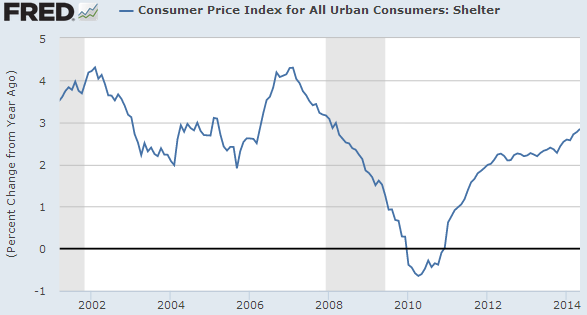 The rental market is tight and prices have gone up. The CPI although a poor measure for actual home prices, does a good job of measuring rents. It uses the owners' equivalent of rent measure and this has certainly moved up.
What is interesting is that you are seeing a higher quality of rentals hitting the market. You are also seeing a lot of do-it-yourself folks putting up their home for a rental to capitalize on some cash flow.
Demand for apartments via Google
The hive mind of our society can be seen by looking into the search queries with Google. Take a look at searches for rentals and apartments:

Source: Google Apartments and Residential Rentals Index
Compare this to the actual homeownership rate: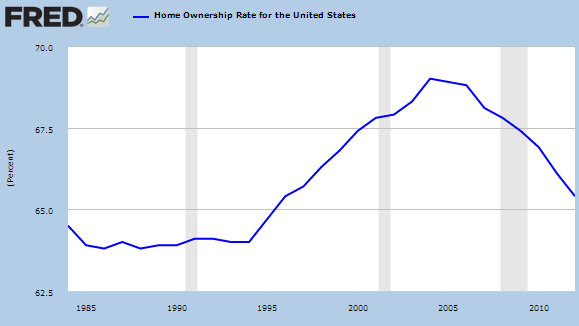 It is fairly clear to see where the numbers are. You would expect to see more rental housing units filled followed by a jump in home buying across the board if the economy were truly booming. GDP took a big hit in Q1: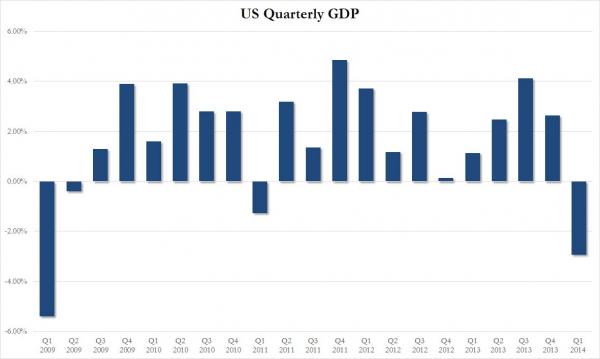 The futures market is saying this was a one-off event (but it did happen and was much deeper than most expected). Both bulls and bears can agree that the middle class is shrinking in many metro areas across the country and we can see this with the net domestic migration out of California for lower priced states. A large part of growth in places like California is coming from foreign born migration and new births. It is an interesting time but also helps to explain the current real estate market. It does look like we are entering into an inflection point and rentals are a good measure of overall household economic well-being. Landlords are going to charge as much as they can get from local area families and families will ultimately pay as much as they see fit. Yet there is only so much you can charge before people start making economic tradeoffs (i.e., moving more inland, other states, with parents, etc).

Did You Enjoy The Post? Subscribe to Dr. Housing Bubble's Blog to get updated housing commentary, analysis, and information.