California real estate has taken a beating since the peak in 2007.  Home prices statewide are down by 40 percent but many markets in lower priced areas have taken bigger hits like the Inland Empire.  Even prime triple-A areas have seen their fair share of price corrections.  Yet more is stocking up in the pipeline.  The next round of price reductions is happening in middle tier locations.  These include cities like Culver City and Pasadena which we have covered extensively over the years.  Today we are going to look carefully at a few city blocks in Pasadena and pull up rentals versus recent home purchases to show why the bubble is still in full bloom in these areas.  Examples like this show us that California real estate in many cities will have a challenge maintaining current valuations going into 2011.  Let us take a look at a rental and recent purchase in the 91104 zip code of Pasadena.
Before we examine the map, it is important to note that buying a home will carry a premium.  Yet how much should this premium be?  That is the question and usually the benefits of owning a home include tax breaks and assumed appreciation.  This is why a home is bought from an economic perspective.  The emotional part of excellent schools and having a place to establish roots is important only if incomes are there to back up the purchase and not some flimsy pie in the sky mortgages.  This is where you scratch your head and see $80,000 leased cars in front of apartments or European autos in front of homes of folks making $100,000 for their combined household.  It is all debt or borrowed time in the world of smoke and mirrors.  First let us examine our rental property: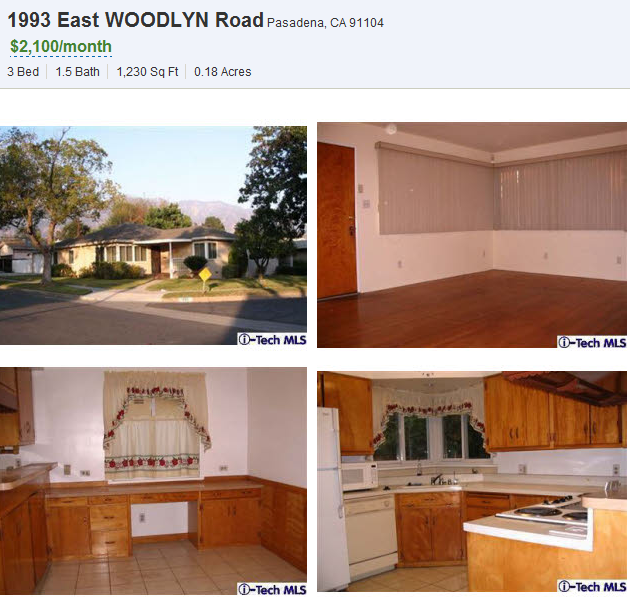 This is a nice rental in a good Pasadena area.  This isn't Newport Coast but some readers were saying that it was near impossible to find a decent rental in these mid-tier markets.  It took me all but 2 minutes to find this place.  Let us look at the sales history here:
Sold:      07/26/2000                         $270,000
So whoever owns this place with the current mortgage feels that $2,100 is sufficient to cover all the maintenance, principal, interest, and taxes on the place.  Keep in mind that these people are renting out the home which puts them in the investor category.  You will have vacancies and repairs but this is part of the business of being a landlord.  So as it stands, the price to rent ratio works out to:
$270,000 / $2,100             =             128
The current home price is the equivalent of 128 months of rent.  For this, the lower the number the better.  For example, if the place was renting for $3,000 the ratio would be 90.  Let us look at a recent home sale in the area that is very similar: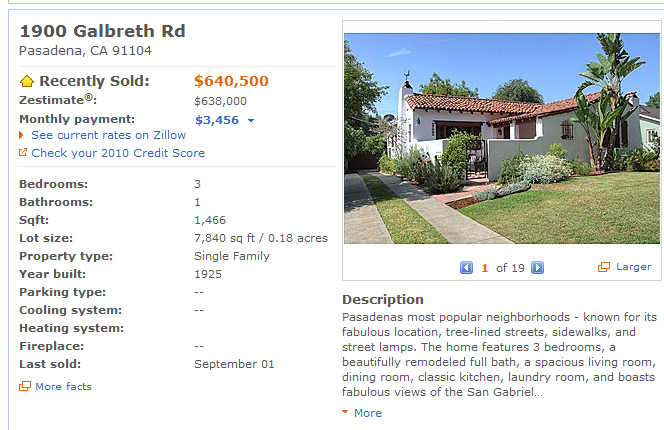 This home sold for $640,500 on September 1, 2010.  As we have documented before, over 36 percent of all recent home purchases in Southern California are done via FHA insured loans because of low down payments.  Let us just hypothetically say that this purchaser put down 10 percent which is more than many current buyers are putting down:
Down payment:                               $64,500

Taxes for 2010:                  $4,428/per yr

Principal and interest:    $3,183/per month

Total PITI:                            $3,702 (including insurance)
The total monthly net payment is $3,702.  Now think of this in relation to the other home that is on the market for rent at $2,100.  This home doesn't even come close to being a good investment deal.  In fact, the current ratio on this place is up to 305!  Let us plot these homes out on a map: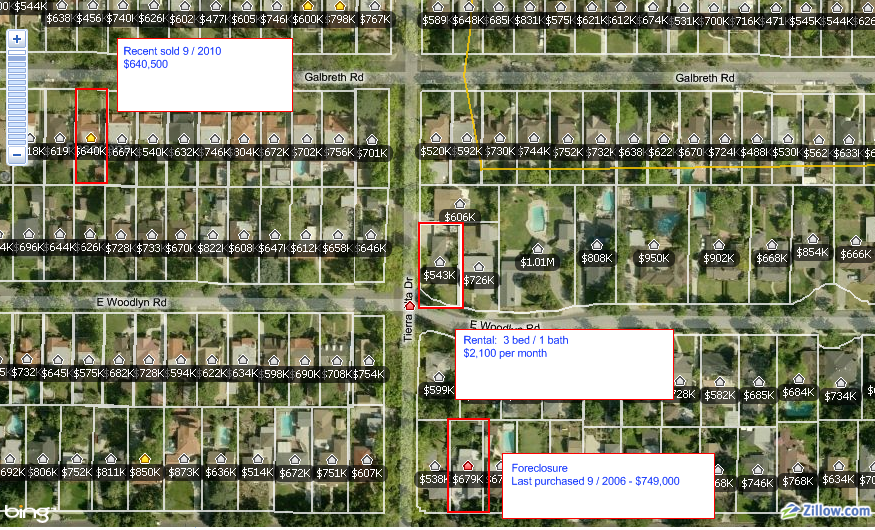 You can visually see how disconnected market fundamentals have become.  Not only that, you can see that a foreclosure a few homes down is on the market.  The home was purchased for $749,000 in 2006 and who knows what it would fetch in today's market.  The foreclosure is only 2 bedrooms versus the 3 bedrooms for the recent sale and the rental.  So if we use the recent sale as a comp, we are looking at a low $600,000 sale here.  But even that is overpriced.
This is the interesting dynamic going on.  The rental was purchased at a pre-bubble or early bubble price of $270,000.  The rental market is an excellent way to get the pulse of what someone can actually pay out of their net income without going for some government or Wall Street gimmick loan.  The benefit of renting is living in said house and enjoying the amenities of the area.  You don't get to write off the various tax deductions of owning a home but you also don't pay for maintenance, insurance, and yearly taxes (which are likely to go up given the massive state budget deficit).  You also don't carry the risk of being underwater which is now a new variable given that 1 out of 3 California mortgage holders are swimming underwater on their mortgage.
In 2005 and 2006 I ran similar numbers for some of the lower income areas that had Real Homes of Genius selling for astronomical prices.  A home selling for $500,000 in an area where it would fetch $1,000 in a lucky month was very common.  The numbers here are holding up more so because these are desirable neighborhoods but looking at fundamentals it is clear a correction will hit.  The owner of this place is happy renting it out for $2,100 a month.  It probably turns a profit or breaks even here.  Also, this is the only price the market will take otherwise the owner would be commanding a higher price.  With rent, you don't have any artificial stimulus or government gimmicks to back up the price.  This is what a person looking to live in this area without buying is willing and able to pay.
As a rule of thumb, a great value is a home that can pull 1 percent or more of its purchase price per month.  So that recent $640,500 would be a great deal if it were to rent at $6,450 per month.  Obviously that isn't the case.
Are you seeing similar examples in your current city?

Did You Enjoy The Post? Subscribe to Dr. Housing Bubble's Blog to get updated housing commentary, analysis, and information.