One aspect that is largely left out of the California housing market dialogue is the reluctant and often delusional home seller.  The conversation has been dominated by distressed home sales because really this is where the action has occurred.  You also need to realize that most foreclosures, not all of course, but the vast majority of distressed sales occur because people simply do not have the economic means to continue supporting their home payment.  The shadow inventory is a very real indication of this troubling reality.  Yet you also have a cohort of home sellers that are enamored by the peak prices of 2005 and 2006 and somehow want to recapture that incredibly inflated sales price.  Many of these sellers are part of the cohort that bought pre-2000 and still actually carry some equity in their property even after the massive California correction.  Today I want to examine this group and look deeper into the figures here.
Census – who bought prior to 2000?
A lost decade is virtually in the books for California real estate.  So let us safely say that many of those that bought pre-2000 have some equity in their property.  How many of those people exist in California?

Source:  Census
The number is surprisingly low.  I have gotten numerous e-mails from people stating that "the majority of home owners bought before 2000" so this group would somehow be a force to reckon with.  The data doesn't really support this.  First, many of these people won't and do not want to sell.  Next, how do you know these people didn't refinance and tap out their equity?  Ultimately the market can only support what local household incomes can adequately carry and if you haven't been paying attention, the California economy isn't exactly booming.
The current sales in California are being driven by all cash investors in low price areas like the Inland Empire and those diving in with low down payment mortgages like FHA insured loans: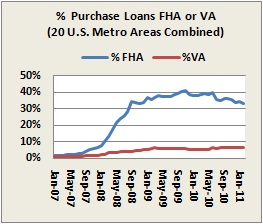 Source:  DataQuick
I noticed a few homes in mid-tier cities being yanked off the market.  These were non-distressed home listings and probably had a good number of sellers from this pre-2000 group.  Yet this group tends to have the most delusional assumptions as to what their home is worth.  After months of probably no contacts, they yanked their homes from the MLS especially now that we are entering the seasonally slower fall and winter markets.  Maybe 2012 will be better is the assumption.  Really?  Unless we see household incomes rise, we can expect more of the same.
This correction will go deeper for a couple of reasons and it also involves the public and the access to data.  Keep in mind, most buyers now understand how easy it is to find the previous sales price of a home.  So someone that bought in Culver City in 1995 for say $200,000 and is asking for $600,000 is now contending with the reality that most buyers that can buy a $600,000 home have the ability to go to Zillow and check the previous sales price.  The ability to find this information is keeping folks from drinking the housing Kool-Aid especially after millions have been burned.
Redfin see agent sales history and activity
Speaking of this transparency, you are now able to view sales by an agent over at Redfin.  Redfin calls this the "Scouting Report" and you can view selling and buying history from an agent in your area.  I pulled up a few people that claim to be selling like gangbusters in this market and one turned out to have one sale in the last 24 months.  An interesting tool no doubt that I'm sure many of you will be using.
What do tools like the Redfin Scouting Report show?  Information is the name of the game and many potential buyers can access virtually every piece of history on a home.  The fact that mortgage rates are low might have worked when the MLS had a virtual monopoly on sales history and people had to go in person to the county clerk to lookup previous sales records.  That is no longer the case.  The reluctant seller is thinking that they are living in the 1980s where they can fluff their way to higher prices while the buyer is completely in the dark.
This also plays into the fact that home prices have cratered in California.  Take a look at the Southern California median home price: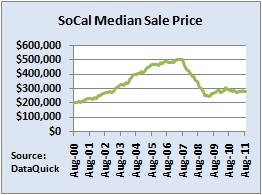 Give this market one more year and we will have a nominal lost decade (the Inland Empire is already there and inflation adjusted we are there as well).  You also have these reluctant sellers contending with banks eager to move shadow inventory.  Take a look at this La Mirada short sale:
Listed    09/23/10

Beds      4

Full Baths             3

Partial Baths       0

Property Type   SFR

Sq. Ft.   2,732

$/Sq. Ft.               $131

Lot Size 6,305 Sq. Ft.

Year Built             1958
This home is listed as a short sale.  But if you look at the pricing action you realize very quickly that banks are getting serious:

So here is the history.   The home last sold for $525,000 in 2004.  At this point the bubble was already going strong in the state.  It was a new listing in September of 2010 for $530,000 and someone was simply trying to optimistically escape here.  Nine months later, reality kicks in and a $103,000 reduction is given.  No bites.  Then it becomes a chasing the market down game.  Eventually the home is reduced by $166,000 from the 2004 sales price.  Yet the home is still sitting on the MLS and we have record low mortgage rates.  Why?  Because the economy is a mess and household incomes have contracted for well over a decade.  If household incomes were solidly rising and unemployment wasn't above 12 percent then maybe we start making an argument.  The only argument delusional folks are making now is about the artificially low interest rates the Federal Reserve is trying to push.
Many reluctant sellers will remain reluctant until either they get real and stay put in their place, or actually realize this is a market where inventory is flush and households are largely getting poorer because of the economy.  The leaking of the shadow inventory will put a wet blanket on the California housing market for years to come.

Did You Enjoy The Post? Subscribe to Dr. Housing Bubble's Blog to get updated housing commentary, analysis, and information.