A rally does wonders for the psyche and complexion.  People have short-term memories, which is good for the sanity of relationships but not for investing and many forget that only on March 9th did the S&P 500 close at a low of 676, having fallen by 56 percent from the 2007 peak.  The current 20 percent market turn around is stunning.  However, to base this on anything but a technical bounce and a bear market rally is false and smells of denial.  The spin on the housing numbers is laughable and the new Private-Public Investment Program leaves much to be desired.  Moreover, whatever happened to those stress tests?  You know, the government acting as psychiatrist to the bi-polar market?  Instead, the government has prescribed lithium and decided that the talk therapy is for the client's family, and not the client.  This week will show us how strong this rally really is in the face of the Case-Shiller numbers coming out, it'll be the last few days before the end of the first quarter, and the unemployment numbers are out on Friday with another 500,000+ jobs lost on tap.  Get the meds ready because it is going to be a volatile week.
In the foggy midst of all the turmoil, many people have forgotten about sunny California.  People may want to pay attention since the California economy contributes $1.8 trillion to our nationwide economy.  Some have even forgotten that the state is loaded to the top with Pay Option ARMs and other questionable misfit loan products that have yet to see their glowing reflection in the sun.  The median price for the state is off by 50 to 55 percent depending on which source you look at.  Many will argue that this incredible price drop is based on the fact that over half of homes sold are foreclosure resales.  That is true.  However, that has been the case for over a year.  This is the market.  Until we start seeing a more balanced market where foreclosure resales make up possibly 20 percent or less of all homes sold each month, then we can begin talking about a bottom.  Until then, trying to surgically remove foreclosure resales from the bigger picture does not provide the true picture of the state housing situation.
Groupthink is a strong motivating force.  It rages in manias and panics.  In recent days, I have gotten e-mails from folks that go something like this:
"I keep seeing these 50 percent price drops in the median price but nice homes in nice areas are only down by 20 or 30 percent from their highs.  It seems like the market has bottomed.  I'm starting to think it makes sense to jump in.  Should I buy?"
Given the dire economic situation of California and the massive amount of inventory on the market, my answer would be no.  In fact, I have given 10 reasons why California will not see a bottom until 2011 and all the factors remain in place.  You need to remember that the odds of a massive bubble in real estate once again in the near term are virtually non-existent.  The California housing market was fueled by Pay Option ARMs, interest only, no-money down, and loans that were massively toxic.  Even with the government trying to push rates to 4.5%, the no-money down days with no checking of documents is over.  So if you do miss the bottom, you might be able to jump in a year later with prices going up 5 percent, which is more of a historical average.  That is why there is absolutely no rush right now to jump in.  Too many variables are in the air.  The true California unemployment rate is close to 16 to 19 percent although the headline number is 10.5 percent.  Virtually all forecasts have this number growing throughout the year with estimates putting the headline rate at 12 percent or higher.  The budget is still in a mess.  Does this sound like a good economy for rising home values?
The latest Case-Shiller number assigns the Los Angeles metro area a 171.46.  Where does the futures market see the Los Angeles bottom?

The market is seeing a price bottom hitting in November of 2012 for the Los Angeles area.  Now let me add that for November 2011, which is whereabouts I am predicting a bottom, the future contract is trading at 155 and the 2012 contract is trading at 152, a negligible difference.  If we are to use this as an indicator, we can expect another 11 percent drop in prices overall.  This is your down payment right here.  Is it worth it to wait 2 or 3 years for $30,000, $40,000, or even $50,000 off?  I think so.  Unless I see some empirical evidence showing why prices will skyrocket again, this forecast seems right given all the external and internal forces.
This all leads us to today's Real Home of Genius (hat tip BV) located in Los Angeles.  As I have mentioned, prime homes in prime areas are still moving with modest discounts.  Yet this is the next leg to fall.  But when this part of the market falls the overall regional median price will actually go up!  Why?  Because right now the market is selling like pancakes those homes in depressed areas like the Inland Empire for $100,000 to $150,000.  And as you know, the median cares not about numbers but more about the overall sample size.  The current sample size is being dominated by lower priced homes.  Yet when that trend is exhausted, then more middle to upper income areas will sell (at discounts) but this will still bring up the overall region median price.  So gear up for the pundits to use this angle in the upcoming year.
Today we Salute you Los Angeles with our Real Home of Genius Award.
Up and Coming Neighborhoods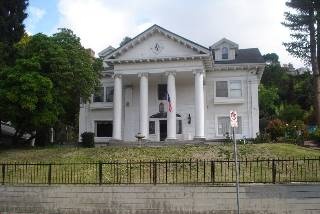 For those of you not from the Southern California region, every once in awhile you will have major areas gain traction via a trend and suddenly become expensive over night.  Some areas have bohemian revivals and given our recent bubbles, many areas saw their own renaissance.  This happens on a continuous basis.  This home is located in a zone of Los Angeles that followed this trend.  This area once with a median price of over $500,000 is now selling in the low $400,000 range.  Yet the home above is nice (sort of looks like a mini White House if that is your thing) and is a good sized home.  The home has 5 bedrooms and 3 baths.  It sits on 4,392 square feet, which is gigantic in L.A. terms.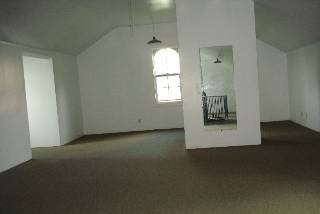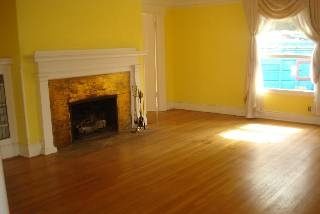 This home by the way is a REO-Bank foreclosure.  Makes you wonder how the bank has this accounted on their books?  The ad tells us that they are looking for "cash offers only" so forget about the easy government financing.  Now this home is a perfect example of the next trend we will be seeing in SoCal.  Nice homes in more semi-prime to prime areas selling for bargains.  We've seen a few of these recently but the deeper story is that prime areas have seen sales fall off a cliff yet prices remaining stubborn moving downward.  That will not be the case in the next couple of years.  Let us take a look at the sales history on this place: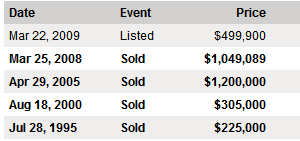 What is shocking is that this home sold for over $1 million twice in a zip code where the median price is now $435,000.  The current list price is $499,900 which is a drop of 58 percent from the peak.  The irony however, is should this home sell at the current price, this will add fuel to boosting the SoCal median price which now stands at $250,000.  Let us run a quick example.  Let us say 10 homes sell for $150,000 and 4 sell for $500,000.  What is the median price?
Median price = $150,000
At some point, all those bargain foreclosures are going to be bought up and volume will start declining.  What is going to happen when you have higher priced foreclosures selling?  Let us now say we have 5 homes selling for $150,000 and 5 of those $500,000 homes selling for $400,000:
Median Price = $275,000
Is the market really better?  You can bet that perma-bulls will spin this like they tried to spin those home sale numbers.  In our example, the actual price of those higher priced homes fell by 20 percent but the median price jumped up by $125,000.  Southern California being so diverse has a complicated housing market with over 20 million people.
That is why the Case-Shiller numbers will be a better indicator moving forward but also, looking at niche zip codes and markets to see how they are comparing to internals.  I ran the numbers for rentals in the area and a home with 4 to 5 bedrooms will cost you $3,000 to $3,500 a month.  So we are in fact getting to more realistic price levels.  Let us run a quick analysis on this place:
Purchase price:           $499,900
Down payment:          $74,985                      (15 percent down)
PITI:                           $2,749             (4.8% APR with 2 points)
Rent:                           $3,000
Including tax benefits, at the current list price this home may make sense.  It would be cheaper than renting.  Yet the major hurdle now is that $74,985 down payment.  Or in this case, having all the cash to buy the home flat out.  I talked with a few contacts in the industry and from what I have been gathering you are looking at 10 to 15 down if you have relatively good credit (680+ FICO) to qualify for sub-five percent rates, give or take a few points.  Now this home of course is an exception since for every home like this you will find 6 overpriced homes with delusional sellers thinking the market is days away from going back to 2005.  More and more homes like this will be the case, not the exception.
Today we salute you Los Angeles with our Real Homes of Genius Award.
Did You Enjoy The Post? Subscribe to Dr. Housing Bubble's Blog to get updated housing commentary, analysis, and information.