It would seem that many people are now going on a Shaggy "it wasn't me" tour regarding their culpability in the economic crisis.  Some real estate agents blame appraisers for not digging deep enough.  Lenders blame the borrower for not reading the 10,000 page manifesto of print that they didn't even read.  Wall Street blames those yield hungry foreigners (hey, all they did was collect billions in fees).  Foreigners blame U.S. institutions for not regulating the industry.  Rating agencies blame Wall Street for mispricing the assets they were receiving.  And borrowers blame the lenders because who would have thought that buying a $600,000 when you make $60,000 was going to be problematic down the line?
If we had a real estate and credit crisis derived from Dante's Inferno, it would look something like this: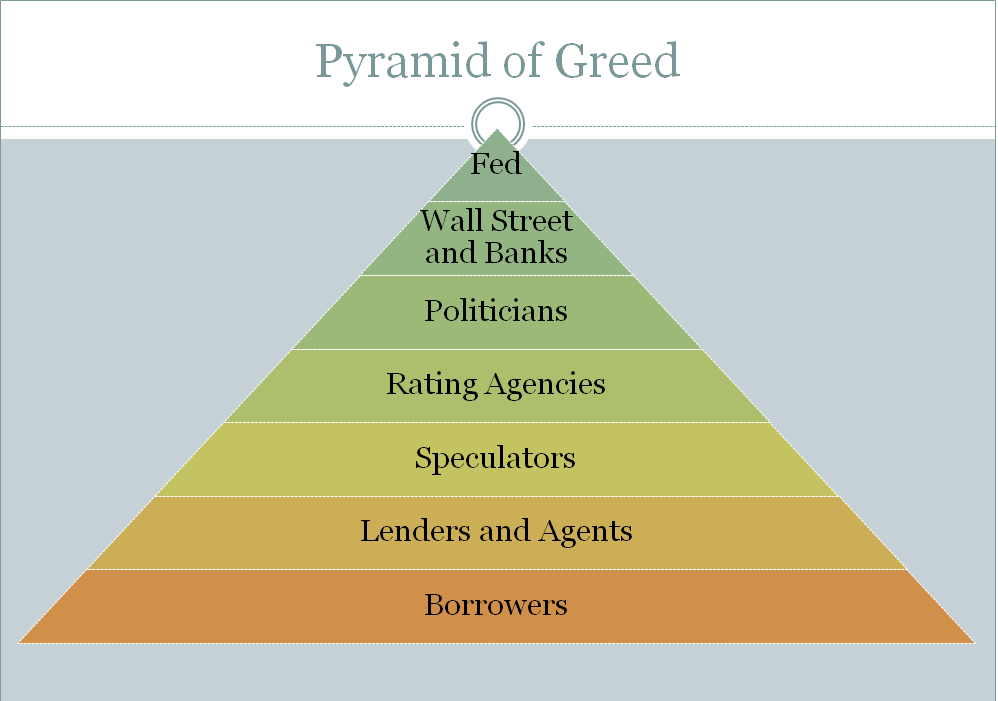 In this mea culpa tour, I have heard Alan Greenspan, the former maestro of the Fed argue that the Fed wouldn't have been able to do much differently because to do so, would have caused an economic contraction and unemployment to rise.  You have to read between the lines with the master of obfuscation, but what he really is saying is that we had to collectively remain in denial until the bubble exploded on its own accord.  Now that it has burst, we can fix it.  This is sufficiently ignorant and ignores the reasons that during the Great Depression, we had put in place tougher market enforcement and regulations which was eroded over each subsequent decade.  The system was never equipped to deal with credit default swaps or the intricacies of mortgage backed securities and no one seemed to care because everyone seemed to be getting rich.  It was a mania and the above pyramid tells you who you should go after first.
In the first place, if the Fed had held on to a tighter rate policy we would have had a recession but nothing like we are facing now.  With higher rates, this would have put a chokehold on Wall Street.  Without Wall Street, former Circuit City employees turned loan gurus would not have been able to push toxic loans onto a public that clearly was ill equipped to take on such tremendous debt.  So this system needs to be reformed from the top down.
Today I'm going to show you two homes that encapsulate the aftermath of the housing bubble bursting here in California.  One home is in Compton California and the other is in Pasadena.  Both L.A. County homes but an entire world apart.  Today we salute you Compton and Pasadena with our Real Homes of Genius Award.
Prime and Non-Prime Equal Decline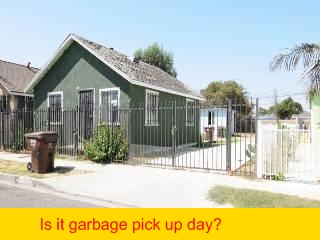 The first home takes us to Compton California.  You always hear agents saying "location, location, location" but during the bubble, as long as a home was in California it was golden.  This above home has all the qualities of a major mania gone wrong.  This 1 bedroom 1 bath home with a stunning 500 square feet features the new trend in real estate, garbage can photography.  I'm not sure why agents or banks don't spend ten seconds moving the trash can from the actual photo of the home.  This is another reason why I support the abolishment of percent fees for real estate agents and advocate a low flat rate fee.  This home has been on the market since August of last year.  First, let us see the insanity that lenders brought on this home:
Sale History
07/21/2008: $235,060 *
09/27/2007: $340,000
The July data is most likely the lender taking the place back.  Yet you should be flabbergasted at that September 2007 sale price.  $340,000 for 500 square feet in Compton!  So what is this home now selling for?
Price Reduced: 11/17/08 — $83,900 to $78,900
Price Reduced: 01/22/09 — $78,900 to $69,900
This home has fallen 80% from the sale price of 2007!  You would think that at this level, an investor may be interested but now you start realizing that many investors are now being extremely picky regarding the homes they will purchase.  Most of the housing porn shows never talked about buying a home as a cash-flow property for the long-term.  No.  These shows were obsessed with the instant gratification culture and every property was a fix and flip example.  That is now finished.  Now, the few shows that remain are basically a reality show with neurotic wannabe actors trying to make a name in the entertainment industry.
Thank you Compton for showing us that we should have more faith in lenders and agents.  After all, look at the good job on this home!
Pasadena – When a Good Location Isn't Enough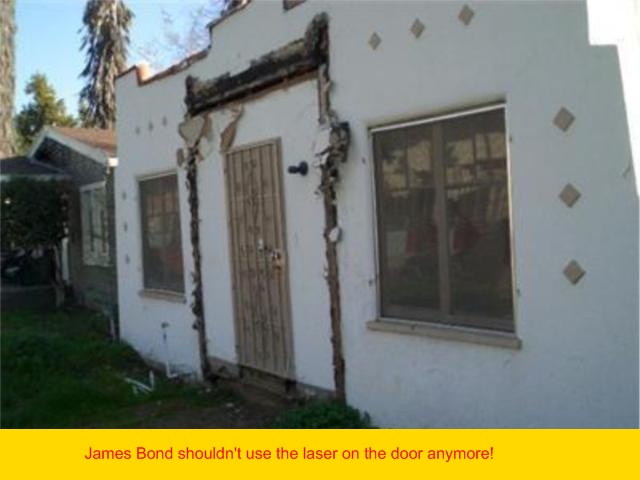 Pasadena is a good area in Los Angeles County.  So good in fact, that 007 tried to break in this home with his laser pen.  He should have just knocked!  This 1,200 square foot home has 3 bedrooms and 1 bath and shows us once again the fantastic staging going on by people in our respectable housing industry.  Let us take a look at this glamour shot of the bathroom: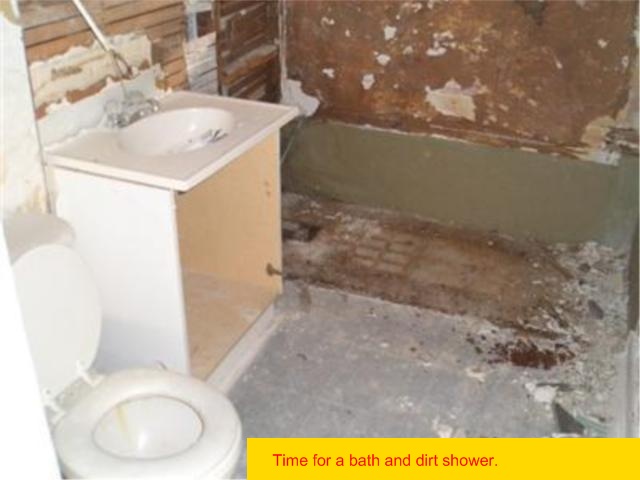 I can see myself taking a bubble bath right now!  What about for those frigid 60 degree nights we have in Southern California?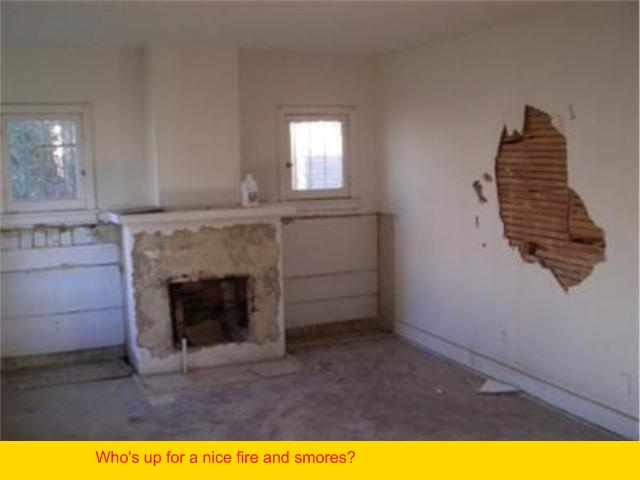 I love it!  Maybe we can tear out the wall and use it as fire wood.  I love the ad for this place:
"Both have been lovingly and completely gutted and now stand as good-to-go exterior shells ready for your creative touch, or byob (bring your own bulldozer) large lot, school in close proximity spectacular mountain views ."
Lovingly gutted!  Bwahahahaha!  BYOB.  Bring your own bulldozer.  Oh man, do these people actually think this is going to work?  This home has been on the market for 379 days and yes, I know that you are absolutely stunned.  Let us look at the sale history on this place:
Sale History
08/23/2006: $522,000
Half a million for this?  Well, it is in Pasadena and you can just imagine someone watching one of those hype housing shows thinking that they will "lovingly gut" the place and slap on some granite countertops and some grass and you can then flip it for $900,000!  Let us see the pricing action on this place:
Price Reduced: 04/09/08 — $479,000 to $450,000
Price Reduced: 04/26/08 — $450,000 to $375,000
Price Reduced: 05/01/08 — $375,000 to $360,000
Price Reduced: 05/24/08 — $360,000 to $279,000
Price Reduced: 06/22/08 — $279,000 to $249,000
Price Reduced: 07/17/08 — $249,000 to $239,000
Price Reduced: 10/24/08 — $239,000 to $219,000
Price Increased: 11/03/08 — $219,000 to $230,000
Price Reduced: 01/02/09 — $230,000 to $199,000
Bwahahahaha!  I love how they raised the price in November of 2008.  A little bit of reverse psychology eh?  Didn't work!  Freud is broke and isn't falling for psychological gimmicks found on over the counter real estate books.  The home finally broke the $200,000 mark and is now selling for $199,000.  That is over a 60% decline from the peak in Pasadena.  So not only does location matter, but the actual home itself.
Do you need any more proof why trying to support any price bottom is absurd?  What do you think is going to happen to comps when these homes sell in these areas?  Prices will fall!  That is why I have given you 10 reasons why the bottom for California housing will not be here until summer of 2011.
Today we Salute you Compton and Pasadena with our Real Homes of Genius Award.
Did You Enjoy The Post? Subscribe to Dr. Housing Bubble's Blog to get updated housing commentary, analysis, and information.