We are back to the days where low priced homes in Los Angeles County are a rare commodity.  Yet those homes are out there for a variety of reasons.  It is amazing how pervasive the flipper mentality is out here in good old SoCal.  Everything is just a matter of a few HGTV remodeling techniques and then you are off to the big money races.  Put aside your feelings for schools, quality of the structure, crime, or even if you would like to live in the area.  So today we ran across a home that is under $100,000 in Los Angeles that is currently listed for sale. A sub-$100k property in Los Angeles?  How can that be?  Are we not living through mania 2.0?  Today we salute you Los Angeles with our Real Homes of Genius Award.
Price reflecting reality?
The home we are looking at today is listed as a short sale.  It looks like it has been active on the MLS for over 100 days.  Let us take a look at this gem: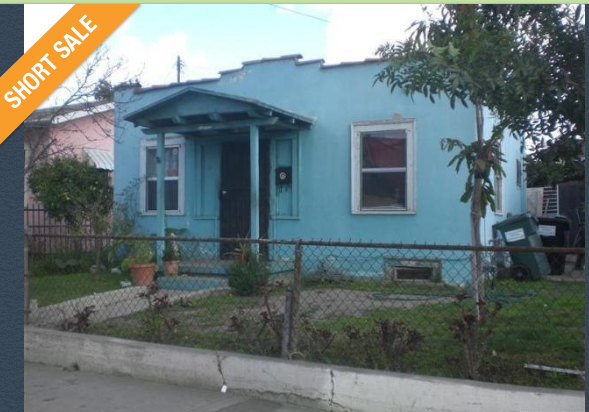 5972 HOOPER  Los Angeles, CA 90001
Lot size:                1,837 sq/ft
Built:                      1923
Beds:                     1
Baths:                   0.75 (?)
Square feet:       484 sq/ft
This ranks up there with one of the smallest homes we have featured as a Real Homes of Genius.  484 square feet and 0.75 for a bathroom.  Does that mean you are missing a bath, sink, or what else?  Interesting way to categorize.  Yet this home is definitely priced to sell:
List Price:             $71,300
Believe it or not, this home was initially listed at $80,000 back in August but the price was dropped to the current $71,300.  Here is a side photo with yet another property having a picture taken with garbage cans right next to it:
I love the ad on this place:
"HIS IS A SHORT SALE TRANSACTION. LISTING PRICE APPROVED BY THE BANK! HOUSE IN NEED OF COSMETIC WORK. NOT A FIXER. HOUSE LOCATED IN A NICE AREA, ELEMENTARY SCHOOL IS BEING BUILT HALF A BLOCK FROM THE HOUSE. SUBMIT YOUR OFFERS. ALL COMMISSIONS WILL BE SPILT 50/50 BETWEEN LISTING OFFICE AND SELLING OFFICE!!"
Not a fixer?  In need of "cosmetic work"?  House in nice area?  The median price for this area is $186,000 but something tells me this home is on the smaller side of things.  Where are all the big pocket Wall Street investors?  What about the foreign hot money?  As I have stated, the hot money is obsessed with certain areas.  I've seen the argument made that all this hot money is good for bringing communities up.  Really?  This would be a prime candidate for someone to jump in, remodel, and make this area a bit better with a nicer home.  Yet big money is only interested in a quick fix (and not community) and the notion that this money is building up communities is nonsense.  Otherwise Detroit and Cleveland would be booming with real estate activity.
I am however surprised that at this price point, someone has not purchased the place.  This place would easily cash flow and for the price, someone can go all in here (for the price of some SoCal auto).  Yet being a landlord is a job and the numbers for whatever reason, are not panning out here.  Opportunity cost is real and how will you deal with vacancies, fix-up costs, and other items required to be a landlord?  484 square feet is extremely small so it might be hard to find many renters for this.  Have you spotted any sub-$100k homes in Los Angeles or Orange counties?
Today we salute you Los Angeles with our Real Homes of Genius Award.

Did You Enjoy The Post? Subscribe to Dr. Housing Bubble's Blog to get updated housing commentary, analysis, and information.