Most people have a difficult time conceptualizing the magnitude of the housing problem.  I hesitate to call it a housing problem since we do have homes, plenty of them actually.  At the root of it all is we have an affordable housing issue.  The bubble simply exaggerated the problem where it became too large to manage.  Folks keep hearing about companies losing billions and bailouts reaching into the trillions.  Some choose to ignore the crisis and some wallow in it too much causing psychological distress.  Or as many others are reacting, they are simply frustrated and angry.  The bottom line is you would be hard pressed to find a large group of people who think things are going well in our current economy.  I've put together three Compton homes on the market to help you understand why we are in the mess we are in.  Examples usually help to make things more understandable or at least put a picture to the insanity.  Today we salute you Compton California with our Real Homes of Genius Award.
Dreaming of 1997 – 80 Percent Price Decline in Compton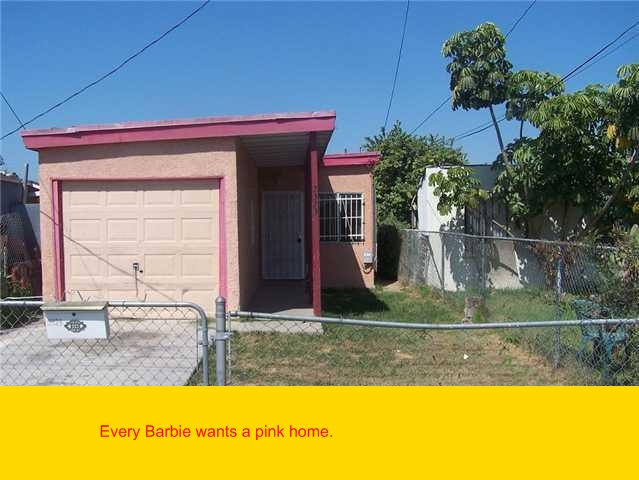 Pink homes usually go hand and hand with Malibu Barbie.  Here is a great home for your Malibu lifestyle on a beer budget.  This home has taken this housing bubble on the dance floor and performed every move imaginable including the price decline tango.  Looking at the sale and price history, we can only imagine the stories it has to tell us.  This home is a foreclosure, one of the many thousands in California, and is listed as having 2 bedrooms and 1 bath.  It is 817 square feet and is now going for 124 days on the market.  I know, what a shocker.  Let us look at the wonderful pricing history over the past 124 days:
Price Reduced: 01/08/09 — $144,900 to $139,900
Price Reduced: 01/21/09 — $139,900 to $114,900
Price Reduced: 02/12/09 — $114,900 to $109,800
Price Reduced: 02/24/09 — $109,800 to $74,800
Price Reduced: 04/06/09 — $69,800 to $64,800
This totally makes all the sense in the world.  Let us list this home for $144,900 in January only to drop the price to $64,800 in April (a reduction of 55 percent).  One important thing people need to ask is why in the world would you list the home for $144,900 in the first place?  Is that the amount of the first mortgage?  Only the seller can know for sure.  However, dropping the price like this tells us the state of the current housing market.  Is there no Barbie looking for this home?  Heck, your PI payment on this place will come out to be around $350!  Car payments are bigger than that.
You may be saying to yourself, "okay, they mispriced the foreclosure.  So what?  What does this have to do with showing us the history of the housing bubble?"  Oh, you have no idea!  Let us look at the sales history with a bit of running commentary:
Sale History
09/02/2008: $184,800 < Lender taking place back.
01/26/2006: $312,000 < What the heck?  $312,000 for this place?  Bwahahahaha!  Whichever bank made this loan should be taken by the FDIC immediately.
02/10/2003: $138,000 < Nice little jump here for a few months.  Bubble picking up steam.
08/30/2002: $85,000 < Whoops.  That only lasted a few months.
01/03/2002: $104,682 < Hey, this home actually appreciated!
11/13/1997: $93,000 < Get the price back up and ready to go.
07/30/1997: $41,000 < A 50% drop in the pre-bubble?  Oh yes, these things do happen.
03/27/1997: $85,000 < Pre-bubble days
That pretty much sums it up right there.  The lender who made that 2006 loan needs to be taken into receivership ASAP.  How do you make a $312,000 loan on this place?!  If the home sells for the current price it is an 80 percent loss from the peak and puts us back to the early 1990s price range.
Garbage Can Photography Version 3.0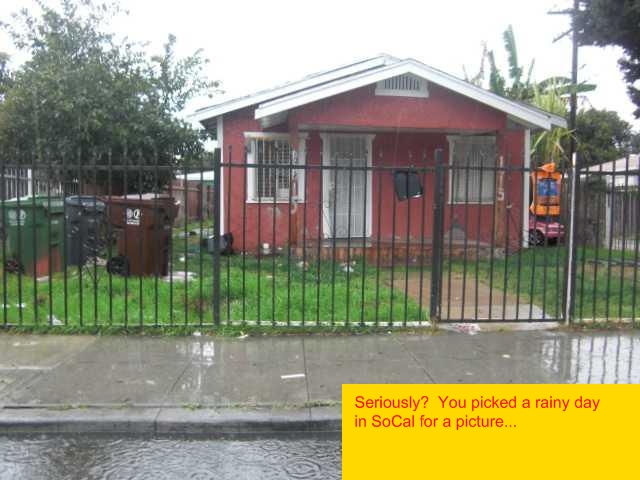 I've been baffled by this garbage can photography marketing technique.  Maybe I skipped class that day when they were discussing Waste Management techniques in selling real estate.  Some agents have e-mailed me about other Real Homes of Genius saying, "I'm not getting out of my car to take a picture in this neighborhood."  Well, you are working for a commission and now it means doing some leg work…like moving the trash can from the lawn before you snap a picture!  And believe it or not, $70,000 is still a good amount of money for millions of Americans.
This home is another foreclosure.  This home is "sold as is" which is always a great sign of a quality product.  This is a 2 bedroom 1 bath home with a gigantic 546 square feet.  How do you get 2 bedrooms in 546 square feet?  Math wizards please enlighten us.
This home has been on the market for 78 days and has already seen one price reduction:
Price Reduced: 04/02/09 — $79,900 to $69,900
A $10,000 drop is 12 percent for a home in this price range.  That is a big deal.  Aside from the great garbage bins (I count 4 in the picture) you would wonder why in the world a lender would put loans on this place of:
Sold (12/23/2008): $185,066 < Home taken back by lender
Again the question is which lender made this loan of $185,066?  Incredible.  Don't you feel excited that you are bailing out institutions that made these kind of loans?  According to the U.S. Treasury this home loan is a "legacy asset" instead of toxic waste.  In addition, through the public private investment program, the American taxpayer will be the proud recipient of many of these loans including those garbage cans.  I'm sure many of you are just itching to buy these homes!  Oh, and they happened to take the picture on a rainy Southern California day!  We have approximately 10 days out of 365 where it is raining and they decide to take a picture with garbage cans and rain!  They are really doing their absolute best to market this place.  Don't try to sell this home so fast!
We'll Beat Any Advertised Price or Your Mattress is Freeee!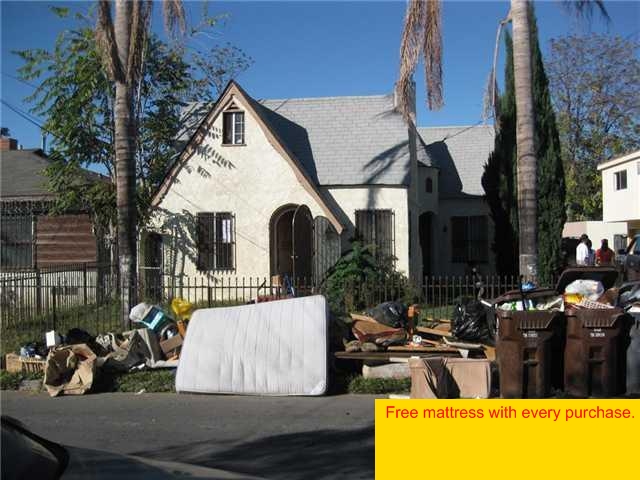 Those comedians at the U.S. Treasury and Federal Reserve are going in complete circles as to the best approach of tackling this problem.  Money for Bank of America?  Goldman Sachs?  JP Morgan?  Wells Fargo?  AIG?  So many choices!  Why give out trillions to your crony banking buddies when all you need to do is give a free mattress with every home purchase?  Now with this home, we get a nice combination.  Not only do we get Garbage Can Photography 2.0 but we also get Mattress Photography 1.0.
This is a larger home.  4 bedrooms and 2 baths and is listed at 1,314 square feet.  It has been on the market for 126 days.  Let us see the pricing action again:
Price Reduced: 02/04/09 — $169,900 to $159,900
Price Reduced: 02/24/09 — $159,900 to $139,900
Price Reduced: 04/01/09 — $139,900 to $114,900
Great price right?  Small caveat. The stinking unemployment rate in California is 11.2 percent!   Have you taken a look at Detroit home prices?  There is a reason why some homes are priced at very low levels.  Unemployment does not help in boosting prices.  And this is one key point I want to drive home to all the bottom dwellers.  Until you stabilize the employment situation, you can focus all you want on mortgages and cheap credit but what use is that when people are struggling to find employment?  You're going to make your mortgage payment with a $300 weekly unemployment check?  I've seen various sources talking about job growth during the housing bubble decade here in California and estimates from 40 to 50 percent of all job growth can be attributed to housing, finance, and industries tied to the real estate market.  With that said, it is important to look at places like Compton since it is good to have an idea of what we have been purchasing through bailouts of the banks and Wall Street.  I think I answered my question as to why banks aren't dolling the homes up.  With all these bailouts given to any bank, why fix a home when the government is gearing up to buy them as is?
Today we salute you Compton with our Real Homes of Genius Award.
Did You Enjoy The Post? Subscribe to Dr. Housing Bubble's Blog to get updated housing commentary, analysis, and information.