88 cities are in the county of Los Angeles.  The most populace of these cities is of course Los Angeles with approximately 3.8 million people.  However, the second largest city is Long Beach with 466,718 people making it the 5th largest city in California.  Keep in mind that the county of Los Angeles has close to 10,000,000 with the majority of people, 52.1 percent who rent.
The Port of Long Beach is one of the busiest and largest shipping ports in the world.  Providing easy access to the large Southern California market has allowed it to grow over the years.  I've gotten many e-mails from readers about Long Beach and even with all the housing market coverage recently in the mainstream media, little attention has been given to the second largest city in Los Angeles county.  Most are obsessed with certain enclaves in the "Westside" sometimes neglecting the south part of the county.  So to provide some balance to this coverage, we are going to examine 5 homes in Long Beach who have fallen on hard times with this housing market.
Long Beach like any large city has multiple niche markets within itself.  Areas like Naples and Belmont Shores are pricier markets in the city.  You also have areas in North Long Beach that are being hit very hard and have lower priced homes.
Long Beach itself was incorporated in 1888.  The larger area which initially included Long Beach was called Rancho Los Cerritos and was bought in 1843 by John Temple who had come to California in 1827.  His historic home known as Los Cerritos Ranch House still stands as a historic landmark.  Temple at one point in his life was the wealthiest man in Los Angeles County partly based on his cattle ranch.  Temple and his ranch house had important roles during the Mexican-American War so contrary to what many would think Southern California does have history.
Long Beach is also home to the Queen Mary and once housed Howard Hughes Spruce Goose.  You would think with so many things and being in Southern California that prices would hold up steady.  That is not the case.  As usual, the areas where the majority of people live are seeing the steepest price corrections but you'll also notice that more prime areas are seeing declines as well.  Here is the list of all zip codes for the city and their data: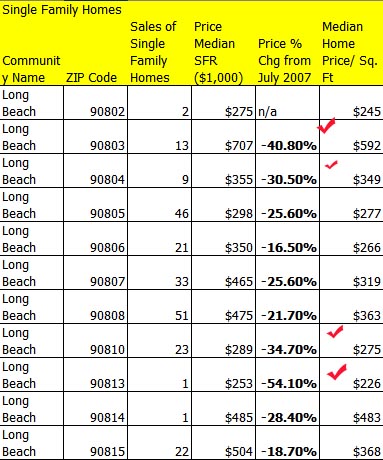 Every zip code in Long Beach is showing a major year over year correction, you should also look at the anemic sales in the city.  For the month of July, 222 homes sold for the entire city.  How much inventory does Long Beach have?  How about 2,395.  Keep in mind July is a heavy selling month and even then, the market still has 10.7 months of inventory and we've already discussed in detail that much of the hidden inventory isn't even being reported.  I would safely assume that Long Beach has over 1 year of inventory currently.
So how does one make $1.18 million in equity disappear with 5 homes?  It actually isn't too hard.  Today we salute you Long Beach with our Real Homes of Genius Award.
Long Beach Home #1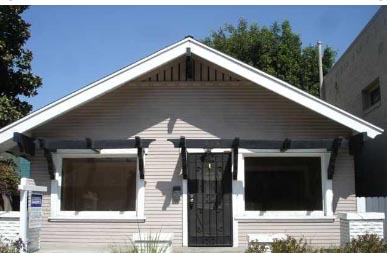 Peak Sale Price:           $375,000 (October 2005)
Current Sale Price:      $114,900
Square Feet:                986
Year Built:                  1917
Days on Market:         8
Equity Evaporation Estimate:             $260,100
Our first home takes us into our historical past.  This home was built 12 years before the start of the Great Depression.  This is a 2 bedroom and 1 bath home which the ad tells us is very cozy.  This home sold for $320,000 in November of 2004 and then less than one year later, sold for $375,000.  Apparently people thought this place was extremely cozy!
Just think, each time this place sold a lender, agent, escrow office, trust deed company, appraisal company, and owner got a nice chunk of change.  That is no longer the case.  This place is now priced to sell at $114,900 which seems like a more realistic price.  Lenders are no longer messing around.  This place has been on the market for only 8 days and the lender isn't trying pie in the sky prices like we were seeing only a year ago.  Right off the bat, this place is priced to move.  But will it?  That is yet to be seen.
This home has seen $260,100 in equity evaporate from the peak.  With that amount, you can buy 2 of this same home and have enough to buy a hybrid.  How quickly things change.
Long Beach Home #2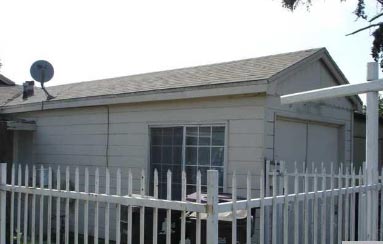 Peak Sale Price:           $437,000  (November 2006)
Current Sale Price:      $174,900
Square Feet:                792
Year Built:                  1954
Days on Market:         3
Equity Evaporation Estimate:             $262,100
This home once again features the amazing tried and perfected "garbage can" photography which is now very popular in Southern California: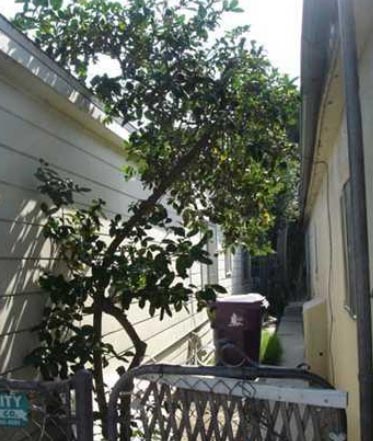 This home is slightly smaller than the previous home coming in at 792 square feet but fear not!  This place actually has 1 more room than the first place coming in with 3 bedrooms.  Now that is what I call maximizing your space.  Once again if we are to look at the sales history we see a same pattern here as our previous home:
Sale History
11/14/2006: $437,000
06/09/2006: $370,000
This home "appreciated" by $67,000 in 5 months back in 2006.  Now at that rate, this home would cost $1 million by 2011.  Think that is still going to happen?  Not likely since this place is now selling for $174,900.  Once again no frills by the lender here.  It has been on the market for 3 days and they are simply not bothering with messing with the market.  In fact, they are actually under pricing this place since this zip code has a price of $275 per square foot.  Can you guess what this will do to future comps?  Correct!  We are assured lower prices for the next few months.
Long Beach Home #3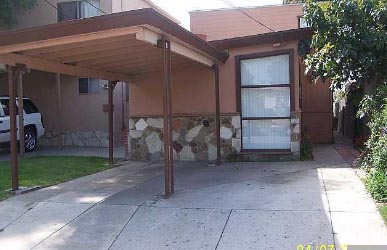 Peak Sale Price:           $405,000 (July 2006)
Current Sale Price:      $179,900
Square Feet:                1,178
Year Built:                  1954
Days on Market:         134
Equity Evaporation Estimate:             $225,100
This lender is quickly realizing what the other 2 homes know.  That is, you cannot mess with the current market.  Even though this place is larger coming in at 1,178 square feet it has been sitting on the market for 134 days.  Initially, it was listed at $239,000 but the bank has had to drop the price down to $179,900 just to compete with the other homes.
This home shows us that yes, you can live through 2 bubbles and repeat the same mistake twice:
Sale History
07/14/2006: $405,000
11/15/1991: $115,000
We are now quickly approaching a price not seen for nearly 20 years!  If you recall, Southern California had a real estate bubble back in the late 80s and early 90s.  Fool me once, shame on you.  Fool me twice, shame on California.
Long Beach Home #4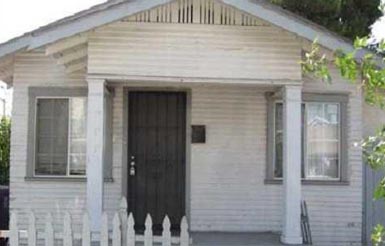 Peak Sale Price:           $340,000 (April 2007)
Current Sale Price:      $197,000
Square Feet:                638
Year Built:                  1923
Days on Market:         31
Equity Evaporation Estimate:             $143,000
Everyone dreams of a picket white fence.  Here, you can have half of your dream for half the price.  You can add the fence later on.  The ad tells us that this is "the perfect starter" home which coming in at 638 square feet makes you wonder if you even want to start.  This home was also built prior to the Great Depression in 1923.
Let us look at the sales history:
Sale History
04/05/2007: $340,000
11/07/2001: $134,818
Given the pricing action on the other homes.  It is very likely that this home is going to be flirting with its 2001 sales price.  How in the world could someone pay $340,000 for this place?  We're talking about $532 per square foot!  Either way, the market is quickly correcting the prices of these homes.  When this home sells, you can rest assured comps are going to get hammered.
Long Beach Home #5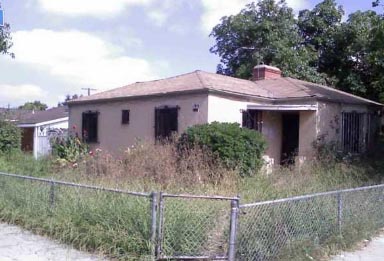 Peak Sale Price:           $495,000 (January 2007)
Current Sale Price:      $204,900
Square Feet:                1,270
Year Built:                  1941
Days on Market:         90
Equity Evaporation Estimate:             $290,100
Our final home should be used as an entry level community college real estate course exhibit.  Rule number 1, make sure to move the garbage bin before taking a picture of a home.  Rule number 2, pay someone $50 to cut the grass before snapping a picture!  Show some effort here folks.  What is becoming apparently clear is many agents and brokers were so used to selling homes even if they looked horrible simply because of the mass delusion during the bubble days.
This home is 1,270 square feet and has 2 bedrooms and 2 baths.  Nearly twice as big as one of our other homes that had 3 bedrooms.  These lame MLS tricks are not going to work anymore.  "Oh yeah, this place is 792 square feet but is worth all of the $437,000 sales price."  No way no how.  This home was initially listed at $249,900 but of course has been dropped to $204,900.  Bwahaha!  What is up with that $900 at the end?  Is this like used car dealers selling cars for $9,999.99 thinking people won't realize that it is really $10,000?
Sale History
01/18/2007: $495,000
10/04/2004: $325,000
This home has seen nearly $300,000 in equity disappear in less than 2 years.  Who in the world made that $495,000 purchase early last year?  As you can see, even though the delusion seems to have ended an eternity ago, these prices prove otherwise.  On the MLS, this home had a price increase in early August which of course makes no sense only to be lowered again.  3 months on the market and still no action.
Summary
Let us do a quick recap of the 5 homes in Long Beach:
Total Peak Sale Price of all 5 Homes: $2,052,000
Total Current Sale Price of all 5 Homes:        $871,600
Equity Evaporation Estimate Total:                       $1,180,400
So with these 5 lower priced homes, we see that at the peak sales prices that the homes sold for over $2 million.  If all 5 homes sold for the current listed prices they would bring in a whopping $871,600 for a loss of $1,180,400.  Do you now see why 50 percent losses aren't such a big shock?  When you actually look at the prices and details of the homes that sold during the bubble heyday here in California you cannot be shocked at the current price.  What you can be astounded by is the magnitude of the bubble.  Lenders obviously did zero due diligence.  Look at these places.  Do these 5 properties combined look like a real estate portfolio of $2 million?
Let this serve as a lesson for anyone thinking we are completely out of the woods (or weeds).  Today we salute you Long Beach with our Real Homes of Genius Award.
Did You Enjoy The Post? Subscribe to Dr. Housing Bubble's Blog to get updated housing commentary, analysis, and information.