The shadow inventory issue will be an important factor in how California home prices move in 2010.  It isn't a question of shadow inventory existing since that has already been established but how banks are going to proceed with leaking out the inventory to the market.  One spigot used in 2009 revolved around the HAMP loan modifications but as we are finding out, much of these last minute deals simply delayed the inevitable since only a handful of trial modifications became permanent.  Yet banks realize the razor edge they are walking on.  Should the real inventory make its way onto the market local area comps will be depressed and prices will fall once again.  And keep in mind prices haven't been surging up.  We have placed duct tape on the massive crack in the shadow inventory dam and homes are starting to leak out.
Here in California shadow inventory is massive.  It is likely that we have the same amount of inventory in the shadows as we do in the actual public MLS.  The way home values are derived come from recent local area sales.  Bank owned homes sell for much less so banks are holding off inventory trying to allow the artificial supply to juice prices so they can release inventory onto the market later creating a mini bubble.  The only reason banks can even do this is because of the crony banking laws and the fact that they have trillions in taxpayer bailout money.  The irony of course is that it is a win-win for banks.  They can hold off and sell homes at an inflated price with taxpayer money to taxpayers thus taking them for a ride twice.  At a certain point you wonder if the public will keep on taking this since lower priced homes will make more sense in this climate with high unemployment and lower wages.
The good news is the shadow inventory issue has gone mainstream: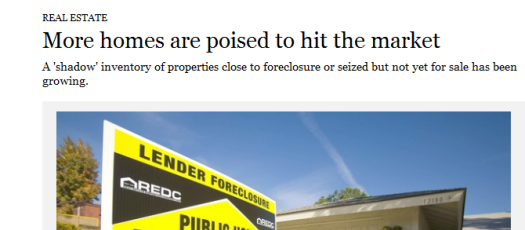 Source:  L.A. Times
"A supply of 1.7 million homes headed for sale because of foreclosure or delinquency looms over the nation's housing market, which could dampen progress toward recovery should the Obama administration fail in its efforts to aid struggling homeowners, researchers said."
It is also hard to see what lurks in the shadows when banks have effectively issued a foreclosure holiday:
"Some lenders have declared limited foreclosure moratoriums this year to give troubled borrowers time to catch up on their payments or work out other solutions. Those announcements continued Thursday: Mortgage titans Fannie Mae and Freddie Mac said they would suspend foreclosure evictions from Saturday to Jan. 3, and Citigroup Inc. said it would suspend some foreclosures and evictions from today to Jan. 17."
That is certainly a nice holiday gesture by Fannie Mae and Freddie Mac but what does pausing the foreclosure process do for someone with no job?  And isn't that really the problem here?  If incomes and our economy were healthy not many would be concerned about housing prices.  The problem is how we've dealt with this crisis.  Everything centered on housing because that is where crony Wall Street had placed its massive bets.  We had equity injections into banks.  Then we nationalized Fannie Mae and Freddie Mac.  When that didn't work, we started with moratoriums.  Basically this was the "allow the scab to dry" fix to the housing market.  That still didn't stunt the tsunami of foreclosures.  Then banks straight out allowed people to stay in their homes without them making payments.  The government then stepped in and issued the HAMP initiative.  With this, the government basically decided to give people option ARM lite loans for their problems.  And people are still stunned why foreclosures are near their peak: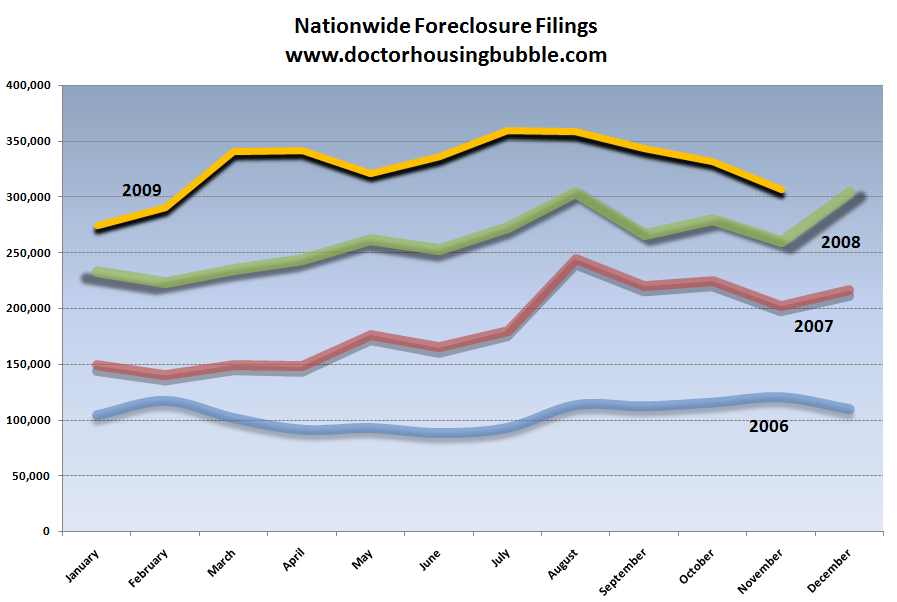 9 consecutive months with foreclosure filings over 300,000.  Yet somehow the market is healthy.  Well with moratoriums and banks not moving on non-payers of course everything looks good.  This is like credit card companies only reporting data on those paying their bills.
Yet the underlying problem still hasn't been fixed.  That is, millions of Americans still can't afford their mortgage payments.  The growing backlog of shadow inventory is merely a reflection of this problem.  Even so-called prime cities don't appear so prime when you cut into their data.  Today we salute you Culver City with our Real Homes of Genius Award.
Culver City Duplex versus Shadow on Same Block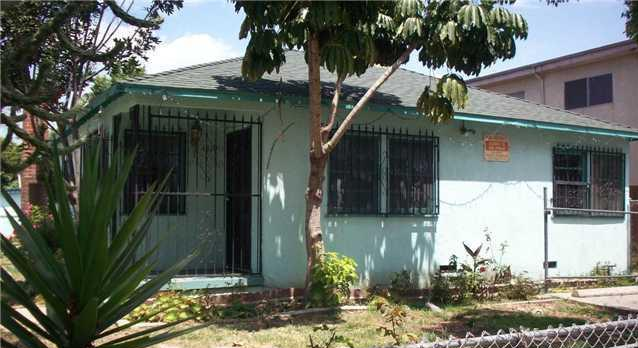 The interesting thing about shadow inventory is your neighbor might be gearing up for a strategic default and you have no way of knowing it.  You probably don't care but what you should care about is what a foreclosure sale will do to your own property values.  If there were only a handful of distress sales it wouldn't factor too much in a large city.  But have a distress inventory the size of the MLS and then you have problems.
The above home is a duplex for sale in Culver City. The property has been listed on the MLS for 270+ days.  This two unit property has two bedrooms and one bath and another one bedroom and one bath unit.  Let us look at the pricing history on this place:
Price Reduced: 06/03/09 — $695,000 to $650,000
Now for someone buying this place, you would need to approach it as an investor.  Let us assume that you wanted to live in one of those units and rent the other.  Let us first run the numbers on your FHA insured loan:
3.5% down payment:     $22,750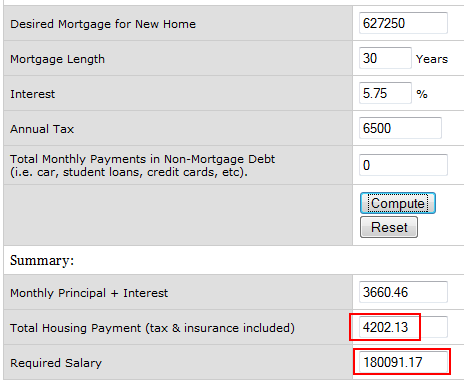 This above chart is so incredibly important.  Just because you can technically afford a mortgage doesn't mean you should get it.  To buy this duplex someone will need to have a gross income of $180,000 and a down payment of $22,000.  But that is only the first step.  FHA insured will work if you occupy one of the units.  Do you think someone making nearly $200,000 wants to live in a 2 bedroom duplex?  Nothing wrong with that of course but you are spending $650,000 here.  In some states you get a helicopter launching pad for that price.
Some obsess with the monthly payment number.  Okay.  Let us look at that as well.  Your monthly outlay comes to $4,200.  Assuming you live in one of the units, how much do you think you can get for the other unit?  Do you think that you can justify a $4,200 a month outlay here?  That works out to $2,100 per unit (give or take for the bigger unit).  Yet this is the kind of amateur logic that is used when valuing real estate.  What if you have a vacancy?  What if the roof needs repairing?  What about upkeep issues?  Your costs keep on increasing.  It is nice to simply run the numbers and assume you will have a full rent check each month but anyone who owns rental property understands this is merely a hopeful dream.  Reality is much different.
So this duplex is on the market for sale for all to see.  But what you don't see on the same block is part of the shadow inventory: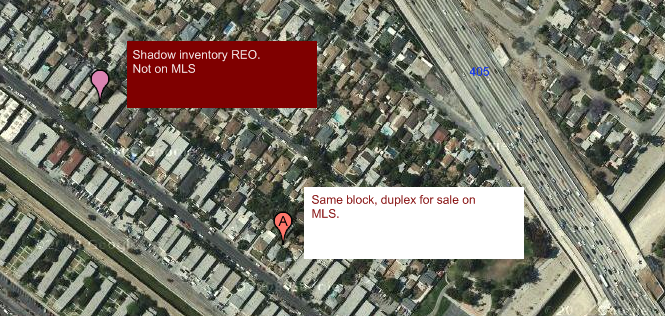 The duplex is listed as "A" on the map above.  Oh, and after a bit of investigation we find out that the property is next to the freeway.  At least you have easy access.  The shadow inventory bank owned home is a 3 bedroom and 2 baths home.  It is listed at 1,169 square feet.  This home has an interesting history: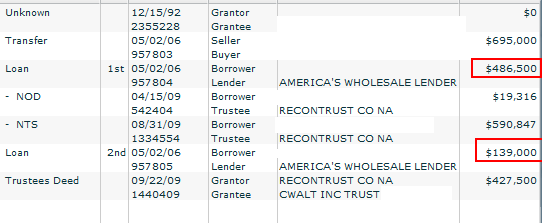 At foreclosure this home had $625,500 in loans.  The home fell back on payments and ended up being foreclosed.  What price did the bank take it back?

The initial loan amounts were $625,500 but the bank took it back for $427,500.  That is a 31 percent drop.  But you know what?  Does a falling tree in the forest make a sound?  Apparently not because this price adjustment isn't factored into the current median price data.
Culver City (90230):         Median Price ($530,000) y-o-y drop of 9.3%
Culver City (90232):         Median Price ($715,000) y-o-y drop of 4.5%
Now don't you think that if this home was on the market the above data would be different?  The home was taken back by the bank in September.  So it has been a few months.  Why isn't it back on the market?  Because banks are using your taxpayer dollars to create an artificial market and trickle inventory back into the city.  This is a lose-lose for taxpayers.  How?  Prices are artificially kept in a bubble while banks keep sucking money like financial vampires on taxpayer money so they don't write down loans that they made at the peak of the market.  Make no mistake, this is their fault.  And if you think about it, they are the only entity not suffering.  Everyone else suffers above.  Why?
-The previous owner got his punishment by losing his home to foreclosure and bad credit.
-The taxpayer gets taken for a ride because they now are funding the banks little experiment of keeping inventory off the market.  Prices artificially go up so a new buyer pays more because of his own bailout!
-The bank wins because they can keep sucking money from the taxpayer while allowing inventory to trickle out into the market one by one and buffer their write-downs.
This model is clearly unsupportable.  Starting next year, a new commission will be looking into the causes of this financial meltdown.  The fact that they are starting the approach in the past tense is completely wrong.  The crisis is still going on.  Banks are largely responsible for this mess.  This form of corporation run government is troubling.  Clearly people can see the sham that is going on with shadow inventory. This is a complete robbery of the American people.  Think of the case above.  If the REO home were to sell at the market rate prices would depress for the block.  Is this so bad?  Doesn't that mean that a future home buyer would have to take on less debt to buy a home?  Plus, local area incomes do not support current prices.
The phony numbers will keep coming out but 2010 will be a critical year.  Do people demand transparency in shadow numbers or even the Fed balance sheet or do they turn a blind eye and allow our entire financial system to be run as if it were a Bernie Madoff fund?
Today we Salute you Culver City with our Real Homes of Genius Award.
Did You Enjoy The Post? Subscribe to Dr. Housing Bubble's Blog to get updated housing commentary, analysis, and information.