Orange County, an area with over 3,098,121 people sometimes has a reputation at least nationwide as being an exclusively prime area. What most people that don't live or work here realize is that the media perception of the "OC" is guided by a few prime cities such as Laguna Hills and Newport Beach. These tiny cities hold a very small percentage of the overall county population. The largest city Santa Ana, has 353,428 people making up for over 11 percent of the entire county. Let us take a look at the county and run some quick numbers: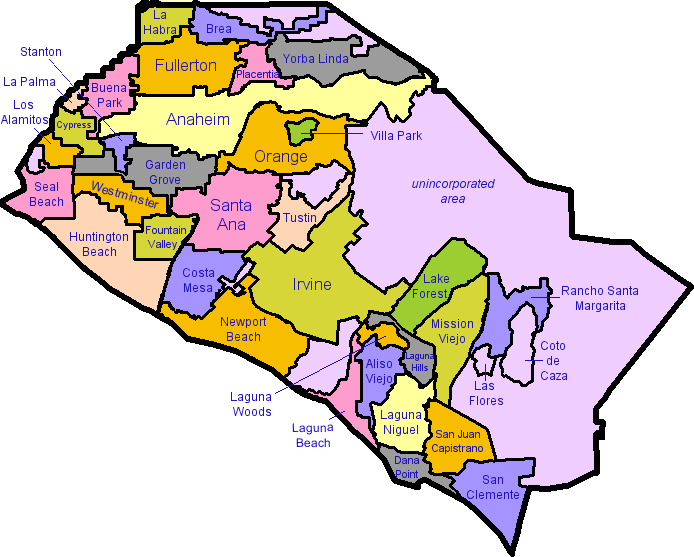 Source: Wikipedia
Let us look a few of the most populace cities in terms of population:
| | | |
| --- | --- | --- |
| City | Population | Avg. Household Income |
| Santa Ana: | 353,428 | $44,505 |
| Anaheim: | 345,556 | $60,881 |
| Irvine: | 202,079 | $91,114 |
| Huntington Beach: | 194,436 | $75,900 |
| Garden Grove: | 165,196 | $50,038 |
With these 5 cities, 1.26 million people make up these areas or more specifically, they make up over 42 percent of the entire county's population. As you can see from the average household income, we aren't in incredibly affluent areas although certain enclaves such as Anaheim Hills, Huntington Harbor, or certain areas in Irvine have very expensive niches but this isn't the majority as you can see from the average. So let us now take a look at a few of the more expensive mainstream ideas of what Orange County is:
| | | |
| --- | --- | --- |
| City | Population | Avg. Household Income |
| Newport Beach | 70,032 | $137,226 |
| Laguna Hills | 31,178 | $103,419 |
| Coto de Caza | 13,057 | $153,118 |
| Villa Park | 5,999 | $203,091 |
| Laguna Beach | 23,727 | $141,916 |
Now with these 5 cities, we have a total population of 143,993 or 4.7+ percent of the entire county population. The point again here is that incomes never justified the absurd prices reached in certain cities. Will the wealthier areas stay high? Of course! But look at how much of the entire population they impact. We haven't even talked about Westminster, Stanton, Fullerton, Tustin, and Orange which also have similar income profiles like Santa Ana and Anaheim.
The overall halo effect took a major hold of prices during the past decade. Just because you were a few miles away from a prime area doesn't mean you are prime. We saw this in Los Angeles County and I have talked about this extensively for a county with 10,000,000 people and 88 cities. That is why Orange County as a whole has seen the following:
-Orange County Median Home Price: $506,000 (down 19.6% from a year ago)
-Sales are down by 46.9% from a year ago.
Now with that background, let us now look at the largest percentage drop ever in Orange County (hat tip to reader J). Before we begin, you must brace yourself and take your motion sickness meds because we are jumping onto a crazy rollercoaster! Today we salute you Santa Ana with our Real Home of Genius Award.
Real Homes of Genius – 68 Percent Drop in Santa Ana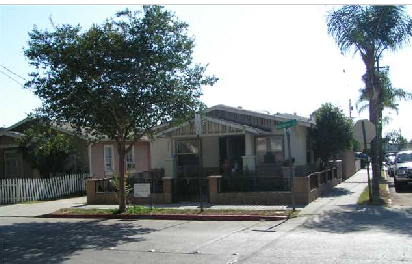 There are few homes that encompass the mania of the housing bubble. Multiple sales, quick price movements, and an ultimate fall from grace. This home is located in the largest city in Orange County and as we have stated above, the average household income for the city is slightly over $44,000. This majestic 825 square foot home with 2 bedrooms and 1 bath has it all. It was built in 1918 and has been on the market for almost one full year. For all you folks out of town who want to own a piece of the OC here you go.
This home has a current selling price of get this, $177,495! Before you go running to your agent let us look at the background story of this place. It is always important to look at previous sales history and once again, here is the reason we discussed why housing will continue to go down because technology has leveled the playing field:
Sales History: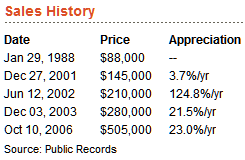 With this home, you can see the amazing appreciation that occurred during this decade long boom. In fact, we get a perfect view of what happens in a financial mania. Don't forget this is a 825 square foot home that is nearly 100 years old! What you see above is 4 sales transactions which each subsequent buyer got a taste of the "real estate never goes down" Kool-Aid. It was manic! The most significant jump of course occurred during the 2006 sale price where it almost sold for twice the price in 3 years! Or what about the person that sold it for a 124.8% profit in 6 months back in 2002? This went over and over like a broken record here in California. This seemed all orderly but what wasn't orderly is the correction. Let us now dive into the listing price action. Get your scroll button finger ready:
Listing Price:

Now that has to be the worldwide record for most price changes in less than one year! I'm actually at a loss for words here. How do you go from an initial listing price of $569,000 in July of 2007 to the current price of $177,495? What is certain is that lender who financed that sale in 2006 for $505,000 is going to be in a world of hurt. Aren't you ecstatic that your tax money is going to bailout places and lenders like this? I have placed a link on the right hand sidebar that'll take you directly to your Congressional Representative so make sure you write a polite letter letting them know you will not stand for having your money squandered on speculative banana republic mortgages. I plotted this listing movement on a graph so you can see bubblicious prices in a graphical format: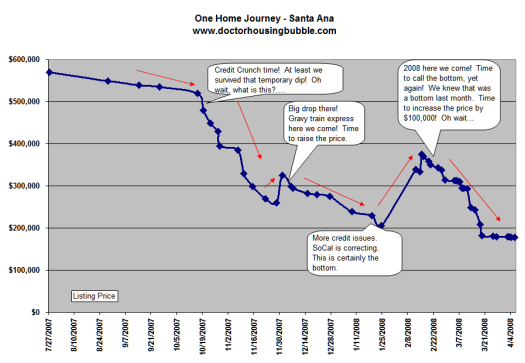 Today we salute you Santa Ana with our Real Home of Genius Award.
Did You Enjoy The Post? Subscribe to Dr. Housing Bubble's Blog to get updated housing commentary, analysis, and information