The Westside of Los Angeles is a coveted area.  I've covered many parts of this market including Culver City.  Yet even within the Westside zip codes some areas are more prized than others.  Santa Monica is one of those jewels but only if you land in the right zip code.  In the early days of the bubble bursting some people were still thinking that contrary to economic trends that Santa Monica would somehow stay out of the problems associated with the California housing market.  Yet we now know that every area is being touched and not even the prime locations are immune from massive price corrections.  It is interesting that all it took to pop the bubble was two major things.  For the herd to stop believing real estate would always go up and the vaporizing of the no document and low down toxic mortgage enterprise.
If we really look at things objectively you would think that things are really good for housing.  Mortgage rates are at generational lows, there is certainly plenty of inventory, and banks are willing to work with buyers.  But this is all a charade.  The problems we are still experiencing are that in many cities in California prices are still in actual bona fide bubbles.  Would you buy a flat screen for $18,000 if your payment was $50 per month for 30 years?  Santa Monica is one of the markets still in a solid bubble.  Today we salute you Santa Monica with our Real Home of Genius Award.
Short Sale Valentine Special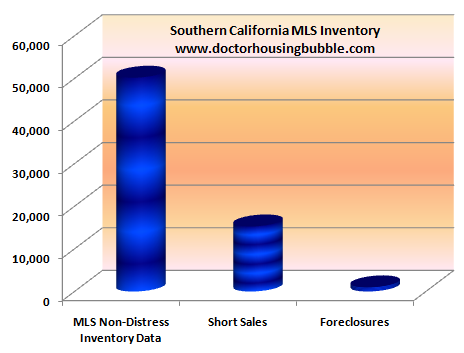 I've been getting a few e-mails on how great it is that banks are now approving short sales.  This is actually bogus because it is in their best interest to do this plus, as the SIGTARP report showed banks will get $1,500 for each approved short sale.  Here are some of the incentives:
• Borrower Relocation Assistance — A $1,500 incentive payment to the borrower.
• Servicer Incentive — A $1,000 incentive payment for the servicer.
• Investor Reimbursement for Subordinate Lien Releases — For every $3 an investor pays to secure release of a subordinate lien, such as a second mortgage or a home equity line of credit, the investor is reimbursed $1, up to a reimbursement limit of $1,000 per transaction.
The most hypocritical can of horse manure coming out from banks is that they are now doing this as some kind of favor!  They are using taxpayer money for something they should already be doing.  But that is beside the point.  With HAMP going down in a wave of flames, we will start seeing more short sales hitting the market.  The above chart breaks down the MLS data and as you can see, short sales are a big part of the MLS while foreclosure listings are virtually non-existent even though 1 out of 7 mortgages are in default.  Where are these homes then?  In the shadow inventory or simply being lived in with no payment.
Today's home is an interesting short sale in Santa Monica.  It has only been on the MLS for a week but the story behind the home is much more interesting: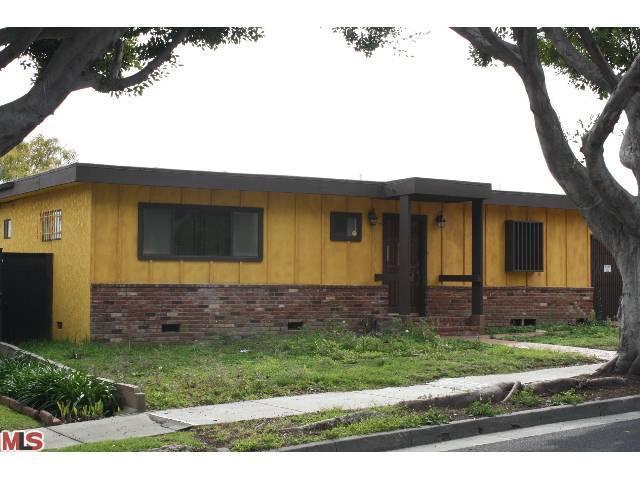 According to the ad this is a "short sale valentine special" so you might need to rethink that tired and old flower routine this weekend.  Maybe a Santa Monica short sale is the aphrodisiac your relationship needs.  The home is listed at 2,044 square feet with 3 bedrooms and 3 baths.  It was built in 1947.  I give California realtors credit for not even mowing the lawn on a listing in an expensive zip code (90405) in Santa Monica.  Let us look at the pricing action:
Price Reduced: 02/05/10 — $930,000 to $899,000
Only a week on the MLS and already a $30,000 reduction.  Looks like someone is looking to move this place!  You might be stunned that a home listed for $900,000 doesn't even have a manicured lawn but the path this home took to short sale land is symptomatic of the insanity of California real estate: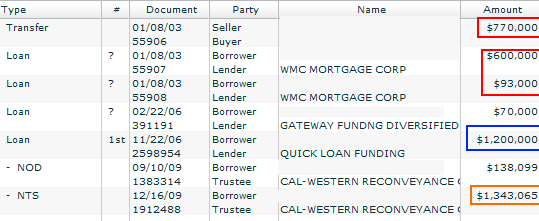 Let us walk through the above details.  The home was purchased in 2003 for $770,000.  If you do the math, a mortgage of $600,000 and $93,000 meant this buyer went in with 10 percent down ($77,000).  So they definitely had some skin in the game.  But then, the California housing market went into warp speed bubble mode and they managed to refinance for a stunning $1.2 million.  We really don't know what was done with that money but we do know this:
$1,200,000 – $693,000 = $507,000 cash out
Now the above numbers are for simplicity.  We don't know what kind of loan they got but all the lenders listed about specialized in let us say, easy money financing.  Also, we are using the $693,000 for ease of calculation because most of your first mortgage payments go to interest (hardly any principal is taken down).  And who knows, these could be option ARMs.  So now we are in 2006 with a mega mortgage but some cash as well.  Let us run the numbers for a $1.2 million mortgage: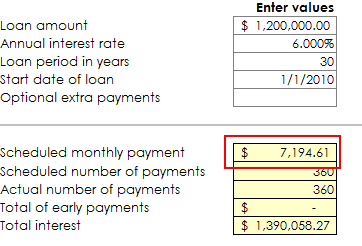 Now we are really being generous with the above data.  The above only includes principal and interest.  Let us include taxes and insurance and the monthly nut looks like:
PITI:       $8,394
Now how much time does that $507,000 cash buy you in terms of monthly payments:
$507,000 / $8,394 = 60 months (5 years)
Well you know where this is heading.  In September of 2009 a notice of default was filed.  They were already behind by $138,099.  Now think about this.  Assuming the $7,194 payment how many months was this:
$138,099 / $7,194 = 19 months
Now this is insane of course but we know with all those Alt-A and option ARM products that this is typical with shady bank strategies.  Finally the home was scheduled for auction and is now listed at $899,000.  Who is going to buy this place?  It doesn't qualify for FHA insured loan financing.  It would appear that the bigger your mortgage the more dubious banks will be on moving to foreclose on your home.  They are happy to move quickly on homes in the Inland Empire but put a prime Westside location and banks are letting people live rent free for what would seem as ages.  The fact that a listing like this doesn't surprise me anymore shows how desensitized I am to the gaming banks have been doing.
Today we salute you Santa Monica with our Real Home of Genius Award.
Did You Enjoy The Post? Subscribe to Dr. Housing Bubble's Blog to get updated housing commentary, analysis, and information.