It is very true that most people are only focused on the monthly payment.  Most in California inflate their lifestyle up to their paychecks.  That is why you have many older people now looking into the long path of retirement with little in savings.  They expected to live like millionaires but realize that their housing equity doesn't send them a check each month.  It is also hard to live like royalty when the adult kids are back home in their rooms.  I've heard it said incorrectly a few times so I thought I would go into the total cost of owning a home more clearly.  Someone said "if I pay $700,000 for a home that is all I will ever pay whereas in rent it is never ending."  First, there are never ending costs associated with a home including taxes, insurance, and maintenance.  Second, there is a little thing called "interest" and this is so vital, that it makes banks the rulers of the world.  Let us first dive into the cost of owning a home first.
Cost of buying a crap shack
Let us say you drank the Kool-Aid and you are ready to buy a home.  It is the summer time and the humidity is bringing out the housing lust.  You must buy.  You can't wait to walk into the bank and sign that 30-year contract.  You've been searching the market and thankfully, although prices are still high there is a growing amount of inventory.  You will pay a premium but you are likely to have options this summer.
You have your eye on a lovely $700,000 stucco box crap shack.  You can see yourself turning old and frail in the place and you are ready to have that mortgage burning party in 2045.  What are you going to pay for the place?  Let us assume you plunk down 10 percent: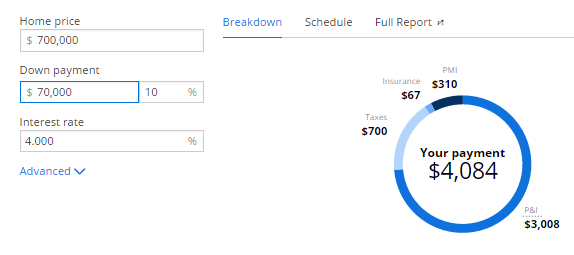 With a 10 percent down payment your monthly nut is $4,084.  Taxes and insurance will be part of your monthly outlays for life.  People somehow miss the interest portion of the price.  So in the end you pay:
$70,000 down payment

$630,000 principal

$452,777 in interest

Total interest and principal (with down payment):            $1,152,777
You will fork over $1,152,777 in principal, interest, and your down payment for that $700,000 crap shack assuming a low 4 percent mortgage.  What about taxes and insurance?  Taxes for now will be about $700 per month and insurance about $67 per month.  Assume no increase in taxes or insurance and over 30 years you are paying out $276,120.  So in total you are paying for that $700,000 crap shack $1,428,897 over 30 years.  And I reiterate, this is on an ultra low interest rate of 4 percent.
Now this might make sense for you but rarely do I see these numbers broken down in this way.  The most typical format is the monthly nut breakdown.  I think this simple view misses out on the long-term outflows and as many Taco Tuesday boomers hit retirement, many realize their retirement accounts are not going to allow for them to live high on the hog.  They could live high on the hog if they sold their home but many are zip code addicted.  Better to eat Purina Dog Chow than cash in the stucco box lottery.
If you were to save $1,000 a month and toss it into a total market fund after 30 years you would likely have $1,200,000.  This is of course is assuming you start with zero and earn a 7 percent rate of return.  Investing isn't all or nothing.  There is no magic one way or another.  Many younger professionals also realize the benefits of renting for mobility sake.  Some see leverage as a plus in housing.  How about the 1,000,000+ Californians that only a few years ago lost their homes in foreclosure because of the drawbacks of leverage?
Let us now move on to Orange County housing inventory.
Orange County Inventory
For the first time in many years we are seeing a big growth in inventory, especially in Orange County: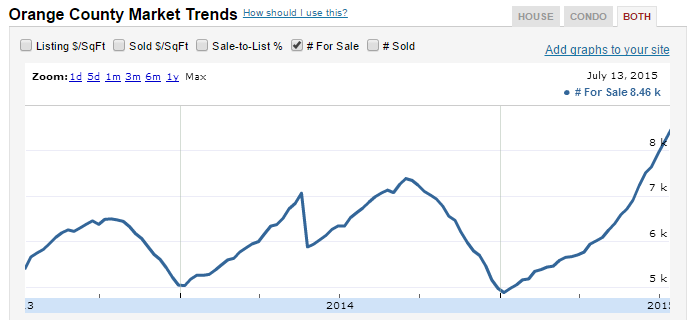 Inventory in the OC is up 55 percent from 2 summers ago.  This is a big jump.  Prices are still high but the days of writing tear stained letters to get the attention of sellers is gone. In fact, inventory is rising because some homes are sitting longer on the market.  This isn't just the case in the OC.  Let us look at Pasadena.
Pasadena Real Estate
I know for many readers Pasadena is a targeted market.  Let us look at two homes: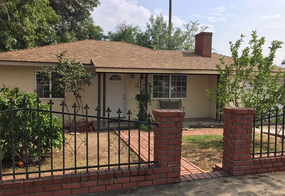 3060 E Del Mar Blvd
Pasadena, CA 91107
2 beds, 2 baths 912 square feet
This is a smaller place and is definitely a starter home.  Let us look at the price: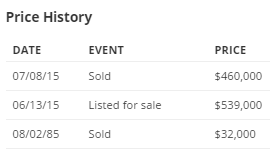 Someone wanted $539,000 for this place last month but got $460,000 instead.  So now this buyer is trying to sell the place for guess what amount?  $539,000 within a couple of weeks of buying this place.  Sure seems logical to me.  Let us look at the next place.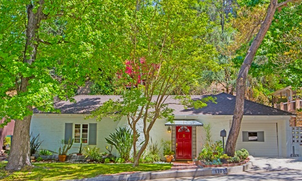 1785 La Loma Rd
Pasadena, CA 91105
2 beds, 2 baths 1,283 square feet
This is a nice starter home.  Let us look at the ad:
"Home buyers seeking a sprawling backyard with a green lush lawn will need to look further. Eco-conscious home buyers seeking the perfect combination of taste, science, low maintenance, conservation, energy efficiency, and location have met their perfect match!"
Science?  Conservation?  This ad might as well read "give me your money hipster" and be done with it.  Let us look at the price history: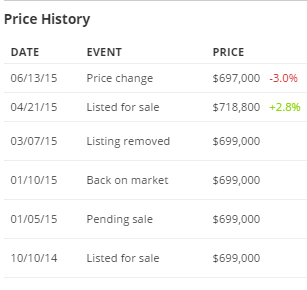 They tired selling this place last October for $699,000 and it went pending in January 2015.  Came back on the market and was removed in March of this year.  It was listed for $718,800 back in April.  No takers.  Now it is listed for $697,000.  See how motivated they are to sell?  They are chopping off $2,000 for you!
Welcome to the wonderful world of California real estate.

Did You Enjoy The Post? Subscribe to Dr. Housing Bubble's Blog to get updated housing commentary, analysis, and information.