There has been a distinct momentum shift that has come from two major events in the mortgage markets.  The first had to do with FHA insured loans becoming incredibly expensive even though these products are targeted as options for working families.  As if a working class family is really in the market for a $729,750 property (the FHA max in high priced markets).  That is one event.  The second larger event has to do with the Fed hinting at a QE taper which sent the mortgage markets into a tizzy.  This has definitely tempered the nearly unrelenting real estate mania that has been gripping the country.  Incredibly, even after the quick turnaround in prices 14 percent of US homeowners with a mortgage are still underwater.  Banks have leveraged a low supply market coupled with selective disposal of properties to their advantage.  However, with inventory now rising thanks to the quick turnaround you are seeing some brakes being applied to this market.
Negative equity still a very real issue
Somehow the media has forgotten that millions of Americans still owe more than what their homes are worth (just because the trend is falling doesn't mean we are out of the woods):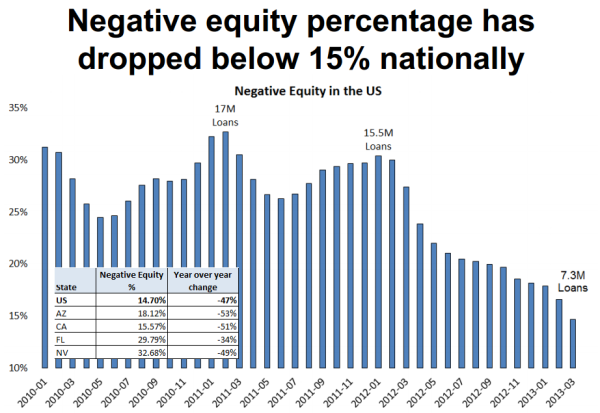 Source:  LPS
This is a very interesting report.  You'll notice that places like Nevada where investors are piling in hand over fist still see a market where over 32 percent of mortgage holders are in a negative equity position.  But if you are underwater by $100,000 does it help you that you are now under by "only" $70,000?  Ultimately you are in the hole.  This is one reason for the historically low supply for the last couple of years.  Banks have turned the foreclosure process into a purgatory while constricting supply and creating a feverish bidding market for the properties that are available.  Don't think so?  Look at the age of some of these delinquent loans: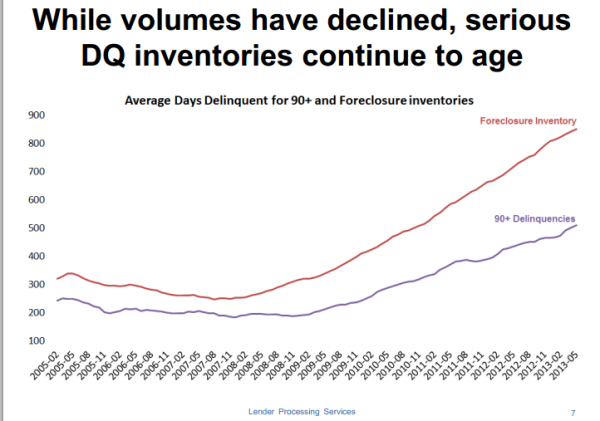 Yet that absurdity is slowly changing.
Welcome back inventory
Nationwide inventory bottomed in early 2013.  This trend is now being seen even in hotly fought after markets: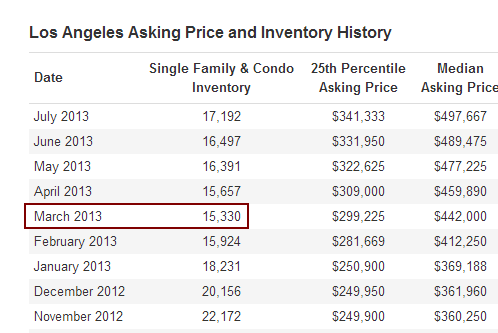 Inventory in the Los Angeles market is now up 12 percent from the low reached in March.  Take a look at a selective market in Orange County: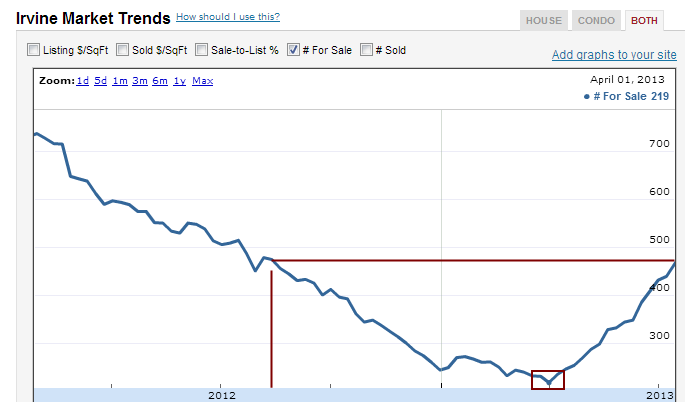 Inventory in Irvine is now up over 100 percent since the low made in March and is now back to levels last seen in early 2012.  You will also find that distressed properties are still a thing of the current environment: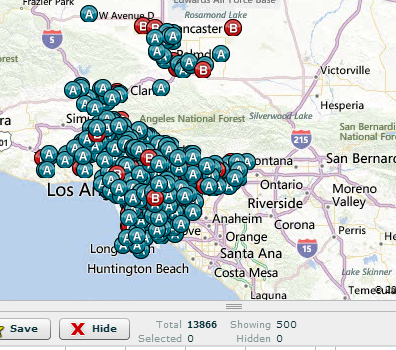 Los Angeles County has roughly 17,000 non-distressed homes for sale while 13,866 homes are in some form of foreclosure.  The trend has definitely lowered but there is still a sizable amount of problem homes relative to available inventory.
Tiny signs of a shift
Sales usually fall first, inventories rise, and then if any changes occur you will see them in prices (and data on market trends will always lag one or two months since the escrow process lags a bit).  I found this bit of market reporting interesting:
"(Redfin Blog)  In LA, Redfin agent John Venti won three straight offers last weekend with no counter-offers or competition. "That hasn't happened," he said, "since December 2011."
Keep in mind the market has been in "the zone" since 2011.  It can do no wrong.  We recently had a headline that year-over-year home price increases set a record in SoCal.  We also had a few months ago set a record on all cash purchases.  Hot money is floating throughout the real estate market but something is definitely shifting.  Does the mania have more to go or this something more substantive?  Household incomes absolutely matter especially when many investors are buying to rent out (you pay rent from actual real world income and not leverage).  You saw how quickly the market bent when rates simply went from the absurdly low 3% range to 4%.  It was as if mortgage Armageddon had arrived.  Which proves the point that households are fully stretched with easy Fed leverage so the Fed has to keep their foot on the gas pedal (but what use is it if the ultimate outcome is a benefit to big banks becoming large landlords and outbidding regular buyers)?
I've noticed the tide shifting a bit as well in the last couple of months.  I'm seeing more price reductions and properties lingering (although many of these are priced at mania like levels).  Yet these were moving in 2012.  Are you seeing any shifts in the markets you are tracking?

Did You Enjoy The Post? Subscribe to Dr. Housing Bubble's Blog to get updated housing commentary, analysis, and information.