The recovery in real estate has largely gone to big institutional players.  Recent data from the US Commerce Department shows that rental income grew the fastest compared to other asset classes since 2009.  Of course as we have chronicled over the last few years, most of the distressed property buying has gone to the investor class.  The gains in rental income only impact a small portion of the population but the growth has been astounding.  Rental income is now up 85 percent since 2009.  Even stock dividends up at 44 percent have not met the pace of change in rental income.  The trend is reflective of the insatiable demand from Wall Street for rental property over the last few years.  Right on time however is the small investor jumping in at a tipping point as inventories rise, big money slows down, and interest rates have an impact on the housing market.  Some big funds are even selling into momentum.
The big windfall to investors
It isn't that rents are soaring that rental income is up overall.  The big jump is coming from the fact that fewer hands are controlling larger portions of residential real estate and these hands have converted these properties into rentals.  Since home building is still weak, you have limited inventory that was yanked off the market.  No surprise that over 1 million new renter households have been added since the crisis hit (more income to those that own rental property).  Let us look at the growth in income here: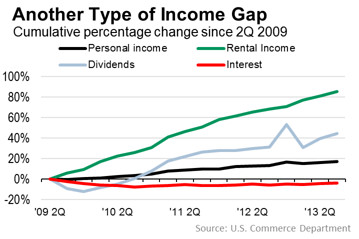 Source:  WSJ
The jump is dramatic.  Very few households actually own rental real estate.  Much of this gain has gone to investors buying up large portions of real estate since 2009.  As we have seen in some markets, the marginal buyer is coming from the all cash crowd.  Mortgage applications are down by nearly 60 percent from their peak this year yet home prices continue upwards largely on momentum from the non-mortgage buying crowd.
Is this healthy overall?  Not if you are part of the middle class.  The trend of income inequality between the very wealthy and the rest has accelerated over the last decade.  This isn't to spur some kind of class warfare debate but it is merely an undeniable fact.  The Fed has chosen to make the banking class the winners here and has succeeded.  That is why in the chart above, interest income has gone negative since 2009.  Many retirees and those labeled as savers have been fully pummeled since the recession ended in 2009.  Rents are also rising while household incomes have gone stagnant: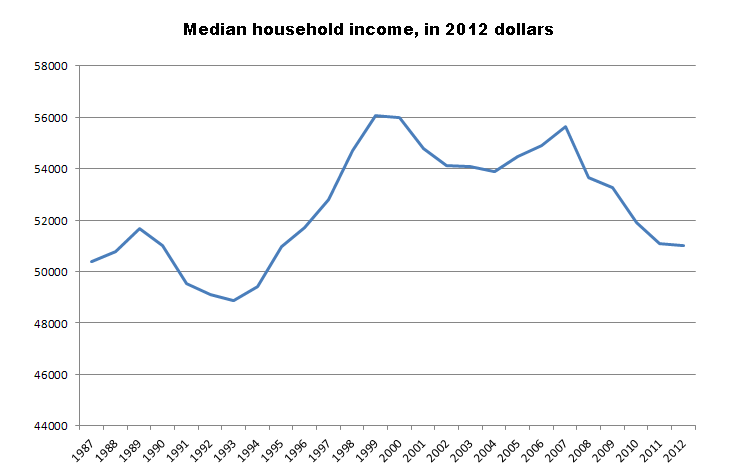 The above chart shows a weak environment for most households.  Incomes adjusting for inflation are back to where they were 24 years ago (a lost generation if you will).  Obviously with income insecurity and weaker employment prospects, renting has become a larger option for more households.  Yet many of these big institutional buyers may be looking to exit as large gains slow down and might be reaching an apex.
"(Bloomberg) The low vacancies and occupancy gains are drawing institutional investors who are more focused on steady returns, Stuckey said. Potential buyers of Carlyle's holdings include pensions, life-insurance companies and real estate investment trusts, he said.

"Investors really want the new Class A properties so we're selling into that demand," Stuckey said."
And why wouldn't investors take some profits off of the table especially with the economic headwinds of higher interest rates, more inventory, and economic challenges face the nation?  People do realize that these government shutdowns and debt ceiling issues are only going to become more frequent given our giant liabilities?  We've just had one of the biggest bull markets in stocks right after the biggest crash since the Great Depression.  Some people seem to have fully forgotten this.  The gains in real estate are moving as they did in the early 2000s.  You are even seeing naive money diving in at the tailend of the housing boom trying to mimic the Wall Street crowd.
The massive gains in rental income merely reflect more landlords largely in the form of big banks and institutional buying.  This is the result of the Fed's bailout efforts.  Good luck finding reasonably priced properties with these policies in high demand areas like California.  The boom and bust cycle is here to stay.  It should be abundantly clear who the bailout was targeted for.

Did You Enjoy The Post? Subscribe to Dr. Housing Bubble's Blog to get updated housing commentary, analysis, and information.