The real estate market has slim pickings for traditional buyers.  Funny thing that we have to use the "traditional" preface since the market is overrun with a hoard of investors.  I am seeing this with my own two eyes.  You are seeing it as well.  In most ordinary cases a rise in prices would be accompanied with some sort of rise in supply.  Yet this is no ordinary situation.  Scouring over a few reports I found that nearly half of foreclosed homes are still occupied.  In places like California and Miami this number is closer to 60 percent.  When these homes finally get fully repossessed, they are likely going to big money investors that end up holding on to the property, removing it completely from the market.  There is little doubt that investors are a big part of the market.  Since 2011 they have purchased over $1 trillion in real estate.  With razor thin inventory, this is a big deal.
Over 5 million repossessed homes and counting
5.4 million completed foreclosures occurred between 2006 and 2012: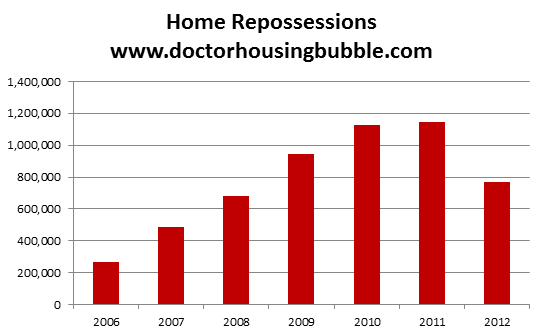 Source:  RealtyTrac, Equifax
Many of these homes were sold to investors.  In markets like those in Arizona and Nevada investors made the majority of purchases.  I've tried finding a parallel reference point in history for our current real estate market with no luck.  We are truly in uncharted waters here.  Yet I hear people speak with such conviction and certainty.  Once again we are in a new world of real estate and in no other time do you see investors taking on such a big role in housing.  Applying market analysis will work if this were truly a market.  It is not.  The Fed and banks have created an artificial real estate sector.  This is how you explain a dramatic rise in prices with a subsequent drop in inventory.
The big story in 2014 will revolve around the appetite of investors.
Big money is not reselling $1 trillion in real estate
RealtyTrac put out an interesting report that essentially confirmed what I was seeing in various individual cases and various case studies.  Big investors are not selling with an endgame of rental securitization or with larger profits as the big prize.  Over $1 trillion in real estate purchases were made by investors since 2011: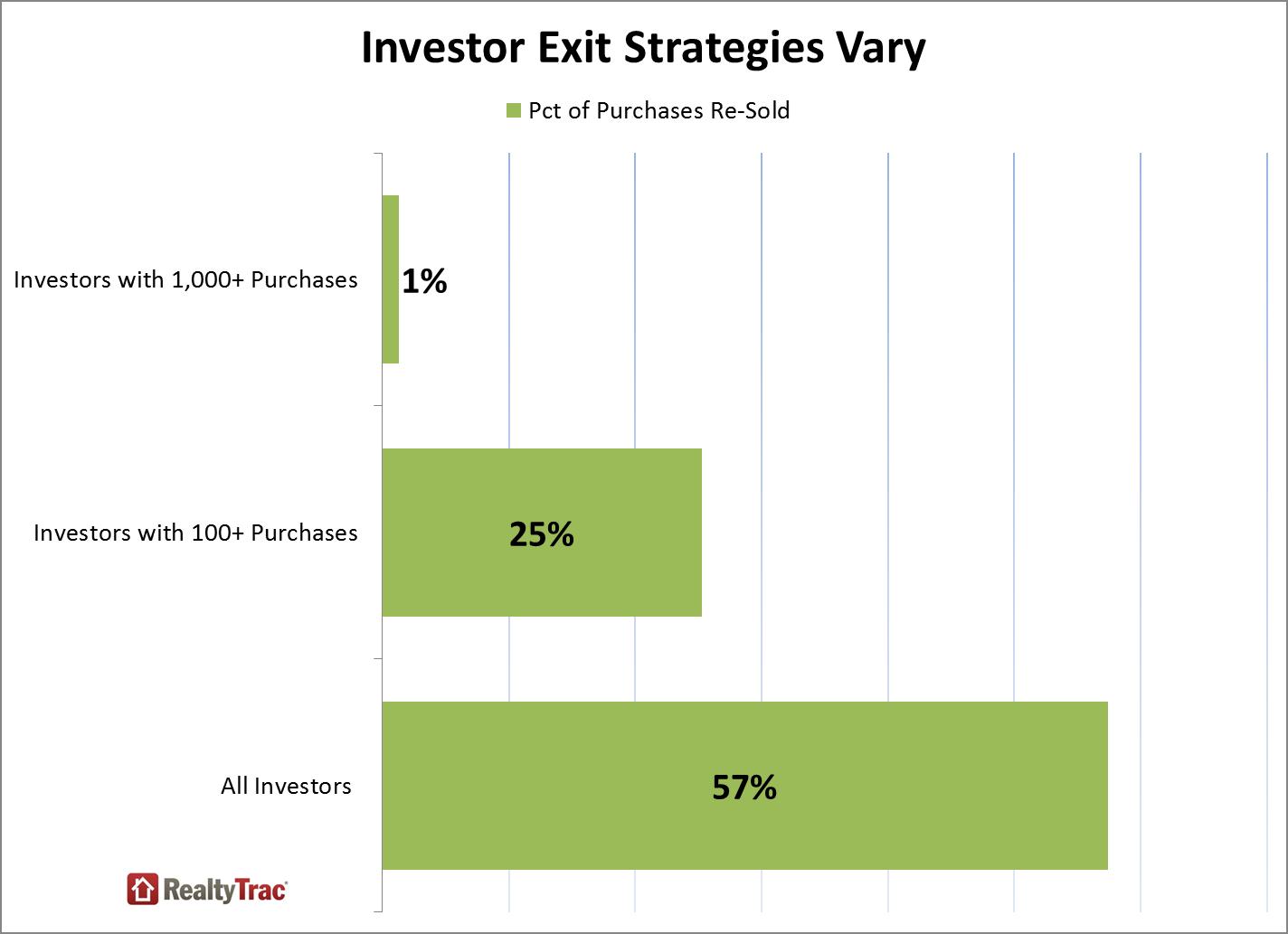 One of the interesting finds also ties in with the drop in inventory.  Big money investors are not exactly putting the homes back on the market to resell:
"(RealtyTrac) Among all investor purchases during the time period, 57 percent have subsequently been re-sold, but only 25 percent of properties have been re-sold by entities purchasing at least 100 properties, and only 1 percent of properties have been re-sold by entities purchasing at least 1,000 properties."
We are talking about a massive amount of real estate that was yanked off the market.  The above chart shows that individual investors were more likely to resell after purchasing.  The report only examined investor purchases between 2011 and 2013 so this is a small window since investors started diving into the market in 2008.  Yet the behavior is indicative of what is happening with a large segment of the market and why inventory has declined so dramatically.
In a typical housing market each sale would likely generate another sale.  For over a generation the US has been locked in a property ladder mentality.  You buy your starter home, build some equity, and sell for a bigger place.  So each sale also brought on another sale, two transactions.  With this massive foreclosure crisis you have big money essentially conducting one and done deals.  Buy a home and keep it off the market.
Not moving out
Banks pressured law makers to circumvent accounting rules that apply to you and any other mortal.  These "measures" to help the average folks essentially transferred over giant chunks of real estate to large money investors holding onto properties like a pit-bull.  One of the measures of course is the selective foreclosure process:
"(CNN Money) RealtyTrac estimates that 47% of the nation's foreclosed homes are currently occupied. The percentage actually tops 60% in some hot housing markets, like Miami and Los Angeles.

Those still living in repossessed homes include both former owners and renters. Either way, their time in the homes is mortgage and rent free."
This is a big deal.  This is another factor contributing to the lack of actual inventory on the market.  Throw in unique items like generous tax breaks and you can understand why many baby boomers in places like California would rather stay put and eat cat food than sell their property.  In economics, incentives are viewed as people motivators.  If that is the case, the current market is incentivizing big leverage, foregoing saving, and gaming the system.  It actually makes perfect sense why we have so little inventory on the current market in this situation.  With razor thin activity pricing out most families, what happens if investors tire of the real estate game?  Signs of exhaustion already appear in places like California.  Wondering where the inventory went?  Look no further than current banking policies and a grab bag of incentives.
Thoughts on real estate inventory for 2014?

Did You Enjoy The Post? Subscribe to Dr. Housing Bubble's Blog to get updated housing commentary, analysis, and information.