The recent sales figures continue to show a slow start to the spring and summer SoCal selling season. While sellers in many areas are now asking for peak prices, the number of debt slaves buyers continues to shrink as many homes languish on the market. Of course in some markets the number of house lusting buyers continues to provide enough fodder to keep the game going, at least when it comes to prices. As we've noted, housing inflection points take a few years to hit and turn. After a few solid years, it does appear that things are softening. You want to see rising home values as an ancillary result of a rising economy, not an investor led rush or a controlled market via banks leaking inventory out at a molasses like pace. On another note, a study called "Prevalence rates for depression by industry: a claims database analysis" found that those in the real estate industry have the highest rates of seeking out treatment for depression. I've always had the impression that those in the real estate industry had a higher level of happiness based on all those real estate agent and mortgage broker cards I receive. As it turns out though, the study found that those dealing with the public in high stress activities (i.e., dealing with house lusting buyers and delusional sellers) can be detrimental to your mental health. Given the craziness in California housing and the social behavior I see, I can actually understand why this study found that those in real estate had the highest level of seeking out treatment for depression, only second to local/intercity passenger transit which I'm sure is a thrilling job of interacting with the bright and sunny public.
Working with people is tough!
What I will say is this, there are good agents that actually battle it out for their clients. For those representing buyers, they will get their commission once the deal closes. However, in a tight market like this you might have some that have beer budgets and champagne tastes. In a seller's market like we've had over the last few years, good luck trying to figure out what makes a seller take one bid over another all other things being equal. This of course is softening but many drink their own Kool-Aid and somehow think their crap shack is worth $700,000 even with one small bathroom.
As I mentioned earlier, with a study looking at America's most depressing jobs, it was interesting to see real estate hitting near the top of the list: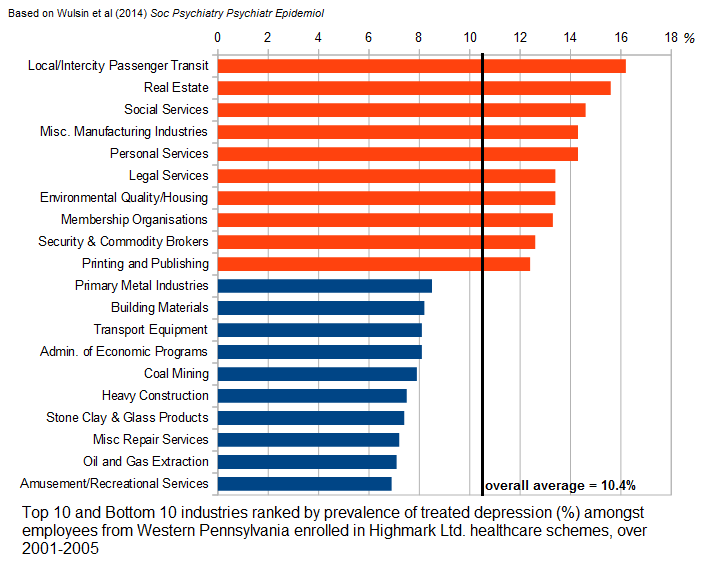 Source: Discover Magazine
I think the conclusion is insightful:
"Industries with the highest rates tended to be those which, on the national level, require frequent or difficult interactions with the public or clients, and have high levels of stress, and low levels of physical activity."
So dealing with the public is bad for your health! Just watch all those house horny shows and you'll see a wonderful display of aggression, anxiety, narcissism, and delusion all wrapped into one. And just imagine dealing with this on a daily basis in a market where prices are out of this world. Beyond the industry taking a hit, we can be thankful that many agents are protecting their mental health by leaving the industry: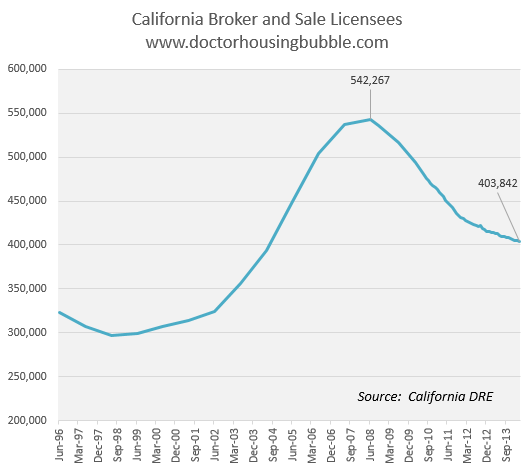 In any industry, you will have good and bad players. When you are dealing with lemming like behavior in housing good luck trying to maintain your sanity. I've gotten tear stained e-mails from potential buyers where people say "but we made an offer $50,000 above asking and included a story on our family. Why didn't they accept our offer?" Like a dejected Romeo asking for Juliet's hand, some people can't step back and realize how irrational they sound. Plus, they are buying a structurally beat up place but they have to somehow keep up with all the other lemmings around them. Peer pressure is still a wonderfully powerful force.
SoCal sales weak yet again
It should be no surprise that housing sales are very weak in SoCal:
"A total of 19,556 new and resale houses and condos sold in Los Angeles, Riverside, San Diego, Ventura, San Bernardino and Orange counties last month. That was down 2.3 percent from 20,008 sales in April, and down 15.1 percent from 23,034 sales in May last year, according to San Diego-based DataQuick."
Keep in mind this is a time when sales are usually picking up steam. But take a look at price history here: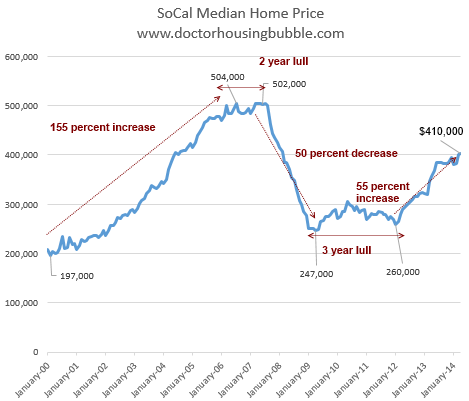 Prices are up over 55 percent in a few short years and there really isn't any corresponding growth in wages here. You have artificially low rates, constrained supply, and investor buying crowding out regular buyers. While all of these are pulling back slightly, you still have these players in the market.
Inventory across the region is picking up: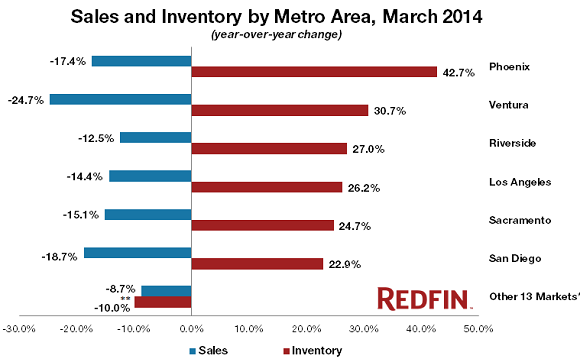 Outside of California, take a look at what is happening in Arizona. As investors pullback, inventory is piling up. The previous charts should highlight that prices usually peak while sales start the move lower. We would have to see robust economic growth or investor demand surge again to keep this momentum going.
Sales in SoCal fell by 15 percent year-over-year. Prices are holding steady which aligns with our data that shows home sales crater first, and then slowly, prices adjust.
I think the media does a great job showing housing as the happiest of all things. You need to buy a home to be happy! All those in the industry are happy! Financial independence can only be had by buying real estate! Yet, the facts show something else. Don't believe the hype and use your noggin. When you are paying $700,000 for a home built over 100 years ago and you have one crapper, you don't need to be a psychiatrist for this advice but you probably should get your head checked.

Did You Enjoy The Post? Subscribe to Dr. Housing Bubble's Blog to get updated housing commentary, analysis, and information.