One of the more interesting sidebars of the jump in home prices in 2013 is that many real estate agents are not necessarily thrilled. You would think that with prices in some areas reaching near peak levels that real estate agents would be jumping for joy. Alas, money is made on sales volume. You make more money on five home sales at $400,000 than on one home sale at $600,000. Investors continue to dominate the market so even for loan processors, the volume for mortgage applications has been low. We have seen a continuing decline of licensed California agents and brokers. The peak was reached back in 2008 and since then, many have simply allowed their licenses to expire and new blood is not entering the game in any significant way. The trend is unmistakable and you would think the recent run-up in prices would be a call to action for many future agents and brokers. Yet with so many investors going straight to auction, working off the books, and the proliferation of real estate data the demand is simply is not there. Sales volume continues to be incredibly anemic and we have seen a recent increase in inventory this year but nothing dramatic. The reality is, for those looking to buy inventory remains thin and we still have a good number of house horny buyers.
Where did the agents go?
The peak number of California broker and sales licensees hit in 2008 at 542,267. Since then, there has been a slow and steady progression down. Today, we have 403,842 licensed brokers and agents in the state and every subsequent year since 2008 has seen a continued drop. What is going on given that in virtually every city of California prices went up in 2013? Prices went up because of a manipulated market, massive investor demand (waning), and house horny buyers leveraging every penny they have. Yet none of this is truly a sign of a healthy overall economy. Like roaches, folks are scrambling from the light trying to grab onto anything that potentially has the ability to generate yield (any yield).
It is an incredibly interesting trend because from 1996 to 2008 every subsequent year saw a steady increase in licenses going out to brokers and real estate agents. The bar is not a tough one to jump so this is a good indicator of an overall perception of the industry. Yet with sales volume so low, commissions have been slammed. Take a look at the data: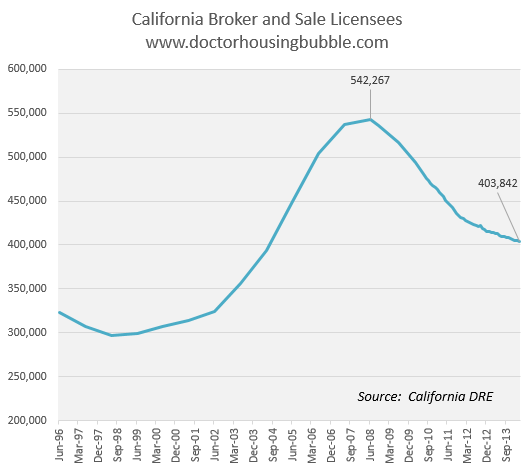 The furthest data I was able to dig up went back to 1996 so we almost have 20 years of data here. Things were fairly stable between 1996 to 2002 and then California was engulfed in a house lusting bubble that had every other person becoming an agent. From 300,000 to 542,267 was an increase of 80 percent between 1998 and 2008 (while the overall population increased by 15 percent during this time).
You would think that with prices going up, more people would be out and about buying but alas household incomes in the state are not hot. This is why investors and foreign money are all the rage in some areas (but overall this number is weak in comparison to the sales volume of the early 2000s).
It might be useful to take a look at current sales volume in the state to address why the number of agents and brokers has declined: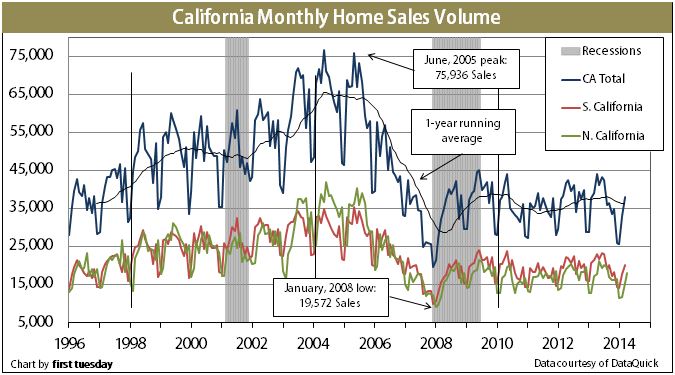 The peak month of sales was in June of 2005 coming in at 75,936. Latest month sales figures? 37,988. More importantly, look at the one year sales average above. From 1998 to 2008 45,000 was the lower end of sales per month. We have yet to crack that number even in the best months of this constrained inventory market.
When you look at what you can buy for $600,000 you begin to scratch your head and realize this housing market is insane. For households in the area, this means living in a crap shack and shoveling a large portion of your income to a house with massive deferred maintenance if you want to compete today. Many are opting out, hence the increase in inventory.
First, it should be obvious that sales volume is incredibly low and inventory although up, is still low. So for those lusting after housing they are likely to confront investors in the market although investors are being much more selective in 2014. It would be one thing if money was flowing into targeted areas like a laser and this was the only growth markets but take a look at some of these areas and their annual price increases:
City                        Median Price     %Increase y-o-y
Artesia                  $430,000              22.9%
Castaic                  $480,000              24.2%
Compton (90220)$266,000           34.7%
El Monte (91732)$390,000            11.1%
Inglewood (90303)$380,000         49%
Lawndale             $394,000              25.9%
Palmdale (93552)$200,000            25%
Pacoima               $357,000              21.4%
You get the point. I really doubt that foreigners are targeting these areas and investors will be hard pressed to get good cap rates at these prices given market rents. So why the big jump in prices over the last year? The notion that somehow all of these markets are in the process of gentrifying is baffling because this would require actual higher income households moving in (or foreign money). Not happening. This is merely a halo mania of SoCal driven up by low inventory, low volume, investors, and folks straining their budgets once again. As happened in the last correction, these markets will be the first to turn when things pullback.
In the real economy, U.S. GDP actually dropped in Q1 of 2014. I'm sure if we look at real estate agent commissions being paid out they are a far cry from what they were in 2005 through 2007. The reason people are still questioning what is going on is because there is very little semblance of a "market" in housing right now. Everyone is simply speculating on what the Fed will do and what a shrinking middle class means to the future economy. Locking in for 30 years especially in a house you probably don't like is a big commitment. In reality though, most people are simply following the herd and if banks were to give them 100 percent LTV no-down loans we would be back to the previous mania. The desire is certainly there but free lunches usually don't last. Is it any wonder why the nation is largely becoming one of renters?

Did You Enjoy The Post? Subscribe to Dr. Housing Bubble's Blog to get updated housing commentary, analysis, and information.