Last week the California unemployment rate shot back up to 12 percent.  Couple this with the underperformance of revenue for the state and we have heavy headwinds ahead.  It will be a herculean effort for home prices to remain inflated in bubble markets as the economy and incomes slump.  Part of what has held up the housing market in many areas is the building up of shadow inventory to control supply and try to increase home prices.  This has been a dramatic failure and has cost the U.S. taxpayer trillions of dollars simply to keep the too big to fail banks afloat with financial swindles.  There is no reason for this policy to continue unless we want to have another lost decade for our economy (this seems to be the path we are embarking on).  Even prime locations are having a tougher time in this market.  Today we will take a look at a home in the Bel-Air neighborhood of Los Angeles that is chasing the market into the bottom.  Today we salute you Bel-Air with our Real Homes of Genius Award.
Bel-Air market not immune to correction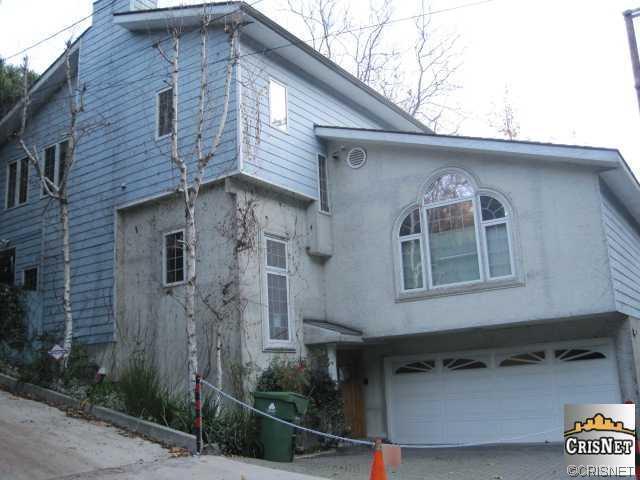 Listed    11/01/10

Beds      4

Full Baths             4

Partial Baths       0

Property Type   SFR

Sq. Ft.   3,656

$/Sq. Ft.               $238

Lot Size 4,800 Sq. Ft.

Year Built             1992
This place is definitely a more modest home in the Bel-Air zip code.  The home has four bedrooms and 4 baths.  It was built in 1992 and includes a nice kitchen: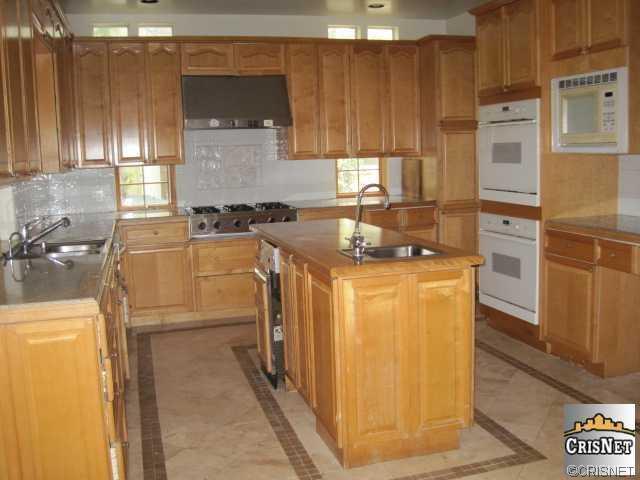 Here is the text in the ad:
"Reduced! This will not last – hurry! Buyers purchasing a property as owner occupants may be eligible to receive up to 3.5% in closing cost assistance! Explore this canyon gem and you find 4 spacious bedrooms and 4 full baths including a master retreat with fireplace and reading/office nook, jetted tub in master bath, walk-in closets, upper level laundry, living room with vaulted ceilings, family room with fireplace off the gourmet kitchen with viking range, bedrooms on ground and mid-level. A must see, too many details to mention here! Termite clearance and roof cert too!"
3.5 percent closing assistance in Bel-Air?  This goes to my point that many in Southern California (most) actually do not have the incomes to support the outwardly expensive lives they live.  Why would someone need closing assistance if they are purchasing a home in Bel-Air?  This is like offering someone in Beverly Hills that is purchasing a home a coupon for a new toilet when they close escrow.  Let us take a look at the pricing history here: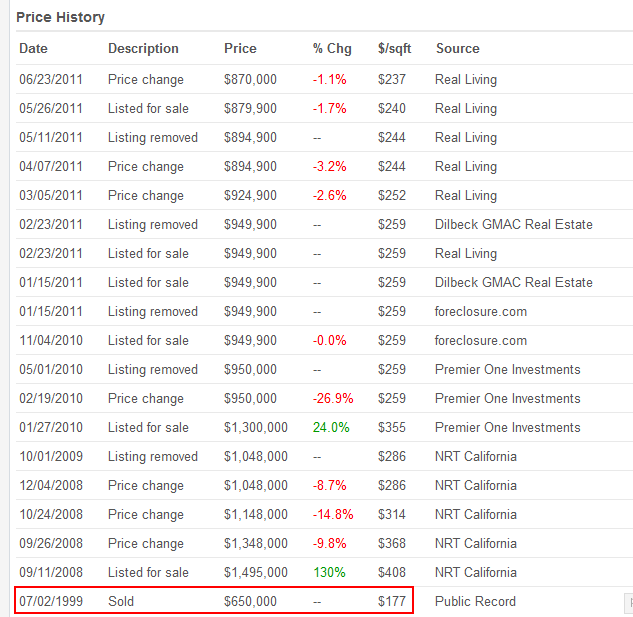 Here is someone that waited one year too long to exit the market.  If this home was put on the market in early 2007 it would have fetched $1 million and more easily.  Yet listing it in September of 2008 when the markets were imploding in historical fashion was not exactly good timing.  The chase to the bottom is rather clear.  It went from a listing price of $1,495,000 to the current list price of $870,000. Will this home sell at that level?  Hard to say but you will definitely get interest in Bel-Air when you go under $1 million.
Of the 23 homes listed on the MLS for Bel-Air 3 are short sales and one home is listed as a foreclosure.  Yet this does not tell us the entire story and this is the continuing saga of problems that we will be facing for years to come: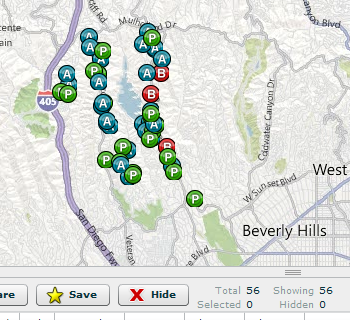 56 homes are in the shadow inventory for Bel-Air yet only 1 foreclosure has made it to the MLS!  What is even more disturbing is that many of these homes in the shadow inventory were purchased right at the peak: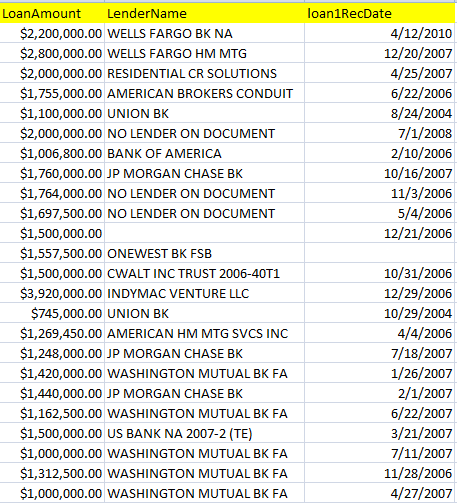 Ah yes, a very familiar list of lenders we see here.  WaMu, IndyMac, JP Morgan, Wells Fargo, and Bank of America.  Look at when the loan was recorded.  Many of these shadow inventory properties were purchased during the mania in 2006 and 2007.  This is only a sample of the 56 homes in the foreclosure pipeline.  The shadow inventory is a big issue although the media wants to make it seem that it is only occurring in poor neighborhoods.  Of course they don't want to focus on neighborhoods where many of their executives live.
Today we salute you Bel-Air with our Real Homes of Genius Award.

Did You Enjoy The Post? Subscribe to Dr. Housing Bubble's Blog to get updated housing commentary, analysis, and information.