Last quarter California had to deal with the largest amount of Notice of Defaults (NODs) being sent out by lenders in the history of our state.  Now without any frame of reference, it is hard to say what an average year of NODs is for California.  In today's article I data mined back to 1992 and gathered information for almost 2 decades for the state NODs.  Now why is this crucial in helping us understand the housing situation for the state?  First, we have a large amount of toxic mortgages with Pay Option ARMs and Alt-A loans still lingering in our state.  Without having a frame of reference, having record NODs in one quarter can mean that we are only X percent above the average annual trend line meaning we would be closer to a bottom.  As you will see with the data I gathered, there is nothing further from the truth.  I will also examine inflation-adjusted prices to try to analyze the current bottom calling we are seeing.
Foreclosures and Notice of Defaults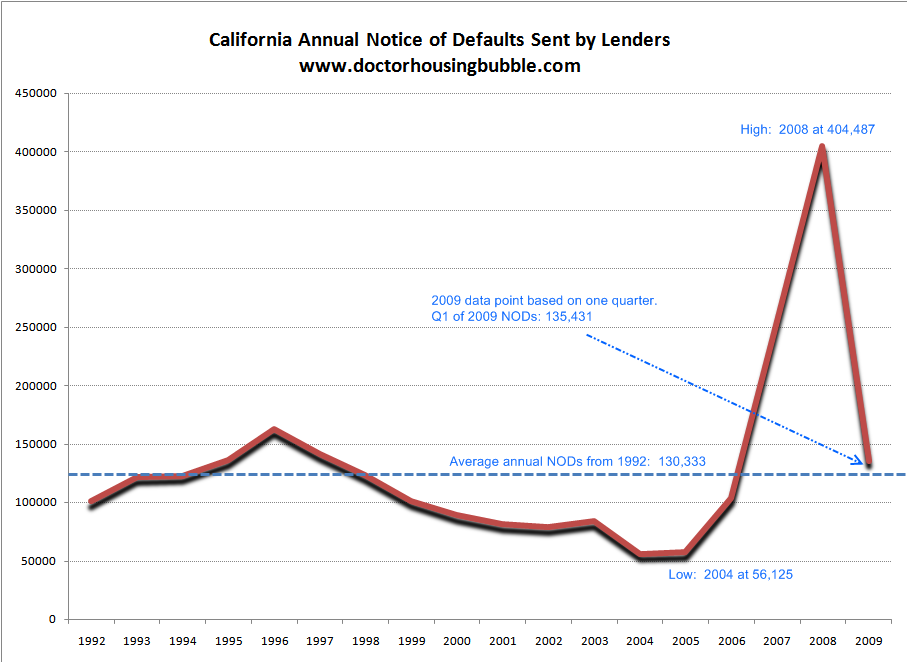 *Click for sharper image

I want to spend a few minutes examining this chart.  I went back and gathered NOD data for California back to 1992.  When you look at the chart, from 1992 to 2006 over 14 years the pattern stayed within a tight range.  You see the movement up in NODs for 1992 – 1996 when the last bubble was working its way through the system but the jump was minimal in relation to this current California housing bubble.  We hit a trough in 2004 with only 56,125 NODs for the entire year.  The average annual NOD over this entire data period is 133,333.
Things became unglued in 2007.  The irony of course is that the median price, the main focal point of housing bull pundits was still moving up during this time.  Yet the NODs were telling us that a tsunami was quickly approaching.  From 2006 to 2007 NODs doubled.  And they nearly doubled again for 2008 with a stunning 404,487 NODs filed for the entire year!  Keep in mind many of those Q4 2008 NODs are still being worked through the system and will become more inventory in Q2 and Q3 of 2009.
An important point about the chart is the one data point for 2009 is purely based on Q1 of 2009 NODs.  I wanted to include this to show that even with one quarter of data, we are already over the annual trend line since 1992.  If we continue at this pace, 2009 will see more NODs than the record shattering 2008 data.  What does this mean?  More foreclosures flooding the market.  And with the Pay Option ARMs and Alt-A loans recasting in mass, I would imagine this pattern will continue.
From current data, this is still holding true.  In fact, in April of 2009 California had 52,909 NODs filed in one month!  With one month of data, we rival the annual NOD number of the entire 2004 year.  This shows you how very different the market currently is.  In terms of bottom callers, we have never seen such widespread market distress.  To assume this is the bottom goes right in the face of all this data.  That is why I have given you 10 reasons why I don't see any housing bottom until at least 2011.  And even after that widely anticipated bottom, it doesn't necessitate a move up.  It is very likely that we will move sideways for a decade.  That is what astonishes me.  I'm reminded of a dog chasing a car.  Once the dog catches the car, then what?  Once we reach the bottom, then what?  Are we going to have another once in a lifetime real estate bubble like we just experienced?  No way!  We are still in the distress stage here in the state.  Until we start seeing the NODs start trending back toward the historical trend line, then we can start talking about a bottom.  The last time the market was somewhat "sensible" was probably in 2000.  Let us take a look at what was being said back then:
"Two-thirds of the homeowners in default are able to stop the foreclosure process by bringing their mortgage payments current, or by selling their home and paying the mortgage off. Two years ago, only half the distressed homeowners were able to do that.
The effect of foreclosure activity on sales prices is now negligible. While foreclosure homes tugged sales prices down by more than ten percent three years ago, the drag is now less than two percent, and is isolated to just a few local markets, DataQuick reported."
-January 2000
That was a hidden benefit of the bubble.  Homeowners in trouble were able to sell their home into a rising market.  That option is now off the table.  So two-thirds of California homeowners in trouble in 2000 were able to offload their mortgage either through selling (majority) or bringing the mortgage current.  Today, of all those NODs 80 to 90 percent will fall into foreclosure.  The data tells us this even though for the last few quarters, the foreclosure and NOD numbers were artificially low because of SB 1137 and other moratoriums.  To give you an example, in Q3 of 2008 we had 94,240 NODs and 79,511 actual foreclosures.  Now keep in mind, the NOD number dropped because of the laws in California but now, that ratio is ominous.  Keep in mind, the NOD tells us that in 6 to 9 months, foreclosure is coming.  So with the 135,000 NODs filed in Q1 of 2009 we can expect a surge in actual foreclosures hitting the market in Q3 and Q4 of 2009.
Inflation Adjusted Prices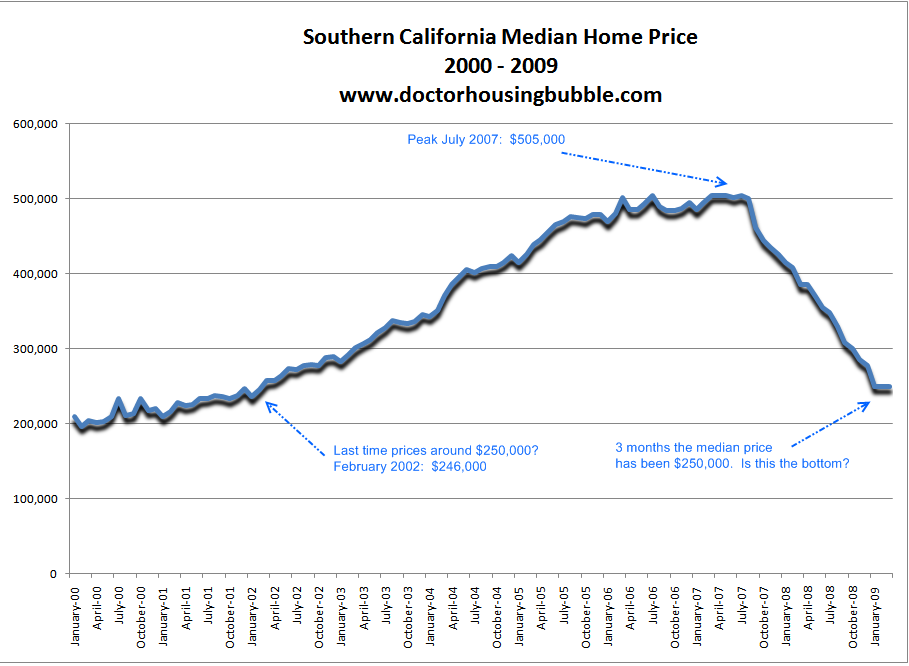 The current median price for a home in Southern California is $250,000.  For three months, the median price has been $250,000.  Does this mean we are seeing a bottom forming?  It depends on how you categorize a bottom.  We need to remember that last month 57.4 percent of all home sales were foreclosure resales.  A year ago, that number was 35.5 percent.  Foreclosure resales are dominating the market and have pushed prices down primarily at the low end.  In fact, if we go back to February of 2000, the median price in Southern California was $197,000.  I ran the CPI inflation numbers for the decade and we find that the median price should now be $244,522.  That is very close to $250,000.  So we are near a bottom aren't we?  No way.
What we need to remember is the market is dominated by sales at the lower end.  That is, you are seeing fire sale prices of homes in lower priced areas yet many people are looking to buy in mid to upper priced areas.  These areas have seen very little price movement.  So the data is skewed.  When we go back to 2000, the market was more balanced and was dominated by home sellers selling, not foreclosure resales.  So when we see the inflation adjusted number argument, it is wrong because we are dealing with two different markets.  The one in 2000 was more typical while the one in 2009 now has 57 percent of all homes sold as foreclosure resales.  In 2000, two-thirds of those that received NODs (a small number) actually got out of it.  Now, with a pace of 400,000+ NODs in one year we can expect 80 to 90 percent to foreclose.
More importantly, the NODs are now expanding into the mid to upper priced markets.  Many of the Pay Option ARMs and Alt-A loans are in these areas.  The lower end of the market was dominated by subprime mortgages and those have largely hit.  As they say, the proof is in the pudding.  The average subprime loan still out in the California market is $322,000.  The average Alt-A loan is $442,000.
That is why we now see the Inland Empire with the following median prices:
Riverside:                    $187,000
San Bernardino:          $150,000
As I showed in a couple of homes in Brentwood and Pacific Palisades, the inflation adjusted prices in those areas are still largely out of line.  You have niche markets like Culver City, Irvine, Cerritos, Pasadena, and other cities in Southern California that have seen modest price declines.  These are the areas that will be seeing an additional 10 to 15 percent (at least) drops in prices over the next year or two.
If we look at the Case-Shiller Index Futures, the market is predicting a bottom in late 2010: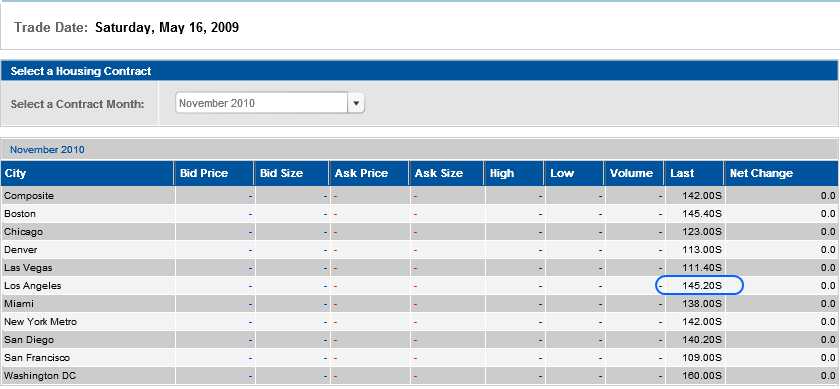 The current Case-Shiller Index number for the LA/OC area is 163.16 meaning, the market is betting on an additional 11 percent drop over the next 16 to 18 months.  Now if you saved $100,000 for a down payment on a Pasadena home, are you willing to lose your entire down payment because you couldn't wait 16 to 18 months?  The above data tells us there is absolutely no rush to jump into the market right now aside from gut reactions that led to the bubble in the first place.  And with the Case-Shiller data we are looking at repeat home sales which gives us a more accurate assessment of the overall market compared to the median price.
In fact, as we start seeing more and more sales in the mid to upper range you will probably see the median price move up.  Think of it this way.  There is a reluctant seller in Culver City right now.  They have their home priced at $600,000 but no offers.  They don't want to drop the price.  One year passes and the flood of NODs increases inventory in these areas.  The seller, for whatever reason now has to sell (divorce, job relocation, etc).  The seller bought the place for $300,000 back in 2000 so he decides to sell it for $500,000.  It then sells.  The median now has more leverage to go up but the reality is, we just saw a 16 percent price cut.  That is what is going to happen to the California market over the next two years.
Income – Jobs Pay Mortgages
An obvious economic indicator that bottom callers miss is employment.  Most people pay their mortgage with income derived from a job.  Here in California, the unemployment rate has been skyrocketing and now stands at 11.2 percent, the highest in the post World War II era: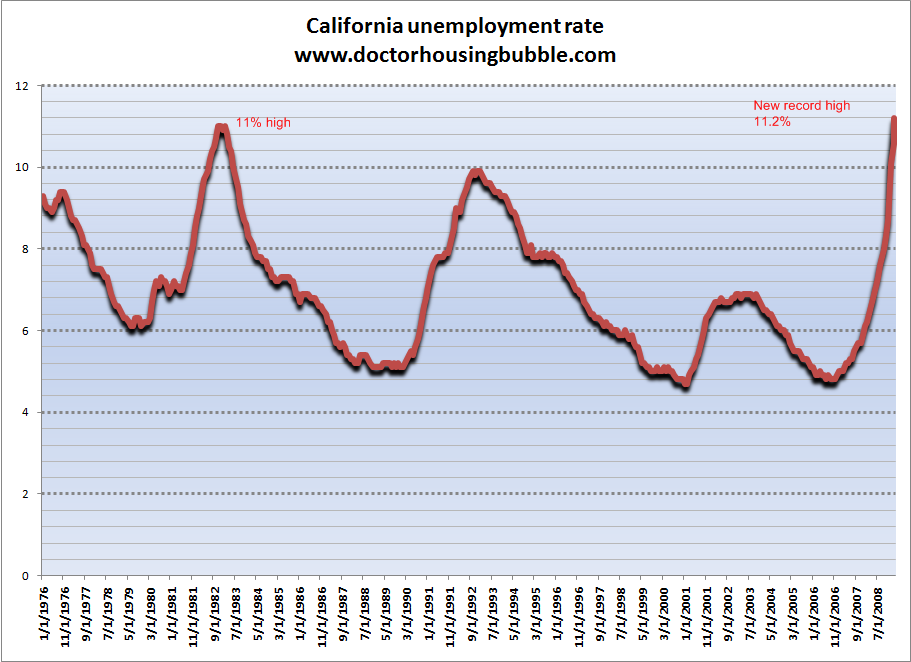 Now what is important if we go back to the data above, in January of 2000 the unemployment rate for California was 5 percent.  We now have a rate doubling that.  In November of 2006 at the height of the insanity, the unemployment rate hit 4.8 percent.  Even in January of 2008, the unemployment rate was at 6.1 percent.  Not bad given the average monthly rate since 1992 stands around 6.7 percent.  But in one year, the rate has nearly doubled.  Why?  First, the housing bubble bursting largely exposed that California was unfortunately a one trick pony with housing.  A large part of the economy was built on this housing bubble.  With the housing bubble bursting, the economy burst as well.
Many bottom callers miss the employment situation.  People pay mortgages from their income.  Income from jobs.  With jobs being lost you will have two things occurring:
(1)  A reluctance to buy because people with jobs are tightening their belts
(2)  More people losing their homes because of more job losses
With Chrysler and GM announcing thousands of dealer closings many here in California, we are assured that in the next few months as the dealerships close, the unemployment rate will tick up even higher.  The state budget is still in a large mess now facing a monumental $15 billion short-fall or a $21 billion gap if the propositions fail on Tuesday.  How anyone can look at this data and say we are at a bottom is beyond me.  Until the dust settles, those jumping into the market right now are flying in the face of the above numbers.
Did You Enjoy The Post? Subscribe to Dr. Housing Bubble's Blog to get updated housing commentary, analysis, and information.