Pasadena is a great city in Los Angeles County.  One of the older more established big cities within the county, there is definitely demand for this area with personality.  Driving and walking in this city recently you realize that many would still overpay today if toxic mortgages were still floating in the market.  You can almost smell it in the air on Colorado Blvd.  Yet the market is now such that families have to demonstrate adequate income to purchase a SoCal home, even in prime locations in Pasadena.  Like all bigger cities, Pasadena has prime and not less than prime areas.  Yet people forget that back in 2006 at the height of the bubble home prices in every section of town were at ludicrous levels.  Today we will cover the city's current housing data and try to focus on a prime California city that is creeping into a much needed correction.  We'll also look at a very expensive short-sale in the city associated with some very famous California families.
Pasadena growing DINKs and income fantasy
First I want to take a trip down delusional lane for a moment because it helps to understand history for the context of what is happening.  In recent months when I cover the city advocates usually counter with "that home is in the wrong part of town" but back in 2006 it seemed like every area of the city was doing well and many of these advocates remained silent during this time: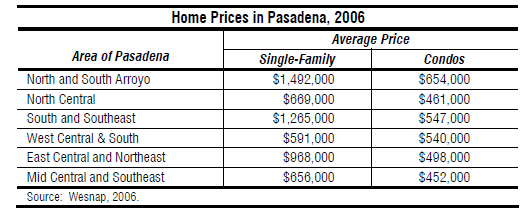 The lowest priced region was located in the West Central and South part of the city with an average price of $591,000.  This isn't exactly a prime part of the city for those familiar with the area.  Pasadena has low priced areas all the way to multi-million dollar neighborhoods.  The important thing to realize is that all the above areas have come down in price, some dramatically especially in the lower income parts of town.  The change in median price was dramatic: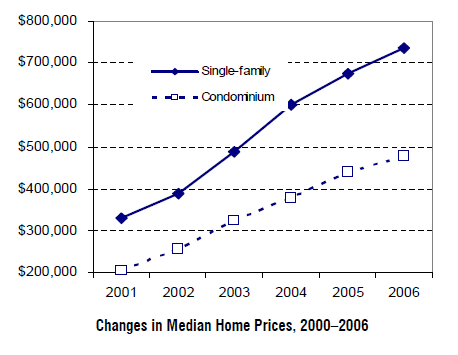 Home prices from 2001 to 2006 doubled yet incomes only went up by modest amounts.  This is where the major disconnect still remains.  Let us now fast forward to the present.  What is the income break down of families in Pasadena?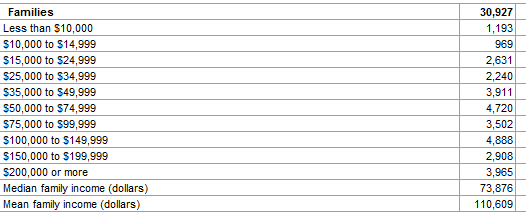 The median household income for the entire city is $73,876 which is a solid showing for the city.  But it certainly does not support those 2006 prices, not even close.  In fact for all regions you would need to make at least $200,000+ a year as a family for housing to be affordable and only 3,900 families made this in the entire city!  Now as I have discussed many newer families are holding off on having kids because of the economy and also the cost of housing.  I found it interesting that the biggest growing group in Pasadena came from DINKs (dual income, no kids):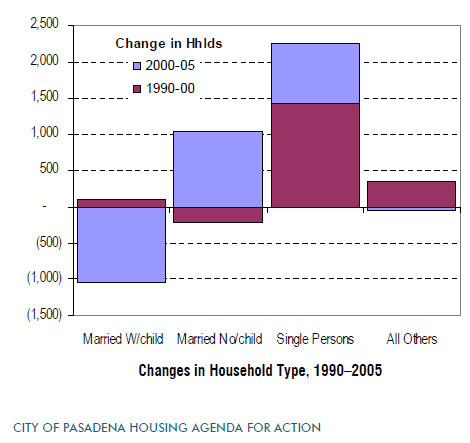 From 2000 to 2005 the biggest jump came from DINKs with singles also making up a good portion of the population increase.  Now it may be the case this group moved to the area because of the bubble with the anticipation that they were going to buy a home and have a child. This is very likely.  Yet plans have changed for many in California.  I couldn't find any new data showing what has happened from 2005 to 2010 but I'm sure many of the DINKs did have kids but probably not as many to soak up all the excess housing.  Many in this group did buy from 2005 to 2007 and probably leveraged up with toxic mortgages.  Pasadena currently has 600 homes in some stage of foreclosure so problems are happening even in a market with relatively good incomes.
If we take a quick glance at where prices stand today you can see that overall, prices are coming down and condos are taking a beating:

Compare the above prices to those of 2006 discussed earlier.  Overall I expect this trend to continue well into 2012.  If families are reluctant and have shifted their expectations (i.e., instead of buying a home maybe a condo or renting for DINKs) then demand will pull back yet again.  But more importantly and fundamentally prices are still inflated relative to incomes.  This is precisely why home prices continue to go down overall for the city.  There is definitely a desire to live here yet these desires are not supported with actual incomes on a broader level.  I'm sure everyone would love to drive a foreign import of the year but it is likely that high enough incomes are in shorter supply than the desire to buy.  No need to guess, the data is above.
Pasadena multi-million dollar short sale
Let us now focus on a short-sale in the city in a very prime location: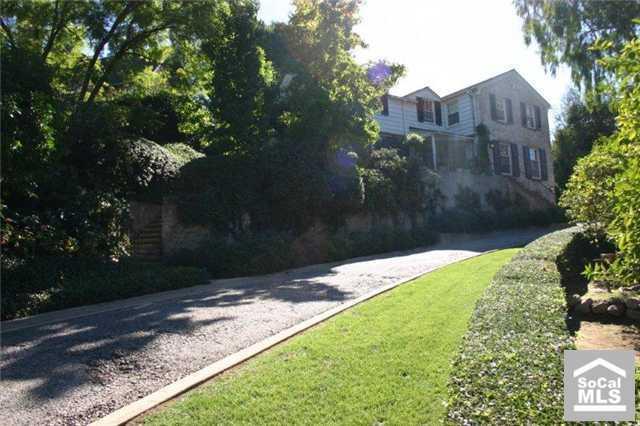 494 BRADFORD ST, Pasadena, CA 91105

Listed    09/22/10

Beds      5

Full Baths             3

Partial Baths       2

Property Type   SFR

Sq. Ft.   4,648

$/Sq. Ft.               $525

Lot Size 37,150 Sq. Ft.

Year Built             1928
This home is in the prime South Arroyo neighborhood and is certainly not a home you would expect to see as a short sale.  Let us look at the description here:
"Historical landmark (with the mills act) once owned by harriet doerr-'the doerr house'(huntington family) located in pasadena's sought after neighborhood of arroyo seco. Secluded sprawling estate on a double lot of approximately 37,000 square feet. This master piece created by roland coate includes original florence yoch gardens. One of the few properties remaining completely in tact with original rooms and features and an original representation of ms. Yoch's work. Historical status entitles buyer to a huge property tax deduction. Interior appointments include; elegant foyer, library/office, spacious formal living room w/beautiful fireplace, formal dining room w/built-in cabinets, five bedrooms, original hardwood floors and much more! Amazing landscaping includes oak trees, fruit/citrus trees, rose garden, 'summerhouse' (gazebo), water pond and stone walls. This is a rare find of art and history."
We can also see that this home has been chasing the market lower for some time now: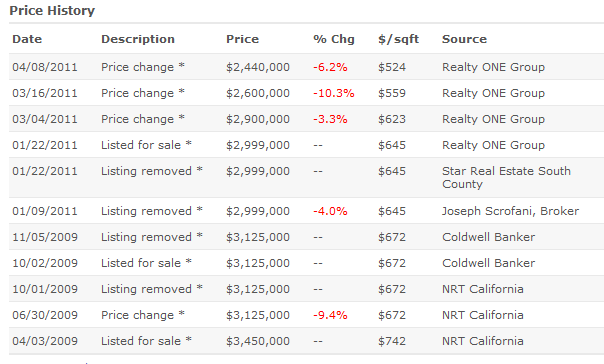 At one point they were trying to get $3,450,000 for this place.  Today it is now listed at $2,440,000 and is categorized as a short sale.  What is the Mills Act?  It basically is major tax relief for the restoration of older homes or landmarks.  Let us try an exercise and see if you can spot when this occurred:

This is big difference here.  Of course folks in multi-million dollar homes need major tax breaks especially when more normal folks are being gouged left and right because of our troubled state finances.  Even with the tax savings, someone is going to need deep pockets for this place.  From $2.4 million short sales to lower-end $100k condos Pasadena is now fully engaged in the correction.

Did You Enjoy The Post? Subscribe to Dr. Housing Bubble's Blog to get updated housing commentary, analysis, and information.