The summer selling season is drawing to a close and flippers are out in droves trying to squeeze out maximum profits before the fall hits. I know some of you are obsessed with Santa Monica or Beverly Hills but your budget might only give you room for a tiny bright blue 400 square foot place in Pasadena. Expectations people! This is SoCal, land where the notion of property ladder was invented. What would you say to buying in Paramount or Bell for example? You certainly would get more house than you would in Pasadena or Culver City and you are close to city centers. Bell is closer to downtown L.A. than Culver City. After all, everything is gentrifying so better buy now before Compton becomes the next Paris. Even though prices fell in SoCal from June to July and sales have been weak for most of 2014, eager sellers are still trying to get the most out of the current market. Today we'll take a look at a flip in Paramount and some gentrified prices in Bell.
Flipping in Paramount
One of the key aspects of a frothy market is asking for manic like prices for simple upgrades. This was common in housing bubble 1.0 and is common once again. Sure, flippers with renovations will add value but people drink too much of the cable housing Kool-Aid when it comes to how much they should profit from their "work" which amounts to ordering around contractors and acting like a reality star on your cell phone. You will get what the last sucker is willing to pay. Nothing more.
It should tell you something when you point to a city and people suddenly come up with excuses as to why not to buy there. Yet their budget certainly doesn't point to a crap shack in a target city. Take a look at this flip in Paramount: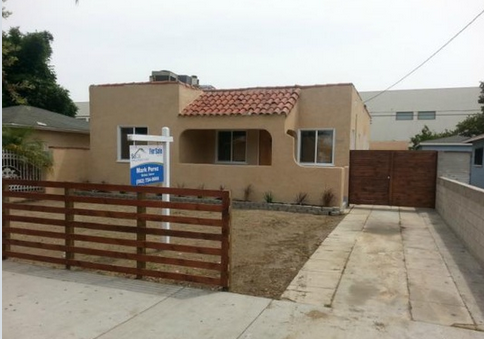 15344 San Jose Ave, Paramount, CA 90723
3 beds, 1 bath, 1,202 square feet
Let us look at the descriptive ad:
"WOW, WOW, WOW!!!***STANDARD SALE*********AWESOME OPEN FLOOR PLAN! 3 BEDROOMS! 1 BATHROOMS LARGE KITCHEN! PROPERTY HAS BEEN COMPLETELY REMODELED INSIDE AND OUT,EXTERIOR HAS NEW STUCCO,INTERIOR HAS WOOD FLOORING THROUGHOUT THE HOUSE,KITCHEN HAS BEEN COMPLETELY REMODELED WITH GRANITE COUNTER TOPS AND NEW CABINETS,THE BATHROOM HAVE BEEN REMODELED WITH CERAMIC TILES AND SEPARATE SHOWER STALL,LAUNDRY AREA, BACKYARD IS GREAT FOR ENTERTAINING,PROPERTY IS LOCATED IN A GREAT FAMILY NEIGHBORHOOD,SO MANY UPGRADES, MUST SEE TO APPRECIATE…"
Wow indeed. The place has been remodeled with all the typical buzzwords: granite countertops, new cabinets, and of course wood flooring. This place last sold in late May for $212,000. So what is the current list price?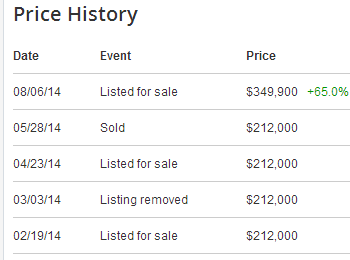 So the work suddenly added $137,900 in value? Why work when all you need to do is add granite countertops, wood floors, and cabinets and you can turn six-figures in a matter of a couple of months. Of course the schools in this area aren't exactly the highest rated but with gentrification being all the rage, I'm sure you will have no issue sending your kids there!
The next place takes us to Bell: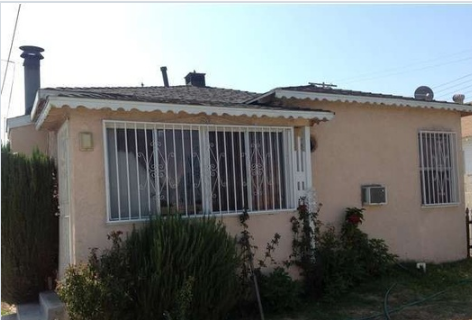 6219 Flora Ave, Bell, CA 90201
3 beds, 2 baths, 1,206 square feet
Bars on the windows are always a sign of a neighborhood that is up and coming. This place last sold for $180,000 back in 1994 (after being sold in 1993 for $85,954). Ignore that foreclosure there in the sales history or the 1,000,000 foreclosures that hit in California over the last decade. You can only win in real estate no matter the price, remember? The current list price? $345,000.
The schools in this area are rated even lower than those in Paramount. People do realize that $345,000 is still a hefty price tag for this quality of a home, do they? Sure, you can doctor up loan docs and squeeze people into places but I guess that is the point. With investors pulling back, the market has slowed down dramatically because people in these immediate areas have a tough time getting mortgages with these current prices. So either prices will adjust, incomes will go up, or deus ex machina investors are going to swoop in and convert these into rentals.
Keep an eye on these two places because sellers in these markets are following the same pattern as folks in Pasadena. It is a SoCal kind of thing.

Did You Enjoy The Post? Subscribe to Dr. Housing Bubble's Blog to get updated housing commentary, analysis, and information.