The honor of the most expensive county in Southern California goes to Orange County.  There has been a nice steady increase of inventory in Orange County over the last year.  You have places like Irvine that are building new homes at a quick pace (although a large number of these homes are being bought by foreign buyers and investors).  There is now a healthier amount of inventory on the market.  Inventory for the county is up 14 percent over the last year.  Summer tends to be the time when inventory peaks so we'll see if we level out at this point or begin trending lower.  One thing that continues to go on is aggressive flips.  These flips are happening in lower priced areas where older homes are typical.  Today we'll take a look at a Garden Grove property.
Flipping in the OC
If you are unable to afford a $700,000 to $1 million new home in more expensive parts of the county, you might want to try looking at Garden Grove.  Of course "value" is a relative term here.  Yet people are largely in these categories:
-1.  Broke Millennials – a large number since 2.3 million adults live at home with their parents in California

-2.  Foreign buyers – a healthy number of foreign buyers are buying in California (largely from China)

-3.  Investors – this number has dwindled since current prices are simply not attractive to investors

-4.  House humping couples – largely dual income families looking to buy before popping out kids

-5.  Renters – 50% of SoCal renters are cash strapped (spending close to half of their income on rent)

-6.  Flippers – those lovable HGTV people trying to add value and trying to make a tiny buck as well
Today we'll focus on that last category.  First, inventory is trending higher in Orange County: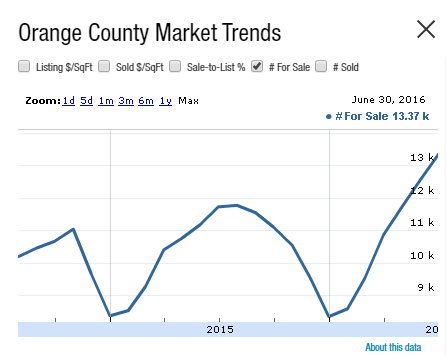 This does mean there are more options this summer than in a few of the past years.  Here is one flip in Garden Grove: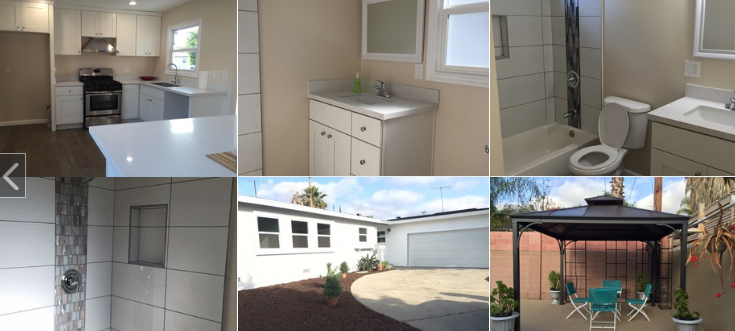 4 beds, 2 baths listed at 1,301 square feet
12142 Morrie Ln,
Garden Grove, CA 92840
Some nice work was done here.  Your typical HGTV inspired work.  The place is listed at $575,000.  Let us look at price history: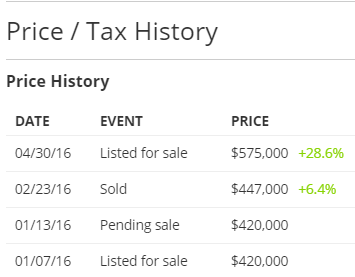 So a little history here.  The place was listed for sale at $420,000 back in January.  It looks like there was some competition here as it ended up being sold for $447,000 only a week later.
Obviously some work has been done on this place recently.  Here is street picture from March of 2015: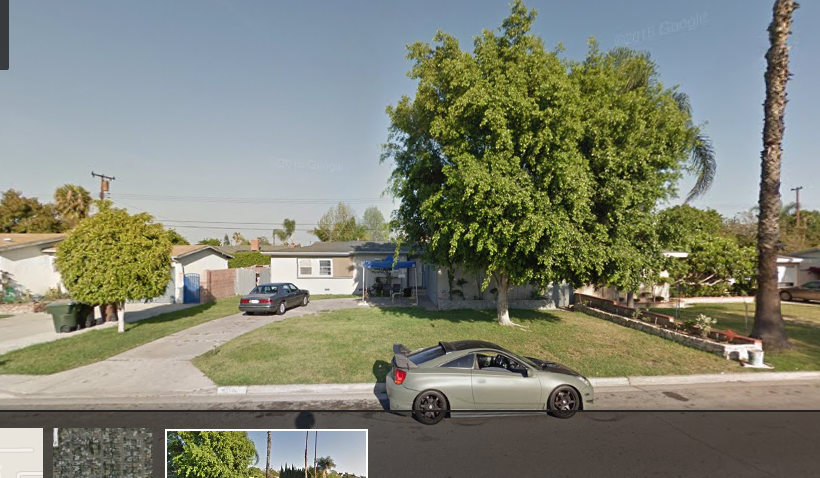 The place was listed back in late April for $575,000.  That is an increase of $128,000.  Do you think that much work has been done on this place?  Seems like a big jump in price only in a matter of three months for some HGTV work (between the sale date in January and the listing date in April).  The place is still on the market.
Flipping isn't an easy job.  But in this market, it wouldn't surprise me if it sells close to the current list price.

Did You Enjoy The Post? Subscribe to Dr. Housing Bubble's Blog to get updated housing commentary, analysis, and information.