I've been tracking data throughout the Southland for well over a decade.  The most expensive county in SoCal is Orange County.  Home to the Real Housewives of Orange County and regular guest on flip this house shows.  Inventory has been rising strongly in Orange County for the last year.  It is hard to tell when inflection points hit but the same capitulation and language I'm hearing today is similar to what was being said in 2006 and 2007.  Keep in mind everything looked great on paper in 2007: low unemployment rate, record house prices, and a peaking stock market.  People were buying saying "it seems like we reached a new plateau."  The same trend is hitting the market today.  The median price of a home in Orange County is only 7 percent off the all-time high reached in 2007.  The peak price was reached in June of 2007 and we are inching closer to that point.  Sure we don't have those insane toxic loans but we do have maximum leverage courtesy of low rates.  We also have foreign money in the market at levels never seen.  Once again, this is uncharted territory.  It might be worth looking at some history.
Peak OC   
The headlines continue to trend well for housing:
"Home values continue to go up"
"Sales are up"
"Price near all-time highs"
What is problematic is that the homeownership rate continues to fall and is near a generational low.  A lot of the current momentum is simply built on the back of years of investor buying and now that they got their fill, the late party arrivers are trying to get a piece of the action.  It was also built in a market with suppressed inventory.  Let us first look at the previous all-time high:

The previous peak was reached in June of 2007 when the median home price in Orange County hit $645,000.  At the time this figure seemed insane to some because of what households were earning but for the most part, the status quo was that prices made sense (headlines in the media always get it right).  Well guess what?  Local household incomes haven't increased all that much since 2007, certainly not to justify some of the prices we are seeing.  In places like Irvine, you have massive sales volume going to foreign investors.
There are a couple of leading indicators as to a changing housing market:
-Rising inventories
-Slowing price gains
-And sales dropping
The first two items are happening.  Inventory is up sharply: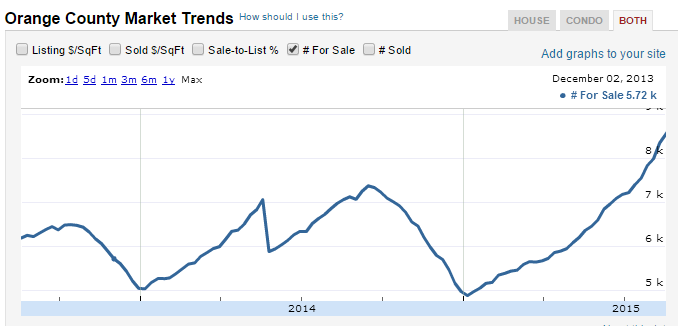 Source:  Redfin
This is the biggest leap since the housing bubble first burst.  Price gains are moderating.  Yet sales are up year-over-year meaning this still has momentum.  We still have momentum because of the frothy six-year bull run in stocks.  It is no surprise that having a weak stock market year is already showing that real estate relies on hot money, especially in this current market.  Keep in mind the stock market is merely moving sideways – we have yet to even experience a moderate correction.  Since 2009 the S&P 500 is up 207 percent.
Look at the price history for Orange County: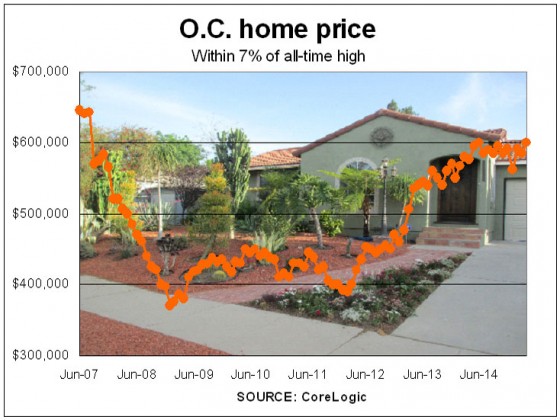 Source:  OC Register
After hitting the peak in June of 2007, prices reversed quickly.  By January of 2009 the median price in Orange County was at $370,000.  Of course people blame toxic mortgages but it is worth nothing that the majority of foreclosures happened on traditional 30-year fixed rate mortgages where people simply couldn't make their monthly payments.  There is a foreclosure graveyard that people are easily forgetting and some think that buying a home absolves you of that 30-year mortgage requiring monthly cash flow.
Just look at the latest Census data:
Median household income for Orange County
2013:                     $75,422
2007:                     $71,601
So while OC home prices made the climb from $370,000 from early 2009 to $629,500 (it dipped last month to $615,000) the typical OC household income saw their income go up by $3,821 over a longer stretch between 2007 and 2013.  And this is for the most expensive county in SoCal.  And then you wonder why we have rental Armageddon, adult kids moving back home, and people living with roommates well into their 30s and 40s.
Sales are being driven by investors, foreign buyers, flippers, and now capitulating households stretching their budgets to the max and leveraging everything they can with low interest rates.  People are chasing the headlines and are forgetting that SoCal does things big – we boom and bust big.  There is no moderation here.

Did You Enjoy The Post? Subscribe to Dr. Housing Bubble's Blog to get updated housing commentary, analysis, and information.