Most housing reports leave out examples of what you are actually getting for with your money.  That is understandable but the press does a poor job of looking beyond the overall trend.  Maybe if they showed a picture of the property, they would actually knock some common sense into people.  They can still ask questions like "how much did you pay for that crap shack?"  That might be a starting point.  Instead, what you get is a play-by-play commentary of where we are at.  The market today is inflated and we are living through a rental revolution.  The stock market has been on a non-stop move upwards since 2009.  We have yet to face any small correction and as many people are seeing this year, expect the unexpected.  One easy way to see the mania in the market is to look at small homes for sale and how they are being pitched.  Today we take a look at a small home in Orange.
The Orange Crush
Orange County is the most expensive county in Southern California.  In fact, prices are now at a new peak level.  So what is a first time buyer to do?  You can listen to Taco Tuesday Baby Boomers and purchase what you can afford.  Buying always makes sense unless you are one of the nearly 8 million completed foreclosures since the housing bubble popped (of which 1 million were in California).
Take a look at this home in Orange: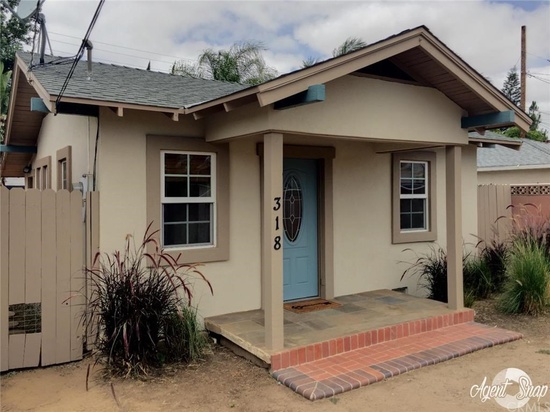 318 N Waverly St,
Orange, CA 92866
2 beds, 1 bath at 667 square feet
The ad is wonderful here, including the mandatory "Granite Counter Tops – GCT" and updated appliances:
"Old town orange Charmer! This adorable turnkey home features a very large front yard, upgraded fixtures, newer energy efficient windows, fresh paint and carpet throughout. The home has been tastefully upgraded and includes laundry, automatic sprinkler system, updated appliances and Granite counter tops. Conveniently located just a quick stroll to the Orange Circle and Chapman University."
This place is small.  More lawn than home: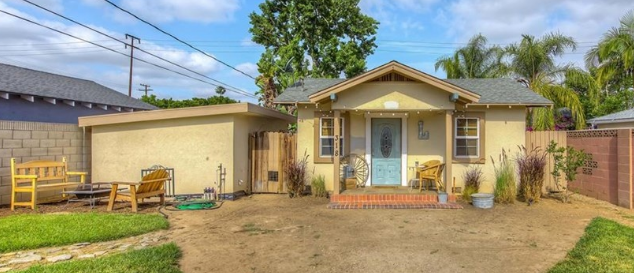 The pricing here shows you how out of whack the market is: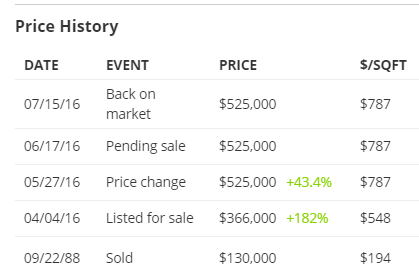 The sellers bought this home in 1988 for $130,000.  So they listed this tiny pad for $366,000 in April.  Surely a near tripling of price was going to be a nice windfall.  But the house horny shoppers must have been pounding on one or two of these bedrooms because clearly it was "underpriced" – so in May, one month later they listed the place at $525,000.  What the hell happened in one month to change the price from $366,000 to $525,000?  Then some lemming almost bought this place in June but it looks like it is now back on the market.
This kind of ridiculous seesaw pricing is indicative of a market where sellers are pushing the limits on desperate buyers.  You can't blame the sellers, they are simply trying to squeeze out every nickel they can get out of a 667 square foot home that was built in 1923.  You know what else was built around this time?  The Walt Disney Company.
Oh, and the schools don't exactly have great ratings: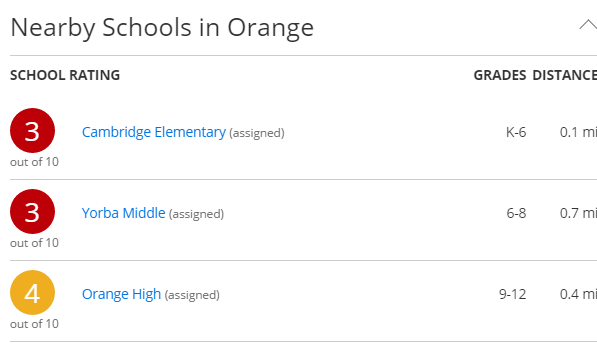 So who is ready to drop $525,000 on this place?

Did You Enjoy The Post? Subscribe to Dr. Housing Bubble's Blog to get updated housing commentary, analysis, and information.