Option ARMs are arguably the most toxic mortgage product on the market.  I remember having this discussion with people many years ago.  Without fail, you would get someone throwing out the hypothetical unicorns in the sky case, "well what if you are a doctor with a side business and don't want to document your income?  This product makes sense."  Yet that is the exception and not the rule as we are now painfully learning.  I'm sure some of these people were sincere but the vast majority were simply delusional and licking their gluttonous chops for a fat commission.  Never were they looking out for the client.  To ease their conscience they tell themselves, "well at least I warned the client about the risks of the mortgage."
These loans were setup for that unicorn pie in the sky scenario of the wealthy business owner who simply does not want to document income but instead, became the primary product for many brokers in states like California and Florida for those who needed that extra pinch of leverage to buy that over priced home.  Back in June of 2008 I wrote a detailed articled called:
Stage Two of the Mortgage Collapse: $500 Billion in Pay Option ARMs Meet the Piper in 2008 with 60 Percent Being in California.
In it I talk about the dangers of the option ARM mortgages.  I don't think the article could have been clearer.  Many of you saw the CBS 60 Minutes piece this weekend.  I know because I have gotten a lot of e-mails regarding the piece:
*Click to read/watch segment
It is a good piece although late to the game.  Yet I give CBS credit because I have yet to see ABC or NBC have any substantive piece regarding this matter.  Last night I was wondering why there was a surge in traffic to the site around 6:00PM Pacific Standard Time and when I looked at the logs, I saw Google search queries of option ARM, Alt-A, and NINJA mortgages.  Ironically the query was pulling up articles some older than two years old while the CBS piece made it seem that this option ARM thing was new.  Seeing the traffic, I think many people are going to be caught off guard just like the initial stages of the subprime debacle.  These are the articles that were pulled up:
When will my home cost me an ARM and a leg? – October 12th, 2006
"As you can see, 2006 and 2007 will be peak years in terms of subprime and jumbo loans. Given that many of these loans have prepayment penalties many folks will not be able to refinance given the limitation inherent in the loans. The reason we have not seen the impact of the current ARM resets is that the real estate market has been hot. So hot in fact that even with a prepayment penalty many were able to cash out or even sell homes before facing the piper. This circular system keeps working until appreciation stops. Not only that, rates are much higher than they were in 2004. Keep in mind that most ARMs and interest only loans are pegged to short-term rates such as the LIBOR. Basically they go in tandem with the feds short-term rates."
Ponzi Financing – The House that Credit Built. – October 24th, 2006
"This was the start of the Securities and Exchange Company (sound familiar?). The ironic thing was that Ponzi was losing money daily. The thing that kept him going? Debt. Basically he was paying out his investors with money that was coming in. In fact, so many people bought into the hype that widows were mortgaging their homes to get a piece of the action. When someone from Barron's decided to examine Ponzi more closely, they realized that the company was completely unsustainable. They realized that 160 million postal coupons would need to be in circulation when only 27,000 were estimated to be in use. By August 13 Ponzi was under arrest. Even at this time, so many people had blind faith in Ponzi that they cried and held anger toward the officers who arrested him. They bought into the dream Ponzi was selling even though economically it had no basis in fundamentals."
""The following chart shows the percentage of Bay Area loans that were interest only or Option ARMs (know as negative amortization)."**
Year Interest Only Option Arm
2005 42.6% 29.1%
2004 43.7% 9.6%
2003 20.3% 0.8%
2002 12.0% 1.7%
2001 2.9% 1.6%"
Press Zero for Reset: Are we out of the Subprime Mess? – September 25th, 2007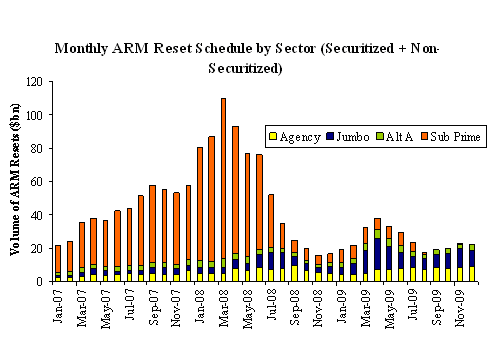 "The solution to this, even though people do not want to hear this, is a market correction. This means that local income levels and the new tighter credit standards will dictate future housing prices. In some areas this means 10 percent drops while in others this can reach 50 percent or higher. Will this happen? The data is already pointing toward this. Even if property drops 30 percent over 5 years, combined with inflation adjustments this is close to a 50 percent drop. Some areas in Los Angeles are already seeing 20 percent adjustments year-over-year."
Stage Two of the Mortgage Collapse: $500 Billion in Pay Option ARMs Meet the Piper in 2008 with 60 Percent Being in California. – June 14th, 2008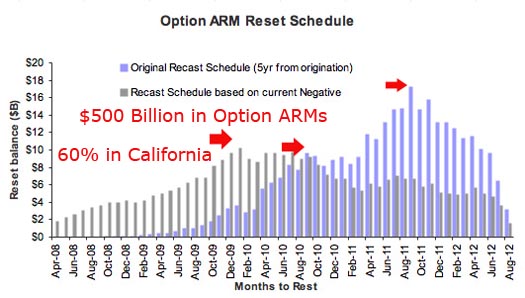 "Many of these owners are going to be highly tempted to moonwalk away from their mortgages. Does Bank of American really want to assume this option ARM time bomb? They are scheduled to close their deal with Countrywide sometime in the third quarter yet I simply do not see how they avoid astronomical losses on the current mortgage portfolios and REO properties. Unless California suddenly goes into another bubble and prices start going up, we are in for a tough few years and the current California multi-billion dollar budget short fall isn't pretty either. Keep in mind the California budget which has now been revised to a $17 billion short fall is going to force us to make some hard decisions. Either raise taxes to plug budget gaps or cut spending (aka jobs) and only increase the unemployment numbers and thus depress the economy further.
No matter how you slice it, California housing is going lower and pay Option ARMs will be the next crisis that will send the credit markets stumbling. You can bank on that."
I bring these articles back to the forefront because nothing really has changed at its core.  The option ARM fiasco is going to be big especially for states like California and Florida.  Given that California is 12% of the nationwide GDP, this will impact the entire country to a certain degree.  In addition, you can see that this isn't new.  Back in 2006 we saw problems.  In fact, I wrote an article back in 2006 about the wonderful Charles Ponzi which now has a modern day huckster who seems to have managed to outperform him by billions of dollars in Bernard Madoff.  Charles Ponzi operated in the Roaring 20s right before the Great Depression and here we have another character right in the midst of our own collapse.
I want to bring the option ARM issue up again because this will be a big (if not bigger) story than the subprime debacle.  In addition, we already know prime mortgages are now going bad but you haven't seen anything until you see an option ARM recast in California.  I have.  A few people that I have talked to who were unfortunate enough to be placed in option ARMs are already geared up to stop making payments once their rates recast on their underwater homes.  They are not alone.
Let us now take a look at multiple charts produced regarding this major issue: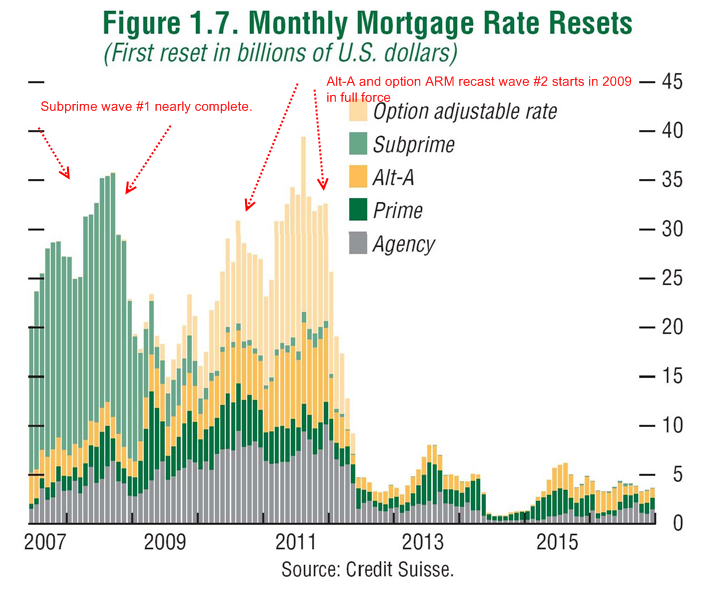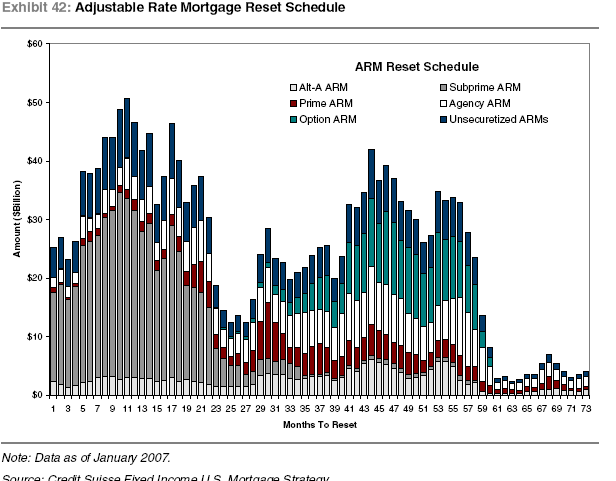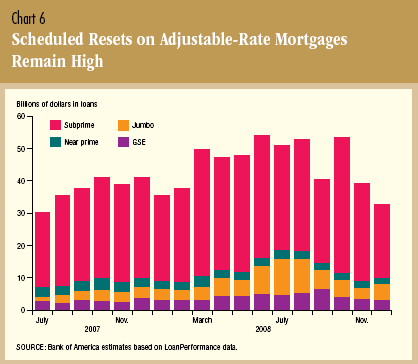 60 Minutes used a similar chart to the first one.  What you'll first notice is the subprime wave is essentially done.  That is why it was such a frustrating thing to hear people say that this economic collapse was a subprime problem.  No.  Subprime was merely the canary in the coal mine.  It went down first.  The amount of subprime loans made compared to the $50 trillion in global wealth that has disappeared actually looks like peanuts now.  I remember when I would write an article stating the stunning $35 billion a month in resets and thought to myself what an incredible number it was.  Now, $35 billion is a capital injection into a crony capitalist bank on a weekend after eating a Mr. Goodbar or posting a private Facebook message to your buddy saying, "the deal iz done!"
What is more important with the chart above is now you see a second wave coming.  The Alt-A and option ARM wave.  The problem is many of these loans are securitized outside of Fannie Mae and Freddie Mac.  Short of the government becoming a default toxic mortgage dealer, these loans will recast starting in heavy numbers in early 2009.  California has over 50% of the pay option ARM market.  Take a look at the median prices in our sidebar and you'll get an idea how that is going to play out.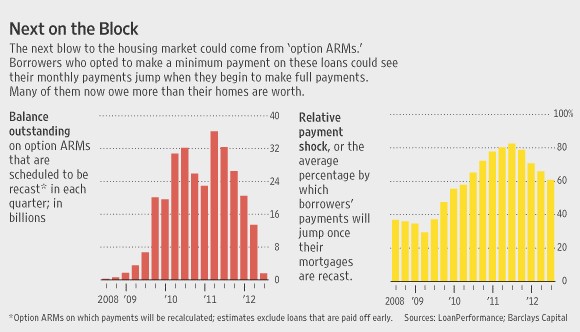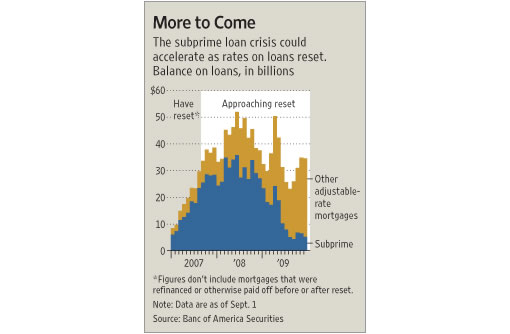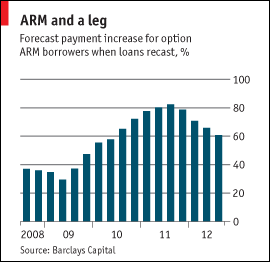 These charts show how the recasting of loans will actually hurt borrowers on a montly level.  Not only will their payment jump, but it will jump significantly.  2009 will see the first flurry of recasts with many payments jumping up approximately 40%.  In 2010 payments are jumping up closer to 50%.  2011 and 2012 see payments jump up in some cases by 80%!  My gut tells me upwards of 80% of all underwater pay option ARMs in California will default.  Bookmark it like the other articles linked above.  And why wouldn't they default?  Prices are not going to jump up.  If IndyMac is any sign of loan modification success, we already know over 50% re-defaulted within 6 months.  And IndyMac was an option ARM specialist!  The market is only getting worse here in California and Florida, the 2 primary option ARM states.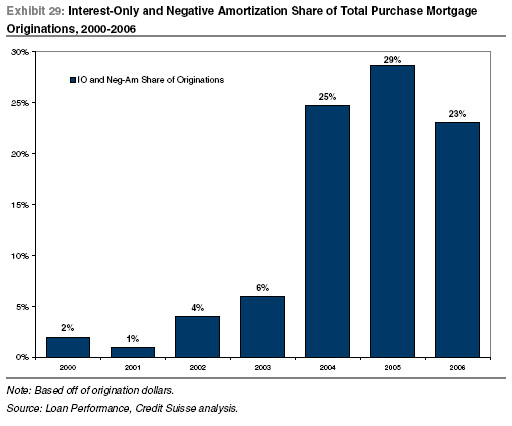 The problem is that these toxic mortgages became mainstream and a large part of the market.  They were essentially ticking time bombs betting that real estate would appreciate at levels it could never maintain.  2, 3, and even 5 year teaser rates.  Well, look at the above chart.  2004, 2005, and 2006 were the biggest years.  Like clockwork they are exploding.  The only problem is that they are turning sour when the market is already battered.  Sadly, option ARMs provide very few options to those now stuck with them.
Did You Enjoy The Post? Subscribe to Dr. Housing Bubble's Blog to get updated housing commentary, analysis, and information.