If you want to see what baby boomers are buying, just watch the commercials on 60 Minutes.  Between Viagra and Prostate commercials, you will also get ads on remote destination cruises.  This is a much older audience that isn't buying new homes.  Many already own homes.  Yet they bought during a time when the housing market was much more stable and less prone to the machinations of Wall Street.  Now we are in the midst of a renter revolution and are witnessing the lowest homeownership rate in a generation.  The baby boomer cohort is 77 million strong but the Millennial generation is 92 million strong.  You would think that there would be plenty of fresh bodies to replace the Taco Tuesday baby boomers but it simply hasn't materialized.  Can Millennials save the housing market?
Millennials as a group and buying trends
Millennials are much more focused on lifestyle design than having a McMansion.  Crossfit, paleo diets, and travel are much more important to this group than taking on a health destroying commute just so you can have a big home.  It is also the case that many Millennials are deep in student debt and are suck living at home with parents after embarking on a very expensive college journey.  A journey that I would imagine would open up their eyes to things beyond simply buying a crap shack as the end all goal in life.
Here are the numbers: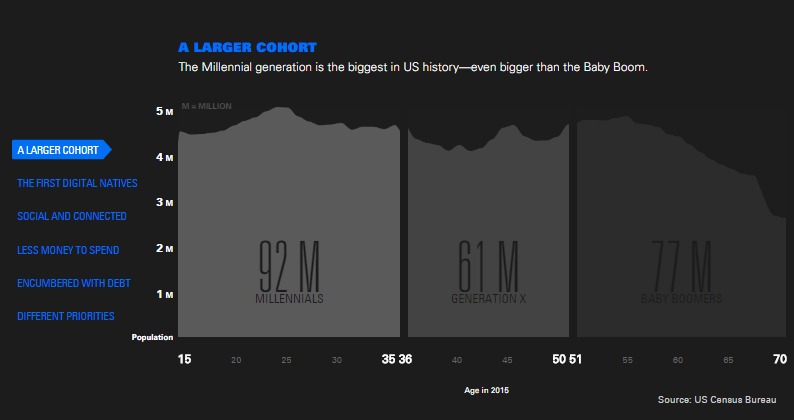 Millennials are a massive group.  Generation X has slightly followed in the footsteps of baby boomers when it comes to home buying.  But not so with Millennials.  Many are opting to live at home or with roommates.  Many are also marrying later and having much smaller families which goes against the needs of a giant McMansion.
This is a new trend: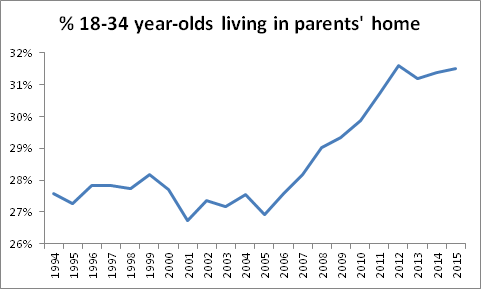 This is probably being brought on largely by necessity but also changing wants and desires.  It is also nonsense that most people stay put in their home for 30 years.  The average works out to be 13 years: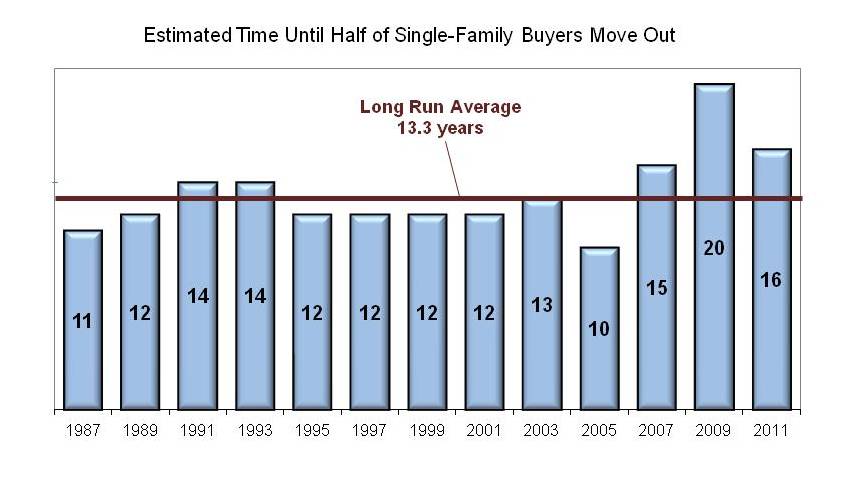 Source:  NAHB
In California, with more than 2.3 million Millennials living at home, you do have many people locked down in Prop 13 protected properties having their boomerang adult children moving back in.  In many cases, the adult children are definitely not earning enough to purchase the current property.  In many cases they were born during a time of bigger families, you have multiple adult children coming back home.
I was at an open house for what you would call a crap shack in a nice neighborhood.  The place was definitely a starter home.  What was interesting was most of the people there were much older, say late 40s or early 50s.  And some much older.  For the few younger people, those in their 30s you could tell they were professional working couples.  For this property, a couple would need to make $200,000 a year at minimum.  It was an interesting open house.  But Millennials were not the target crowd although this was a starter home.
Will Millennials save the housing market?  Well the housing market doesn't need saving.  Prices are in the stratosphere so even a minor correction is probably warranted.  I suppose when that question is asked people are looking to see if current prices are the "new normal" and that things will remain the same.
The market is simply juiced on low interest rates.  We've been in a solid bull market since early 2009 (a solid 7 years).  Even last year, probably 5 percent of the population would have forecasted this political season.  So to think things can't adjust in a market that seems frothy is simply naïve.  Also, just look at the economic numbers on incomes for Millennials.  There is more than $1 trillion in student debt being carried by this group largely.  Many already have mini-mortgages.  The recent price movement has been pushed by investors, foreign buyers, and very low inventory.  But Millennials are not the group saving this market, at least for now.

Did You Enjoy The Post? Subscribe to Dr. Housing Bubble's Blog to get updated housing commentary, analysis, and information.