There are moments in history that change the world profoundly. The fall of the Berlin Wall. The industrial revolution and the impact it made on our society. And finally, David Lereah, the former National Association of Realtors chief economist telling us that that things will get worse before they get better? That is correct. One of the most adamant cheerleaders for the housing orgy is now sounding like a housing bear blogger. You know the author of this following book: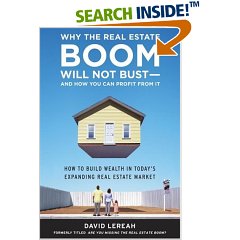 The book was published in February of 2006, just at the peak of the housing bubble mania. Just to give you an insight to some of the bubble rhetoric in case you forgot how it was to live in a society where everyone was drinking housing Kool-Aid:
"We are really on track for a soft landing. There are no balloons popping." – David Lereah, NAR's chief economist, December 2005
"If you paid your mortgage off, it means you probably did not manage your funds efficiently over the years," said David Lereah, chief economist of the National Association of Realtors and author of "Are You Missing the Real Estate Boom?" "It's as if you had 500,000 dollar bills stuffed in your mattress."
He called it "very unsophisticated." (Los Angeles Times Aug 28th, 2005)
You must understand that Daivd Lereah was one of the most adamant supporters of the housing boom. In fact, this idea that money was "stuffed in your mattress" is precisely the reason we have a negative savings rate and there is no buffer to support the continuing collapse in housing prices. But the tune is now changing as highlighted in this big story in Newsweek titled:
"It's Going to Get Worse
Economist David Lereah was once the housing market's biggest cheerleader. Now he says the bust isn't near over, and home prices still have a long way to fall."
We now have this mea culpa world tour that also includes the maestro himself, Alan "use those adjustable rate mortgages" Greenspan. There is a concern for legacy and how history will treat them but thankfully to the flow of information, it is pretty easy to pinpoint the causes and the main cheerleaders for this "irrational exuberance" to quote Greenspan himself. Let us now see what Mr. Lereah is saying given the fact that we are now seeing a housing crash:
"We're not at the bottom," he says. "[People] want it to be near the bottom, but we're not there yet. The leading indicators are still very bad. Pending home sales are still in bad shape. Mortgage applications are low … There's still supply out there in abundance … This thing is going to get worse before it gets better."
Oh! Talk about a massive reversal in psychology here. But let us go on further and see that Mr. Lereah has learned a lesson in being careful about making hard line predictions:
"Lereah says that the industry may begin to see a slight uptick in sales later this summer, which could signal the start of the recovery. Home prices, however, will continue to fall. According to the latest numbers from the Case-Shiller index, the average U.S. home has lost around 15 percent of its value since the market's peak. "We're probably going to end up with a 20 percent [decline], but if I'm wrong it will be even more than that," he says."
The plethora of quotes during the bubble prove this person wrong multiple times and he'll be proven wrong once again since he is estimating another 5 percent decline from the current numbers. What in the world is going to keep housing from going down 25 to 30 percent? Also, why 20 percent? Another wanton guess on the mea culpa express. This of course is a radical departure from the idea that the bubble (by definition irrational events) was grounded in logical reasons:
"That's quite a turnabout from the view he articulated in his book, first published in 2005. There he argued that the solid economy, strong demographics (including immigration and aging boomers), and a lean supply of homes should lead prices to continue rising for years to come. "Today's real estate market is the result of rational decision making based on supply and demand conditions," he wrote. "With today's economy, home owners are in no danger of experiencing a widespread fallout of home prices."
So who do they blame? You got it. Those pesky subprime loans that somehow have wiped out $2.84 trillion in housing equity:
"[I] just didn't realize the scope, the extent, the magnitude of the loose underwriting-not looking at incomes and wages, just providing so many mortgage loans based on [expected] future price appreciation rather than the creditworthiness of the borrower," Lereah says. "That got so out of hand, and none of us realized the magnitude of it until it was too late."
Bwahaha! No Mr. Lereah. YOU didn't realize it. There were plenty of folks that just in line with the publication of the housing boom book were echoing the siren call of the housing bubble popping. I've noticed this new public relations move and want to stifle it once and for all. Alan Greenspan has used similar PR moves trying to give the appearance that no one saw this train coming and now, we need to adjust and please let us forget that our bubble cheerleading from a very loud podium was a main cause of this boom. Let us not forget that no large industry group has been punished. Do they own any responsibility? Listen, homeowners that took out these loans will end up in foreclosure if they thought they were going to flip a home for a quick profit and took out a destructive mortgage product. That has and will continue to go on. Yet what about restitution by the Wall Street firms and lenders that knew very well that they were going to make out like bandits while homeowners would in no way be able to payback the actual mortgage note. The profit made by these firms was based on negligent lending practices and in many cases, flat out illegal practices.
I'm sure some of you may think I'm coming down a bit hard here. But the one thing I am not hearing about is what is the punishment here? Are any groups responsible? The argument that "well buyers should of known better" is simply a distraction. Guess what? There is a clear consequence for taking out a mortgage you couldn't pay. Its called foreclosure. The consequence for making horrible loans? Its called a bailout from the Federal Reserve. Think about this for a second. Let us say you maxed out your credit cards, took a ridiculous mortgage on a McMansion, signed on for a lease on a luxury car, and simply cannot make the payments. Can you go to your bank and drop off your lease, mortgage, and credit card liabilities in exchange for money? Of course not! Yet this is the access Wall Street firms have under the political guise of "well, they're too big to fail."
Back to Mr. Lereah, at least we can give him credit in that he actually followed his own advice and put some of his own money into the housing game. Many of these perma-bulls have a simple way to prove their commitment; go out and buy a home right now in Southern California. Put your money where your mouth is:
"Every time you have something like this you overreact the other way," Lereah says. He sees Frank's efforts to boost the FHA's role as a solid countermeasure that may help the market. While he was an economist at NAR, Lereah was also a real estate investor himself, at one point owning 10 condominiums from Virginia to Florida, which he rented out. Today he still owns seven of them, and aside from one that's languishing unrented, the other six are still making money, he says. So even if his forecasting record is mixed, his in-the-trenches investment record appears more solid.
Florida has the worst condominium market in the entire country. Now he is championing the FHA bailout plan which is another form of privatizing gains and socializing losses. If we are now getting David Lereah saying that things will get worse we know that things are nowhere remotely close to a bottom. The quote that comes to mind about letting single owners go down in flames while bailing out Wall Street is from J. Paul Getty:
"If you owe the bank $100 that's your problem. If you owe the bank $100 million, that's the bank's problem."
Did You Enjoy The Post? Subscribe to Dr. Housing Bubble's Blog to get updated housing commentary, analysis, and information