What I find fascinating about the recent positive job gains is that most of the growth is occurring outside of the real estate sector.  This is an overall positive.  Keep in mind that real estate values are still down by $7 trillion from their peak reached in 2006.  So the trend of adding more jobs, although a far cry from a healthy economy, is still beneficial news that should be welcomed by all.  But make no mistake, the housing market is a mess and part of this recovery is also being driven by lower priced homes being funneled out of the shadow inventory.  This is why you have the unemployment rate ticking lower while home prices make all-time post-bubble lows.  Is this cognitive dissonance?  Not at all.  You simply have an economy that is examining household incomes and as it turns out, having massive mortgage debt is not always a good stimulus for economic growth.
Some growth driven by lower real estate values?
We constantly hear how it is important to keep home prices inflated.  However, with record low home values, we are now adding jobs at a steady clip.  Of course this goes directly against the argument that in order to have a booming economy we also need booming home values.  The only way home values are going to go up is if household incomes increase.  We can now see this drastic shift by looking at the unemployment rate and housing values: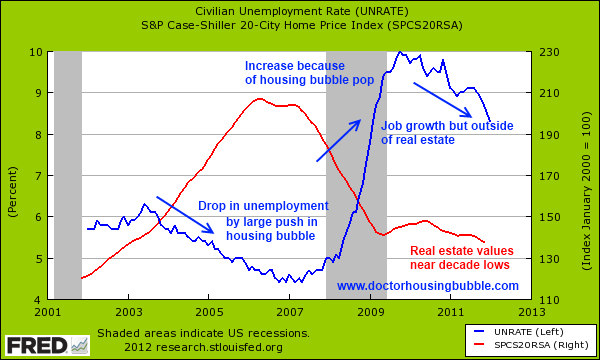 You can see how the unemployment rate was pushed lower with almost precise correlation to the booming housing market.  Much of that growth was based on household debt consumption (i.e., HELOCs, home sales, etc).  As the bubble peaked in 2006 and 2007 you can see the unemployment rate spike up nearly in tandem with falling home prices.  This decade long view simply reflects a debt based housing bubble.  But something started changing with employment in 2011.  Now, we have seen the unemployment rate trickle lower yet home prices keep moving lower as well.  Real estate values are now at post-bubble peak lows.  Yet the economy is growing.  How about that for those that argue that permanently high real estate values are good for the economy and a prerequisite to lower the unemployment rate?
You still have over 12 million homeowners in negative equity positions: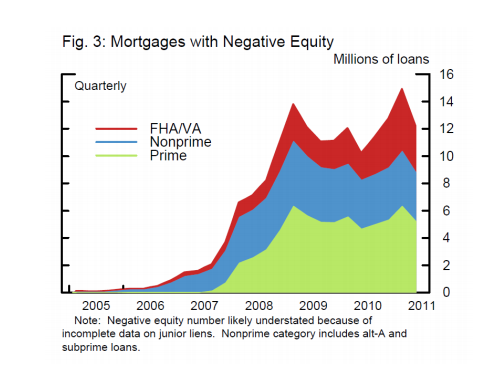 The distressed inventory pipeline is still over 6 million properties but as we are now seeing it is very plausible to have an economic recovery with lower home prices.  I guess that has been the point all along.  Much of the last decade was an anomaly.  Even during the baby boomer decades where the economy had fantastic growth home prices pretty much moved in line with incomes and the overall rate for inflation.  This brought on the biggest middle class ever known to the world.  Why in the world do people fixate on high home prices?  If the typical household was making $100,000 then a $300,000 typical home price would make sense.  Now that the typical US home price is down to $150,000 and most families pull in $50,000 home prices may not be so out of touch.  Yet states like California still have their delusional pockets but as prices fall here, you will see little changes nationally.
The trend in job growth
Without a doubt, the economy has been adding jobs over the last year:
Source: Calculated Risk
So it is fascinating that during this strong growth period real estate values have been falling.  Why is that?  Because many of these jobs pay what they did for the past decade.  So you have more being able to purchase homes but at lower prices.  Clearly there is little barrier of entry with FHA insured loans only requiring 3.5 percent down and mortgage rates are at historical lows.  The irony of a growing economy is that economic growth may force interest rates higher putting additional pressure on home prices.  But as we have seen, you can have significant job growth without having real estate values going up (in fact real estate values have gone down during this brief period).
Overall I believe real estate values that reflect household incomes are a good revelation for our economy.  Higher home values without associated income growth simply suck away more disposable income from households that can be used in good producing sectors. With a younger population that will likely be less affluent than the baby boomer generation this is a good trend.  Keep in mind the shadow inventory is still high in many high priced areas but with banks balancing out their revenues with most other states they may streamline the foreclosure process in higher-end locations.  As we are seeing, you are witnessing more and higher priced properties entering the market with sizable price cuts.
Real estate values falling and solid employment gains?  Talk about a stunning pairing for those who are obsessed with inflated housing values.

Did You Enjoy The Post? Subscribe to Dr. Housing Bubble's Blog to get updated housing commentary, analysis, and information.