The recent Federal Reserve report is troubling for a variety of reasons but a large factor contributing to the decline in net worth of Americans is the over reliance on real estate.  You simply do not lose 40 percent of your net worth in three years and expect minimal impacts to the economy.  It was also enlightening to see that the bottom 90 percent of American households actually saw their income fall in this period.  So again the question remains, why would housing prices move up when incomes are falling for the vast majority?  It also may answer why prime markets, those targeting the 10 percent that did see incomes rise are in fact stable or moving up.  Yet overall the negative equity situation is one in which a large number of American families are impacted and will have long lasting effects on housing moving forward.
The overall picture of negative equity
According to a variety of reports, it is estimate that between 10 and 12 million Americans are in a negative equity situation: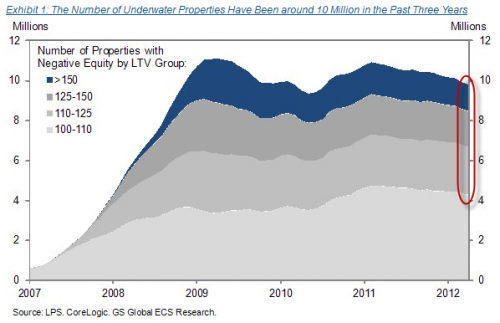 Some are on the cusp of negative equity but over half of these mortgage holders have loan-to-value ratios of 110 percent or higher.  Nearly one million homeowners have loan-to-value ratios above 150 percent!  This is now becoming a battle of attrition.  Those with negative equity levels that high are likely to remain in a negative equity position for probably a decade or more.  In many of these cases it is likely better to cut losses and move on either to rent or repair your balance sheet to buy a lower priced home in the future if possible.  This is common in places like Las Vegas or Florida where homes are selling for extremely low prices while some continue to pay on homes sold near or at the peak.  The negative equity position is reflected in the below chart: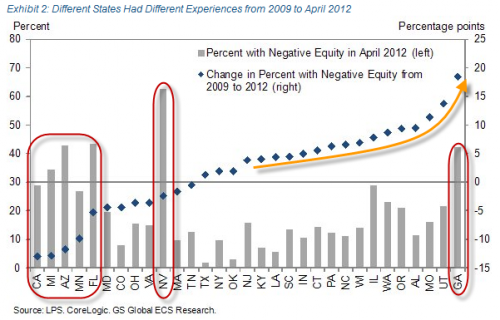 Over 60 percent of mortgage holders in Nevada are in a position of negative equity.  California is close to 30 percent.  Georgia is a state that we rarely talk about but over 40 percent of mortgage holders in the state are in a negative equity position.  Yet you look at places like Texas for example and there is nearly no negative equity holders.  In other words, this housing crisis was dispersed and impacted sparse parts of the nation.  Some areas had minimal impacts while others are still engulfed in the remnants of the bubble.  What impacted everyone is the crushing blow to the financial system and how banking is structured in the United States.
The situation in Greece is an interesting one because it is a situation of unsustainable debt.  To sum up the issue, Greece in reality cannot adequately service their debts.  On the surface this would appear to only hurt Greece but large European banks have their bets on Greece and the contagion would also spread to them.  This is why the subprime problems were a tiny aspect of the housing problem.  The issue and financial crisis came from banks having bets many times the size of the underlying assets that needed to be unwound.  The problems with CDOs, CDSs, and other securitized debt is at the core of the problem that remain to this day.  Today the banking system is largely a ward of the state living off bailouts, easy access to Fed Funds, and pumping out government secured mortgages.
What has been solved?

It should be obvious that with over 10,000,000 Americans in a negative equity position that housing is still in tough shape.  Keep in mind the Fed report only ran up to 2010.  What has happened from that point on?

Housing has continued to move lower therefore pushing the net worth of Americans lower.  Negative equity is a transfer to bailout the banks by those still living in overvalued homes.  Since 9 out of 10 still pay their mortgage even when they are in a near or negative equity position, you realize that people are more resistant to making a calculated business decision when it comes to housing.  Banks have pushed much of the toxic loans to the Fed balance sheet and essentially are only lending out government backed loans.  To say housing is in good shape with over 10,000,000 negative equity homeowners is hard to grasp.

Did You Enjoy The Post? Subscribe to Dr. Housing Bubble's Blog to get updated housing commentary, analysis, and information.