As 2008 comes to a slow and painful end, we can reflect and see that if we continue on this current road the vast majority of Americans will be in a worse spot come the end of 2009 putting us at the worst economic recession since World War II.  Now ask yourself, are you really doing better economically?  If you had a large percentage of your net worth in the stock market, your answer is probably no.  If you own a home, there is a high likelihood that your equity just shrunk.  Or maybe you were trying to be defensive and had some money in commodities.  You too faced pain this year.  2008 will go down in the history books as one of the worst performing markets in history.
Today I want to focus our energy on three trends that should they continue, will leave us in a global meltdown come the end of 2009 (as if things aren't bad already).  First, we will examine life after the $700 billion TARP.  If you remember, the Troubled Asset Relief Program (TARP) was supposed to help us stay away from a global financial meltdown.  It did very little in avoiding this.  The only thing it did was provide crony capitalist a window of opportunity to strap on their golden parachutes while they jumped out of the smoldering building leaving everyone else to fend for their own lot in life.  The next piece we will examine is the unemployment situation.  This past week the BLS released data on individual states and what we are now seeing is once resilient states being sucked down by the weight of the global economic downturn albatross.  Finally, we will try to understand the enforcement psychology that has caused the financial world to be a wild west allowing people like Bernie Madoff to swindle investors to possibly $50 billion in a modern day Ponzi scheme.
TARP – The new 4-letter Word
Showing the schizophrenic nature of our politicians, if you remember the initial version of the TARP was smacked down on September 29, 2008 in the House of Representatives.  The reason for this was that (a) the bill as it is showing us in practice has done nothing to protect the financial health of average Americans and (b) is simply a get out of jail free card for bankers and Wall Street.  The initial vote had it right but politicians freaking out that the markets might free fall, went ahead and passed the bill on October 3, 2008.  Let us see how well the markets did after that shall we?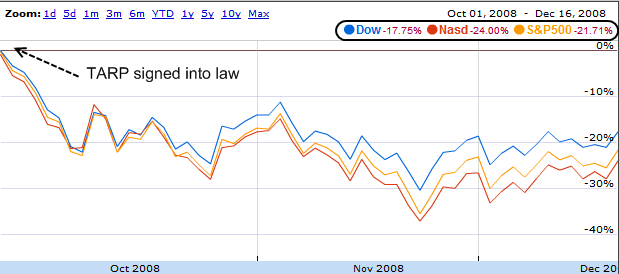 $700 billion well spent!  Yet the truth of the matter is the TARP is only one mechanism the U.S. Treasury and Federal Reserve are going to give it to the average American, clandestine style.  In reality, the Federal Reserve has extended bank credit to the tune of $2.3 trillion: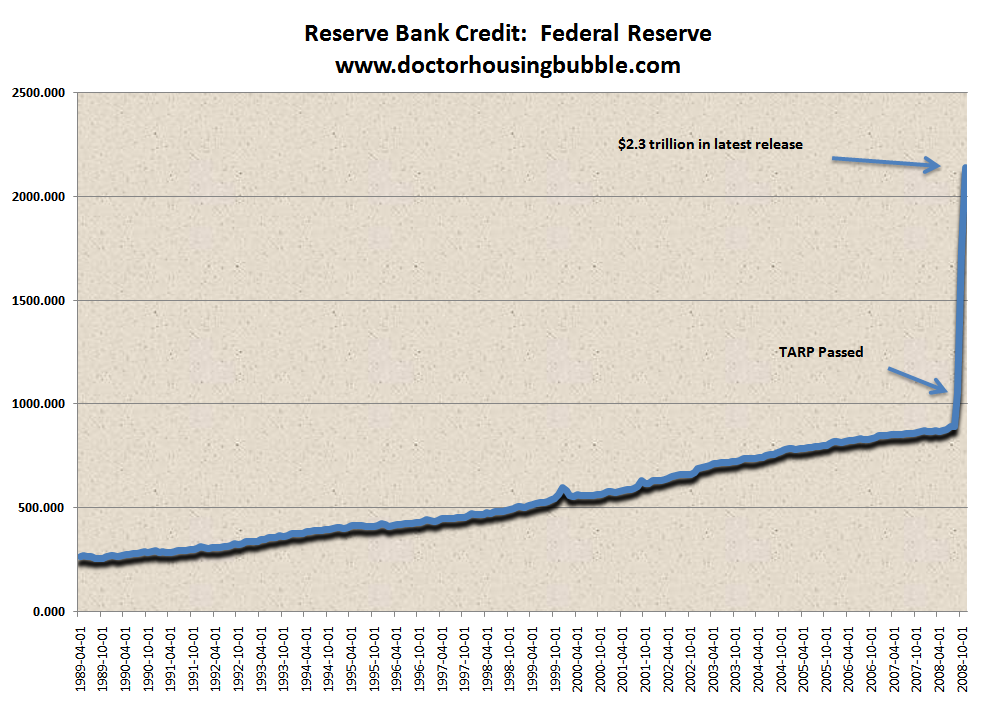 If we are to believe Ben Bernanke and Paulson, this unprecedented growth in reserve credit is to give banks the ability to help the folks on Main Street USA go out there and get back on their consumption treadmills.  Yet this of course isn't the case because Americans are already tapped out!  Think about this, there solution to a problem caused by too much debt it more debt!  Bwahahaha!  This is Alice in Wonderland type stuff here.  If you want proof this isn't working just look at what banks are doing with that "extra credit" and you'll realize who this bailout really helps:
In the last few months, especially since the TARP was passed banks have parked their money most likely in treasuries.  Excess reserves have shot up by $500 billion.  This is money not finding its way to Joe and Susie America which was the bill of goods Americans were sold.  Now imagine if Paulson said this when selling TARP:
"We want to ensure banks have extra funds so the big can eat the small and go bargain basement shopping on the back of the American taxpayer."
Keep your eye on this.  We have to break the system down to really think of the consequences.  Banks are still operating in this pseudo-independent role so if that is the case, anyone offered free and cheap money will take it.  But once they have it, why in the world will they loan it to the U.S. consumer who is flat broke and overly stretched in debt?  By the way, most of that debt was given by these same banks!  This is such an incestuous system that should it continue, Americans are going to find themselves in a worse position come the end of 2009.  The irony here is that if Americans were given $700 billion flat out, this would have been better for the economy.  Not that I'm advocating that but just pointing out the crony system we are currently living in.
Only a Few Strong Remain
This past week the BLS released data on individual states and the employment situation is deteriorating across the board.  For example, in California 42,000 jobs were lost in November putting the state unemployment rate at 8.4% and a 14-year high:
"(LA Times)  I don't at the moment see any kind of turnaround," said John Husing, a Redlands private economist who focuses on Southern California and its international ports. "My instinct is 2010. I think 2009 is going to be the worst year we've seen in many moons."
"Even once-strong hiring in healthcare and government is showing signs of weakening next year. A projected $41.2-billion state budget deficit could lead to involuntary furloughs and wholesale firings of workers at state and local government agencies, school districts, community colleges and public universities. For now, one of the economy's only real bright spots is in motion picture and sound recording, which gained 3,900 jobs in November as studios geared up production for 2009 and 2010."
"California's real or "effective" unemployment rate is probably twice the official number, Sohn said, meaning "the pain in the marketplace is much greater than 8.4% would show."
The good news if you can call it that, is the mainstream media is now focusing on the sham of the "official" unemployment rate.  Clearly this rate understates the true nature of our current economic landscape.  I have talked about this in 10 Significant Signs why this will be the worst Recession since World War II. .  Let us first look at the national landscape: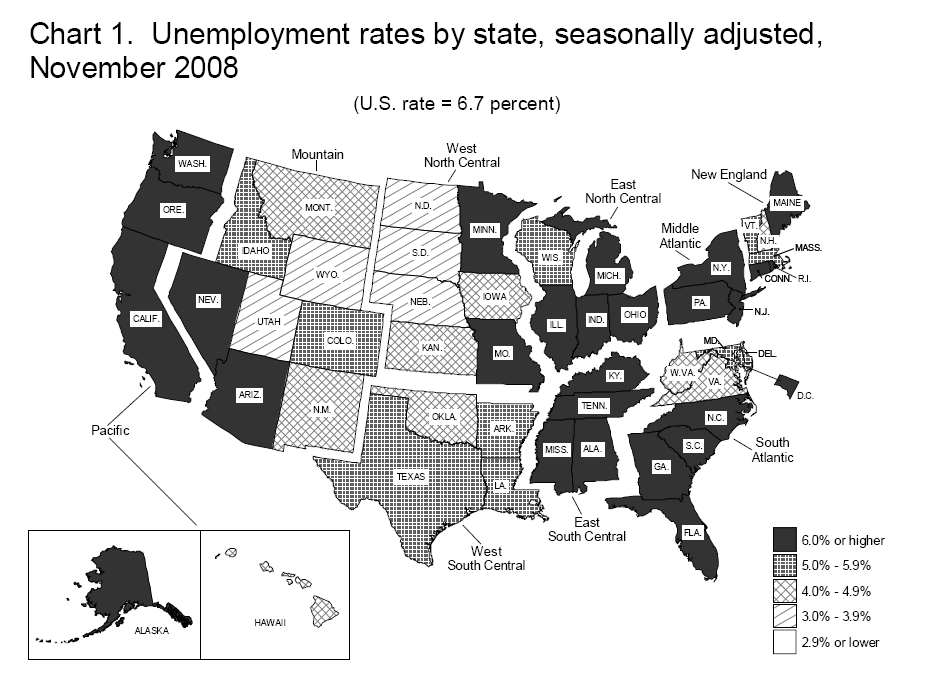 As you can see from the above map, the coastal regions are facing the brunt of the problems.  Keep in mind that most of the country's GDP comes from here so this is problematic should it continue which current data tells us it will.  Very few states are left unscathed.  But the above picture doesn't capture the entire story.  The trend is heading lower for many more states: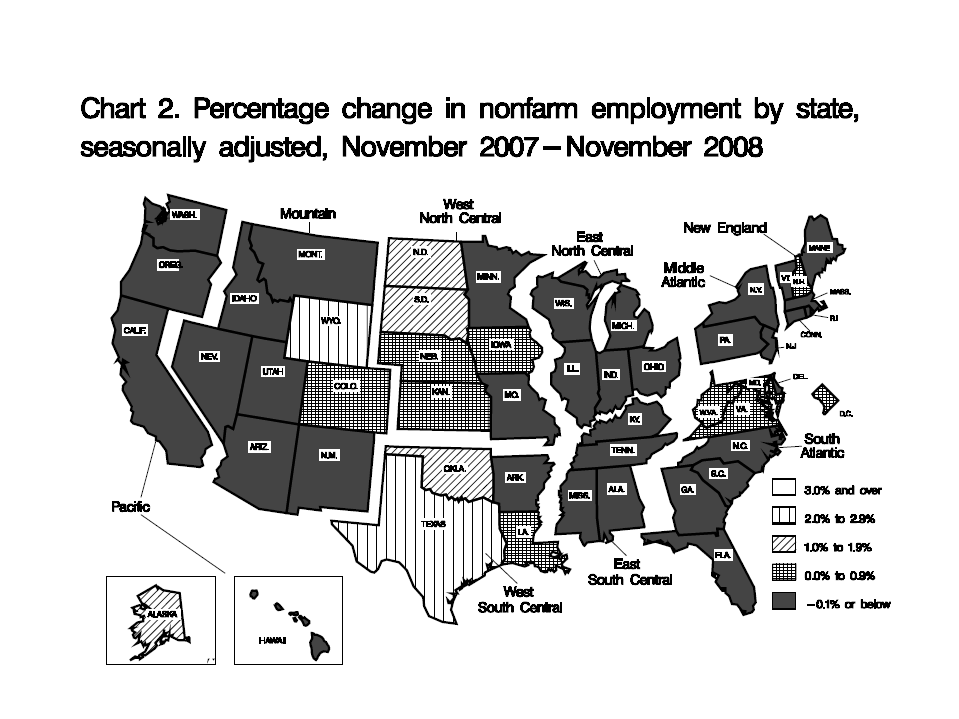 When we look at the percent change in employment from a year ago, the entire country has a sweeping blanket of negative news.  Only 13 states show positive gains (and those gains are weak and will probably be gone in a few months).  This is probably one of the most disturbing trends.  By looking at the above chart we find the vast majority of Americans are living in areas were employment is contracting.  In addition, once resilient jobs in government and healthcare are now feeling the pain.  There is nowhere to hide.
Keep your eye on the Ball 
The Bernie Madoff story is big and most everyone now has heard about it.  Ponzi schemes are nothing new but the magnitude of what Mr. Madoff did has no parallel in history.  The story will remain with us for a very longtime as each piece of the puzzle is unraveled only to reveal more and more shenanigans.  The question that this brings up is this; was Mr. Madoff an exceptional case or simply one of many?  I would argue that what Mr. Madoff did is simply a reflection of the current market culture.  The fact that rating agencies stated that they would even rate a "cow" for fees is troubling.  The fact that Wall Street firms knowingly bought toxic mortgages and sold them off to investors without thinking twice is troubling.  The countless stories of shady brokers and dubious real estate investors makes our Real Homes of Genius look like safe treasuries.  Bernanke and Paulson, representing the United States rewarding these people first is unspeakable.
As it turns out the SEC was asleep at the wheel.  Recent reports are revealing our most horrible hunches.  We are being run by a bunch of incompetents and those corrupt cronies on Wall Street had free reign for much too long.  This is the mission of the SEC:
"protecting investors and maintaining fair, orderly, and efficient markets"      
Yeah right.  So how can so many things fall through the cracks?  First, the SEC has been under funded and had no possibility to fight with the crony capitalist interest.  They weren't the only agencies in this category.  OFHEO which has seen its heyday was basically ran out of the basement with little resources and these were the folks who were suppose to oversee the multi-trillion dollar housing market.  We all know how that turned out.  Besides the reality that our previous politicians set these agencies up to fail with little resources, these agencies did themselves in with incompetence.  Recent reports are only adding fuel to the flame:
"[Investigators] uncovered evidence that an employee who was still in his probationary period had used his SEC laptop computer to attempt to access Internet websites classified as containing pornography, resulting in hundreds of access denials. The OIG investigation also disclosed that this employee successfully bypassed the Commission's Internet filter by using a flash drive."
Hundreds of access denials?  Amazing that he was able to bypass the internet filter with a flash drive.  If this ingenuity was only used in looking at Madoff's Ponzi scheme.  And there is much more:
"An employee repeatedly and flagrantly used Commission resources, including Commission Internet access, e-mail, telephone and printer, in support of his private photography business for several years."
We don't need simple reform.  We need a complete overhaul of the system.  I hear the regulation chatter going sky high but what we need is tough enforcement.  If you believe that, you should expect to fund competent agencies to oversee this.  Otherwise, we will have another wild west finance bubble like the one we just had.  If these trends don't reverse themselves in 2009 we are going to make 2008 look like a walk in the park.
Did You Enjoy The Post? Subscribe to Dr. Housing Bubble's Blog to get updated housing commentary, analysis, and information.