It is bad enough that we have legally sanctioned bank robbery being perpetrated by the U.S. Treasury and Federal Reserve punting the U.S. Dollar off the financial edge in Wile E. Coyote fashion. The U.S. Treasury, FDIC, and Federal Reserve are greasing their gears for the obnoxiously named private-public investment program that will start buying "legacy assets", what we all know as nuclear waste mortgages.  The FBI put out a report highlighting mortgage fraud for 2008 and as you may have guessed it, is rampant with cases of blatant fraud, shows deep corruption, and goes well beyond the "few bad apples" theory.  The FBI found a boatload of scams, gimmicks, and brazen fraud that would make any sensible regulator faint (that is, if anyone was paying attention).  We are also seeing a good number of first payment defaults on government backed loans which really should put a break on government backed loans instead of putting our foot on the mortgage gas.
In the publication the FBI found that Suspicious Activity Reports (SAR) for 2008 shot up by 36 percent to 63,713 for the 2008 fiscal year.  The report tells us that the actual figure of mortgage fraud is unknown but we all know it is pervasive given that it is latched onto the back of American banking and also has a crew of cronies on Wall Street operating it as if they were maneuvering a remote controlled financial drone.  It is fascinating that the FBI also mentioned those pesky "legacy assets" of Alt-A and Option ARM loans:
"While the amount of mortgage fraud cannot be precisely determined, industry experts agree that there is a direct correlation between fraud and distressed real estate markets. As the housing market continued to decline in response to an increase in housing inventories, lack of sales, and new foreclosures surface, to include a wave of Alt-A and Option ARM loans due to reset beginning in April 2009, real estate values softened, and fraud reporting increased throughout 2008."
Let us map out this relationship: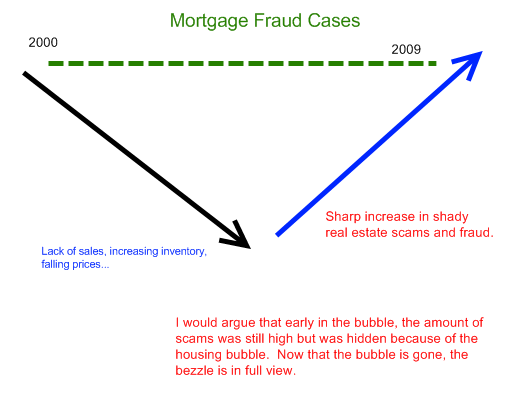 The argument is that as the housing bubble imploded, many people got more and more desperate in their actions.  This is true.  However, I would argue that fraud was also rampant during the earlier stages of the housing bubble but much of this was masked by the ever inflating housing market.  Much of it was never detected because most people were in a trance drinking from the cup of housing mania thus passing on their fraud to another would be player.  Subprime, near prime, and prime loans were being pumped out of the market like pancakes.
The analysis is important because it has a significant impact on what we can expect for the next few years in the California housing market.  California is in a fiscal disaster with a $26.3 billion budget deficit and our state government is even more dysfunctional than your high school associated student body.  The reason this matters is the state with the highest level of mortgage fraud (we're talking about FBI labeled fraud) is California.  Let us highlight that all those bazooka happy Alt-A and option ARM products are labeled as "legacy assets" and don't constitute fraud but I would definitely put much of these items in that category.  Since I would suspect most of you are law abiding, here is a list of mortgage fraud listed in the report:
(1)  Property flipping
(2)  Builder Bailouts
(3)  Short sales
(4)  Foreclosure rescues
(5)  Reverse mortgage fraud
(6)  Credit enhancements (not to be confused with male-enhancement)
(7)  Condo conversion
(8)  Loan modifications
(9)  Pump and pay
I'll go into detail a little bit further in the article how these frauds were executed in the market.  Let us first look at the SAR chart: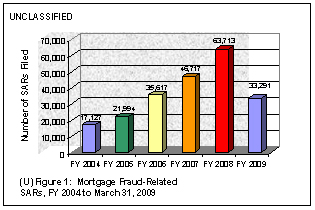 What you'll see here is that already for fiscal year 2009, cases are going to eclipse the 2008 figures.  Yet it is the case that many fraud areas like short sale fraud never really bloomed during the bubble because there was no need for short sale fraud.  All you needed to do was find another sucker and unload the property with toxic mortgages which were liberally being dished out by banks fully sanctioned by the Wall Street crony machine.  As you would expect with housing values plunging, the amount of losses associated with fraud is also exploding: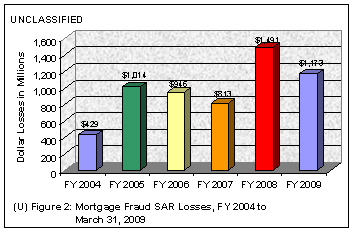 Of course, not only is California pumping out IOUs but is also the award winning recipient for most active SAR mortgage fraud cases: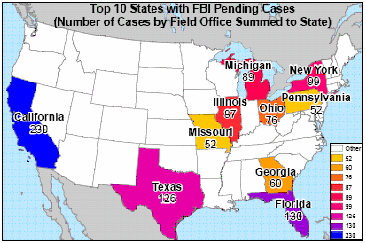 This probably doesn't come as a surprise to many of you.  Much of this fraud is now being exposed by the imploding real estate bubble known as the California housing market.  It baffles me how some people in the state are able to put aside the Alt-A and option ARM data, the fact that the state is fiscally insolvent, the record breaking 11.5 percent unemployment, and with a straight face say "we are at a bottom."  In addition, I have read on more than one occasion on what many would consider fiscally prudent financial blogs where people pinch pennies and dollar cost average into the stock market preaching the ways of the tortoise.  Yet in some cases, these people for whatever reason (i.e., wife/husband wants home, new baby, we need a pool, my cat needs his own room, etc) bought near or close to the peak in California in the mid to upper priced areas!  This one simple act negates years and years of financial prudence.  It baffles the mind but people aren't robots and sometimes psychology throws a lasso around their common sense and drags them down into wonderland.
To dig deeper in the data, world renowned Los Angeles, my home city, is the top offender in mortgage fraud: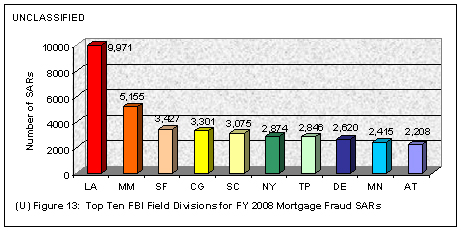 Well at least the Lakers brought a championship home this year.  I have to add a caveat here as well and that is the L.A. county region is one of the largest MSAs in the country so the data does skew but make no mistake, fraud is off the charts.  And as we all know, a declining market puts people in desperate situations and all you need to do is look at the top foreclosure areas in the U.S.: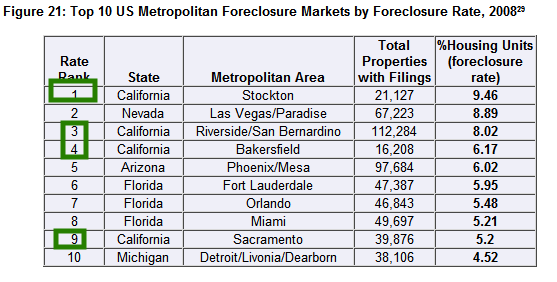 California dominates the chart with 4 of the top 10 foreclosure rate areas.  Keep in mind this is by a percent of housing units so this does reflect actual severity in a more proportionate perspective.  Florida tries to wrestle the foreclosure king crown away from us with 3 top areas.  Yet these figures are astounding.  Nearly 10 percent of all housing units in Stockton California are in foreclosure!  That is simply nuts.  Makes you wonder how many Alt-A and option ARM products are out there.  Anyone with an Alt-A loan in this region has the same probability of paying their mortgage on recast as California learning to live within its means.
But let us stop focusing on the awesome foursome of California, Arizona, Nevada, and Florida for a minute.  Many other states have decided that they are now going to jump on the bandwagon.  Many of these states I would suspect are seeing foreclosures because of California equity giant types taking money out of state and trying to imitate Donald Trump in these other markets.  Take a look at the diversity in the chart: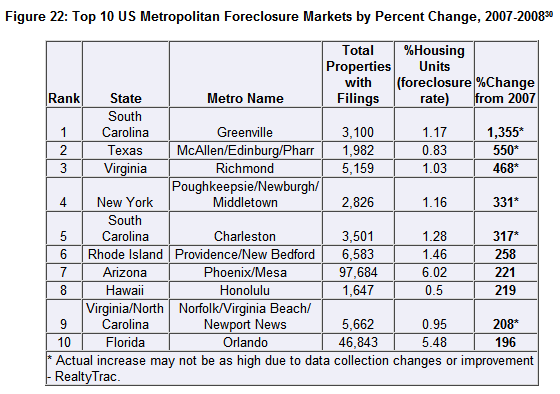 Keep in mind some of these areas like Texas and South Carolina had minor appreciation compared to other parts of the country.  This jump is showing how this housing bubble disaster is now spreading to even parts of the country that had little to do with the housing bubble.
That is the back drop of the mortgage fraud environment.  Let us now look at the kind of frauds out there.
Reverse Mortgage Fraud
This type of fraud is especially deplorable because it targets the elderly:
"Unscrupulous loan officers, mortgage companies, investors, loan counselors, appraisers, builders, developers, and real estate agents are exploiting Home Equity Conversion Mortgages (HECMs)-also known as reverse mortgages-to defraud senior citizens. They recruit seniors through local churches, investment seminars, television, radio, billboard, and mailer advertisements, to commit the fraud primarily through equity theft, foreclosure rescue, and investment schemes."
In essence, the fraud goes like this:
-Identify a distressed property
-Purchase property with straw buyer by lying on loan application that home will be a primary residence
-Recruit seniors to buy home from straw buyer
-After senior is in home for 60 days, they obtain a HECM with fraudulent appraisals
-Encourage seniors to take lump sum
As the FBI notes, with a baby boomer population now entering retirement, this fraud has a lot of attraction with criminals.
Credit Enhancement Schemes
This is basically the "you don't have any money but your rich uncle does!" scheme:
"Credit enhancement schemes may take various forms. In the most basic scheme, a loan officer and home builders are taking measures to encourage borrowers to have their names added to the bank accounts of friends or family members temporarily to circumvent the underwriting process to show that they have sufficient deposits on hand."
Desperate and corrupt many in the housing industry are now trying to create their own methods of nothing down or ways of gaming the system.  If you haven't noticed, these cases of fraud hinge on getting loan approval.  Loans that are now more and more backed by the government.  That is why I simply do not understand why we are offering tax credits and trying to encourage home buying when the system is being gamed.  Here in California we are doing another foreclosure moratorium which gives servicers $1,000 per modified loan.  What a waste of money.  Credit enhancement schemes are toxic and have a fancy name like legacy assets.
Builder-Bailout – Pump and Pay
Desperate builders in your favorite states are figuring out ways to game the system and inflating housing prices is one of them.
"Builders in Florida, North Carolina, California, Texas, and various other locations throughout the United States are working with co-conspirators to inflate the appraised value of their properties. This false equity is distributed to the perpetrators and disguised as set-asides for future maintenance, insurances, and tax payments on the property."
Good times right?  What do you expect from a corrupt industry being fueled by an even more corrupt Wall Street?  They pump and dump stocks on you so why not pump and dump properties?
Foreclosure Rescue Schemes
This crap is extremely prevalent here in California especially in poorer areas.  I have seen absurd flyers which reek of fraud.  This kind of fraud is despicable because basically people are praying on those who are losing their home or are in financial trouble.  As we know, 90 percent of the cases are as simple as, "unfortunately, you should stop paying and focus on finding a rental."  That is it.  Yet these crooks tell homeowners about fantastic modifications and other hyperbole when in fact, they are only lining their pockets.  In some cases, they tell the borrower to send money directly to them and , "they'll send the payment to the bank for you."  Before they know it, the borrowers realize that nothing has been sent to the bank and they are even in worse financial shape.
The FBI has also seen a rise in another type of foreclosure rescue, arson.  This is probably as blatant as you get.  Many people committing arson need to watch CSI for a couple of episodes and realize that no, fire doesn't hide all evidence.
Foreclosure Rescue – Loan Modification Program Schemes
As I have argued before, loan modifications are an absolute joke and are actually going to create more losses in comparison to doing nothing.  In a case of Murphy's Law, here we have the logical extension which is a scam:
"Loan modification schemes, typically in the form or an advance-fee/foreclosure rescue scheme, are emerging as recent vulnerabilities in HERA and EESA legislation (see second text box) becomes apparent. Lenders are mandated by recent legislation to work with homeowners to assist them in keeping their homes out of foreclosure; however, individuals are perpetrating advance-fee schemes to generate income from victim homeowners. Perpetrators solicit homeowners with mail flyers offering to help them stop the foreclosure process on their homes. Homeowners are falsely told that their mortgages would be renegotiated, their monthly payments would be reduced, and delinquent loan amounts would be renegotiated to the principle. Perpetrators require an up-front fee ranging from $1,500 to $5,000 from homeowners to participate in the loan-modification program. Perpetrators often request that the victim homeowners stop payments and communication with their lender. When victims receive delinquency and foreclosure notices, the perpetrators convince them that the loan was renegotiated, but that the lender needs a good faith payment to secure the new account."
This is the problem when you have the government and Wall Street praising the virtue of loan modifications when in reality, all they are doing is converting qualifying loans into option ARMs.  This is ultimately kicking the can down the road but as you can see, many in the public hear "loan modification" and think they are going to get a sweet deal.  These scammers play on this and here we go with just another scam.  That $1,500 or $5,000 could be used to secure a more stable rental but god forbid the government encourage people to rent who simply cannot afford to own a home.
Other scams include serial property flipping and short sale scams.  The bottom line is fraud is rampant throughout the country.  People not only have to be vigilant of the legal scams that are being put out there with loan modifications but now have to watch out for shysters trying to make a fast dime.
To put the icing on the cake, take a look at this story:
"(CNN)  25 charged in $100 million mortgage fraud
The D.A.'s office described a "particularly brazen sham transaction" where one of the suspects, Stephen Martini, allegedly wrote up a bogus appraisal of $500,000 for a two-family home, but "in reality, the location was a vacant lot."
Just another day in the crony neighborhood.
Did You Enjoy The Post? Subscribe to Dr. Housing Bubble's Blog to get updated housing commentary, analysis, and information.