Millennials as a group defined by an age range, are one of the largest cohorts of people right alongside baby boomers. Millennials have already reached their prime house humping age range but somehow, the homeownership rate in this category is not moving.  The thought was that Millennials would soak up all the excess demand and continue to push prices upwards.  In reality, what has kept prices up is artificially low interest rates, investors buying, and a low supply of property out in the market.  Many Millennials are forced to rent or to live at home with their parents well into adulthood.  Controlling biology has worked out nicely that new households tend to be smaller so many adults can just move back into their childhood room and have tasty tacos with their parents.  The end result is that the housing market is moving for many different reasons beyond household formation. In fact, major household formation has come in the form of rentals since the Great Recession ended.  Let us look at the latest data impacting Millennials.
Millennial homeownership rate
Millennials are now deep into their prime home buying years assuming they were following the path of their boomer parents.  In many cases the needs and wants of Millennials is very different from that of baby boomers.  Also, the transient nature of employment makes it more likely that multiple careers are going to be the common path versus lifetime employment at one company.  The stats point to this.  Sure, you have your anecdotal baby boomer talking about his lifetime gig in one company or a friend coasting it out in a government job.  But those are not typical – and that is why the homeownership rate has plunged.
The latest figures really highlight this: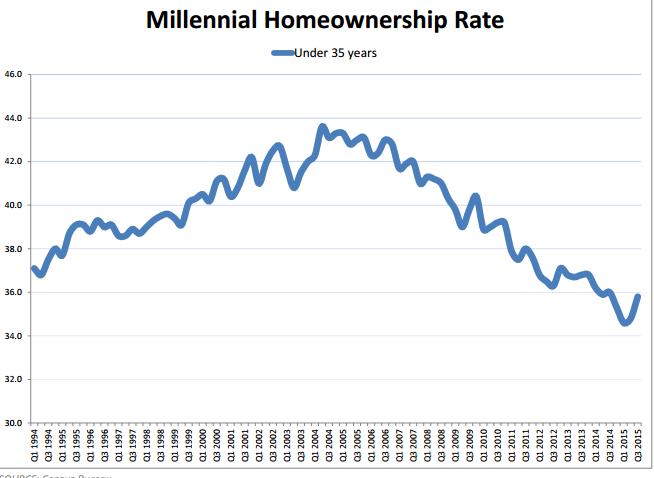 Why did the Millennial homeownership rate plunge starting in 2005, before the housing bubble burst?  First of all, when home prices peaked many Millennials couldn't afford to buy even with toxic mortgages.  Now with toxic mortgages out of the picture, prices being driven up by investor buying, and limited inventory has forced the homeownership rate even lower.  Many are living in rentals unable to save up for a down payment.  Many others are living at home.  And we've looked into the figures and the surveys point to people simply being priced out.  The nonsense notion that most are living with their parents to save up $200,000 for a crap shack is simply not true outside of a few house humper anecdotes.
And since many are in rentals, with rising rents that means less money for a down payment: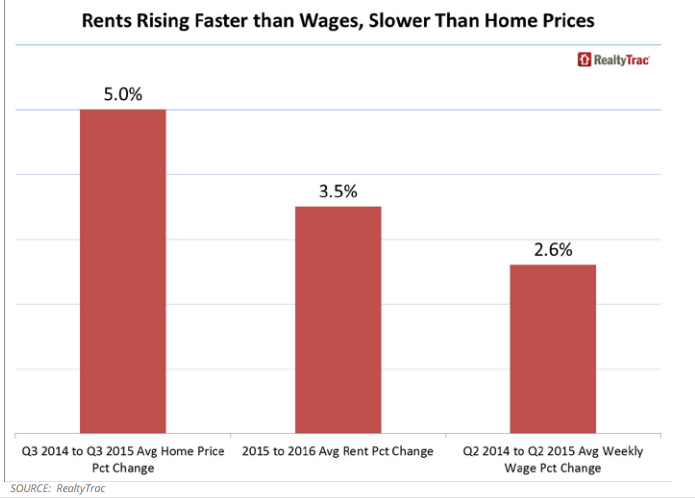 Rents are moving up faster than wages.  So that is not exactly a positive thing. And home prices are moving up faster than rents and wages.  So buy now or be priced out forever!  As you can tell, this is not your typical audience.  The typical audience was investor buyers and also new to this boom, large institutional buyers: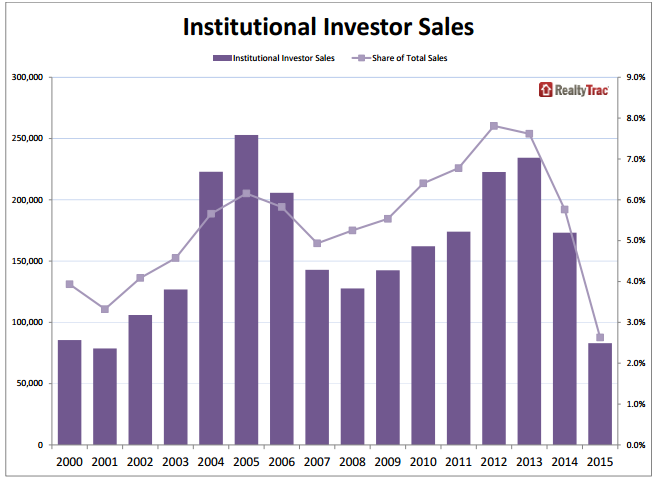 Institutional buyers pulled out of the market dramatically in 2015.  This is big money talking here.  This isn't some one-off example but real data.  If real estate was such a sure bet don't you think institutional real estate buying would continue to go on with all of their research?  Certainly they have the money to buy additional properties if they like.
The stock market correction is also going to impact real estate especially in tech mania areas like San Francisco.  You always get the "well prices continue to rise" but just look at the crap you can buy for inflated prices.  Go for it and sink your money into these places to chase your dream of owning overpriced and poorly built properties.
Millennials continue to be priced out because their wages are simply not keeping up with changes in the overall market.  This is the end outcome of having higher home prices courtesy of investors and low interest rates but slamming the door on the upcoming generation.  So guess what?  That generation will simply move back in with baby boomers.  Typically the folks cheering for this are house humpers that live in inflated crap shacks thinking this is somehow good.  It is interesting that some of these people also email me and rail against a market that is pricing out their kids.  You can't have it both ways.  But markets reverse rather quickly as we have seen with stocks.  Real estate can edge lower slowly but people forget historical events and of course, this time is different.

Did You Enjoy The Post? Subscribe to Dr. Housing Bubble's Blog to get updated housing commentary, analysis, and information.