As we slowly grind into the 20 month from which we can see the August 2007 stock market peak in the rearview mirror of our nearly bankrupt American automobile, the market is hesitant in which way it wants to move after the little bull market we are experiencing.  Yet the public has no doubts about the nature of the current economy.  The perspective of the average person on the street is more accurate than the tomes being pumped out from Wall Street analysts.  That is, there is a second class system for the unconnected.  There is a tiny safety net and most are falling right through the weak netting.  This is not your common recession.  This is now the longest recession on record since the Great Depression.  In other words, most people alive have never gone through an economic crisis this profound.
The advertising world is catching on.  I'm sure many of you have seen the Dominoes commercial in which someone tells the audience that they don't need any stinking bailout like Wall Street folks but they're going to give you on Main Street a bailout through better pizza prices. A slap to Wall Street and cheap pizza?  Talk about a winning combination.  Other advertisements have also highlighted the recession in different perspectives.  Jet Blue runs an ad where CEOs who have fallen from grace now need to learn how to fly on commercial airlines with all the regular people: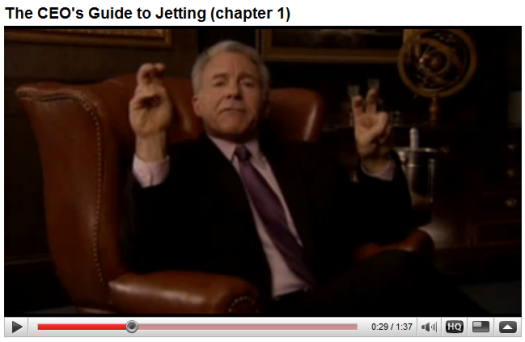 *Click on image to watch video
So some companies have taken a more comedic angle.  Other companies have even harkened the dark days of the depression.  This one minute ad from All-State called "Back to the Basics" drives the point home clearly: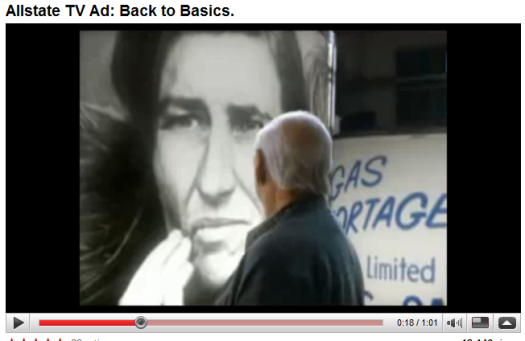 The point of this ad?  Time to focus on what matters and that includes family and security – preferable without spending tons of money.  They even mention their history of starting during the Great Depression.  Contrast these current ads with some that were run during the boom time.  Like this very popular Century 21 clip: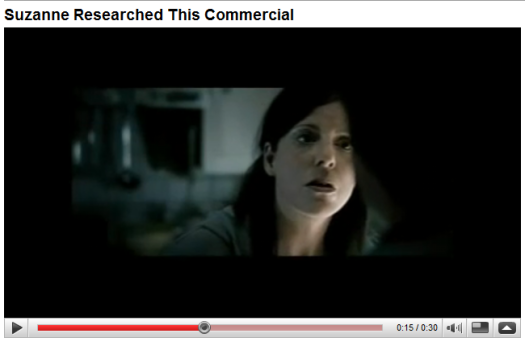 This 30 second clip basically shows a guy receiving a browbeating about buying a home.  In the background, a realtor attentively listens given a commission is riding on the sale.  The underlying message of this ad is buying a home is a no lose proposition.  I can only imagine how many times this sad scenario occurred in America during the bubble.  Watching this ad drives shivers down my spine.
Or what about this great ad from Countrywide where you can combine practically every piece of debt you have into one loan.  Fantastic idea!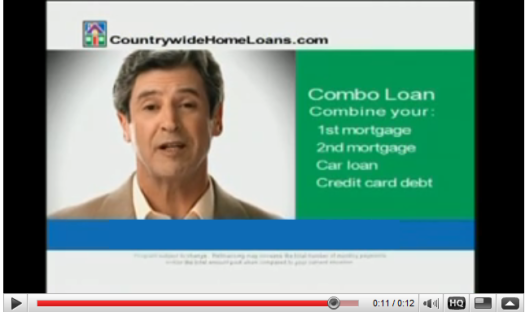 An advertisement by its structure has a desired reaction on an audience.  The Domino ad for you to buy pizza.  The Jet Blue ad to make you fly.  That All-State ad to make you feel secure with an insurance company.  The Century 21 to buy a home.  The Countrywide ad to consolidate your 4 toxic loans into one nicely packaged toxic loan.  They all had their method of achieving their results.  But the current ads reflect a more cautious, more reserved, less wealthy, and more concerned population.  A price conscious society that no longer believes in many of the bull market mantras.  A new generation will emerge from these ashes and will never forget this economic calamity just like the generation that lived through the Great Depression.
To a large extent, Wall Street and Washington for a decade have missed many key points.  The average American did not participate in the boom in real terms.  Many are now worse off pre-bubble.  Wages have been stagnant for over a decade and now over $11 trillion has been wiped off the balance sheet of Americans.  This kind of real wealth destruction etches long lasting scars.  Many of you have seen the graph of household debt which combines mortgage debt (the largest line item) and also revolving debt (through credit cards, student loans, and auto loans).  But what you may not have seen is a graph showing how quickly debt is contracting in the market for the average consumer: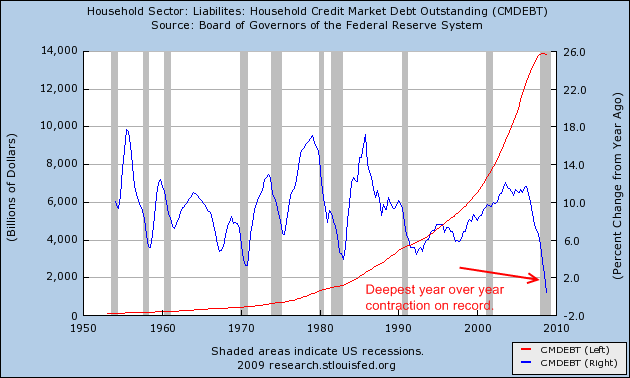 As you can see from the chart above, this is the steepest year over year contraction in household debt on record.  Given that much of the last decade could have been described as the pseudo prosperity decade, now with debt being extinguished from the system more and more Americans need to save to buy goods.  Hence these ads are a reflection of this new found reality.  Now an issue with the new public and private program with the U.S. Treasury backed by FDIC non-recourse loans is the assumption that the last decade did see real wealth gains.  The flaw in their bet, which by the way is 93 percent financed on the taxpayer dime if they are wrong, is the current market pricing of toxic assets is low only because of the fear in the market.  This is incorrect.  The gains for the last decade in large part where fueled by a massive global debt bubble.  The concern in the market is well founded.  Those gains are gone and never coming back.  The bubble was so massive and lasted so long that people are slowly awaking to this reality.
As I had discussed in a previous post, nearly 50 percent of American households are one paycheck away from falling behind on their financial obligations.  What do you think this does to consumer confidence?  It crushes it: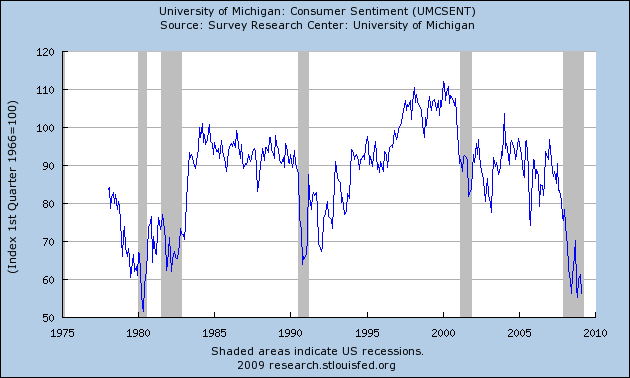 Consumer sentiment is at record lows matching those from the early 1980s.  The reality is we are not going back to the good old days anytime soon.  And they really weren't that good for many if you stripped away the massive debt.  Now that the masquerade of debt is withdrawing, we realize how phony much of the "prosperity" really was.
We also recently found out that credit card companies have pulled 8 million credit cards from consumers' hands. Lines are being cut down to the tune of $320 billion.  In a society with 13 million Americans unemployed and 9 million working part-time but wanting full-time work, consumption making up 70 percent of our GDP is going to take a direct hit.
Psychologically consumers will not buy big ticket items if they have misgivings regarding their future.  With the rise in unemployment many more Americans are going to be more cautious buying these items in the future.  And this recession is deep enough and wide enough in reach that many will no longer believe the mantra that "real estate is the best investment" or "stocks always go up in the long run."  If you look at the Great Depression and invested at the peak, it would take you nearly 25 years to get back to your initial point:

And many recent newspaper outlets have suffered as well because of the drop in advertising revenue.  Many of the large print newspapers have cut back severely and many have gone under.  So it is important to pay attention to these sentiment indicators because they reflect what Americans are going through.  Consumption is down.  Excessive consumption is being looked at with disgust as many saw with the outrage over the AIG bonuses.  Yet this isn't something new.  This anger toward prestige occurred during the Great Depression as well:
"The Depression sharply lowered the prestige of businessmen.  The worst sufferers were the bankers and brokers, who found themselves translated from objects of veneration into objects of public derision and distrust – the distrust being sharply increased by the evidences of financial skullduggery which came out in successive congressional investigation.  But even business executives in general sank in the public regard to a point from which it would take them a long time to recover; and in this decline the conscientious and public-spirited suffered along with the predatory."
Frederick Lewis Allen presents the scene of the 1930s yet we can directly apply this to our current climate.  The Jet Blue and Dominoes ads merely reflect this new disgust and mistrust of Wall Street and the pinstriped suit crowd.  Take heed of these signs.  Advertisements are only reflecting the public sentiment.  In fact, many of your favorite sitcoms have now had episodes were part of the major theme revolved around how bad the economy is.  Heck, even the Simpsons made light of this when Homer's annual Mardi Gras party comes home to roost after financing the celebrations on home equity lines of credit: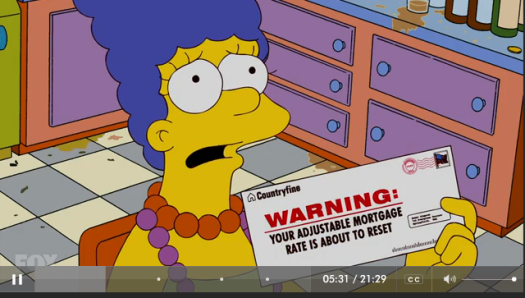 The recession has gone viral.
Did You Enjoy The Post? Subscribe to Dr. Housing Bubble's Blog to get updated housing commentary, analysis, and information.