At the core of QE3 and every other program aimed at saving the financial system is the ultimate mission of stunting the natural market process.  It is hard to find any system that is purely market based especially when it comes to housing.  The US since the Great Depression has heavily subsidized housing via Fannie Mae, Freddie Mac, and other programs but also through more subtle benefits like those offered via the mortgage interest deduction.  Yet each step that has been taken to "fix" the housing market has become more dramatic in fashion and is like using a bazooka to remove one cockroach.  At first if you recall it was a suspension of mark-to-market accounting.  Then it was programs like TARP and Maiden Lanes designed to transfer toxic assets off bank balance sheets (a good amount still sit in the Fed balance sheet).  Today the Fed is now on QE3 and will need to commit half-a-freaking-trillion dollars over the next year in MBS purchases just to make interest rates stay the same or tick lower by a tiny amount.  To think that this kind of massive action will have no repercussions is simply ignoring what we are now seeing.  In essence, to keep things going at the current pace the Fed needs to get more dramatic.
What about the shadow inventory?
At first shadow inventory did not exist.  Then it was an issue of defining what constituted shadow inventory.  Now, with half a decade of action items we realize that:
-a.  Suspension of mark-to-market was largely the first step in creating a massive amount of shadow inventory

-b.  Deny this pool of properties exists while working behind the scenes to off load properties initially.  Now banks are selling into a largely controlled system (i.e., the Fed/GSEs are the only game in town)

-c.  If the market was truly functioning, why in the world would the Fed need a market intervention program like QE3?
So what we now have today is this: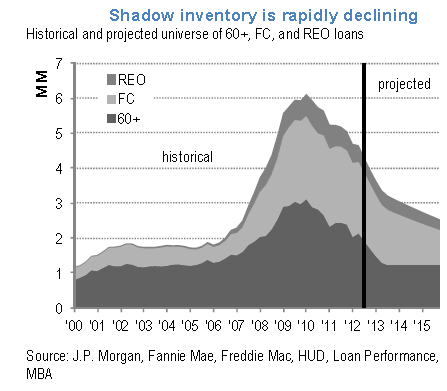 At the peak in 2009 and 2010 we had roughly 6 million homes in the shadow inventory pipeline.  The good news is that this has been slowly winding down.  From the chart above you can see it has been steadily moving lower.  The "throw everything" at the wall approach has supported this move lower by:
-1.  Dropping mortgage rates to historically low levels (at the cost of the Fed increasing their balance sheet to nearly $3 trillion)

-2.  Constraining inventory.  The slow leaking out of shadow inventory is possible courtesy of banks having the ability to re-write accounting rules and selectively leaking out properties.

-3.  Drop in home prices.  Home values across the nation are looking better in relation to absurdly low interest rates.
Keep in mind that the housing market on paper was already recovering yet the Fed decided to do an open ended MBS purchase program of $40 billion per month until "the market stabilizes."  Yet monetary policy can only go so far and of course the biggest winners were the large financial institutions.  Low interest rates are keeping prices inflated and in some markets, we are seeing bidding wars that bring back memories of the 2000s.
If we look at the Case Shiller, we are starting to see a trend develop:
However much of this has come because of the previous items we have discussed.  The Fed is trying to use housing as the catalyst for another economic recovery.  Yet there is a cap as to how high home prices can go because now with 30 year fixed rate mortgages in the 3 percent range and FHA insured loans with a 3.5 percent down payment, you really can't get any more leverage unless you bring no-doc loans back.  Similar to bubble part 1, we would feel better if home price increases were occurring because of rising household incomes.  Which plays into the overall trend that US households are facing more than a lost decade of household wage growth.  At the same time, take a look at what has happened to inventory: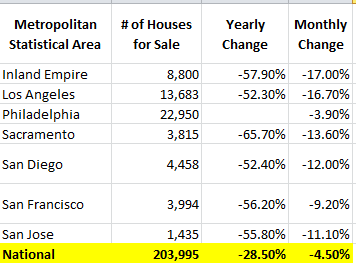 Source:  Redfin
It should come as no surprise that combined with insanely low rates, California home prices are up 12.9 percent year-over-year all the while income growth is stagnant.  This only makes sense when you mess around and manipulate the financing side of the equation.
Heck, even within the Fed people are seeing this:
"In a speech prepared for delivery in Philadelphia, Federal Reserve Bank of Philadelphia President Plosser said the central bank's latest round of monetary easing was unlikely to help growth.
"We are unlikely to see much benefit to growth or to employment from further asset purchases," Plosser said in a prepared speech."

Did You Enjoy The Post? Subscribe to Dr. Housing Bubble's Blog to get updated housing commentary, analysis, and information.