There are many million dollar foreclosures across Southern California that have a story to tell about the housing market.  Many of these are part of the shadow inventory and lenders have been reluctant to act on any of these places especially in prime locations.  The fact that we are seeing movement in some of these markets tells us banks are getting serious about moving inventory.  There are a few key trends that seem to be emerging in the million dollar home market.  Quality homes that you would associate with million dollar luxury homes are selling at an okay pace although with discounts.  Homes that simply sit in prime zip codes but need to be completely remodeled are lingering and banks are starting to leak some of these out to market.  This is occurring in areas like Beverly Hills and also the prime community of Malibu.  Let us examine a lender owned home in Malibu.
Malibu foreclosure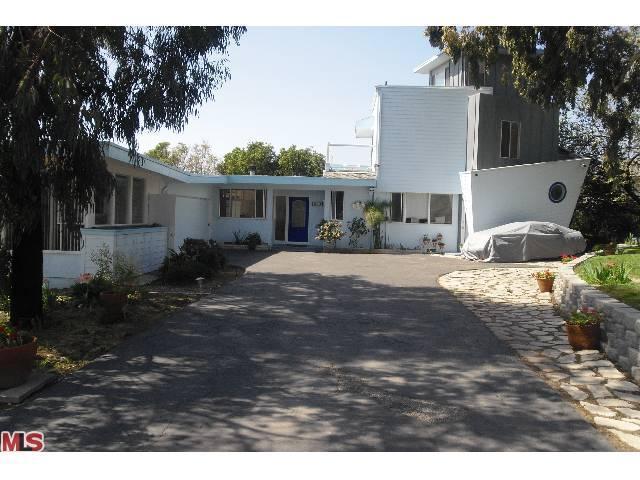 28860 Selfridge Dr Malibu, CA 90265    
5 bedroom, 4 bathroom, 4,000 square feet, Single Family
This home is located in Central Malibu and has been on the MLS for 249 days.  This is a 5 bedrooms and 4 bathrooms home.  It has a good lot size of 1.1 acres.  If someone were to buy this home especially at the current price there would need to be some updating to the property: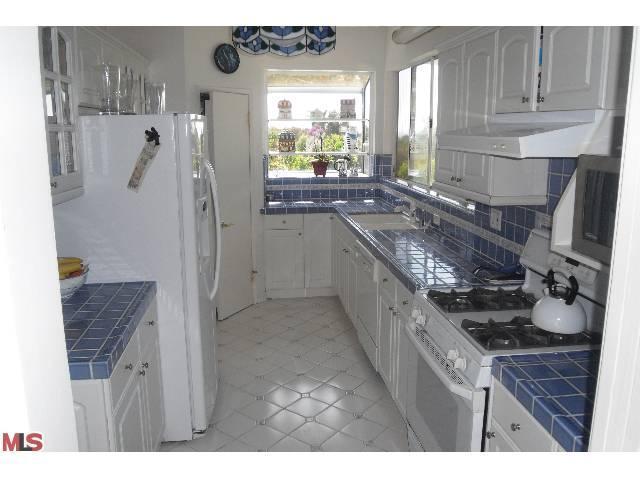 The history of this home really highlights the history of the housing bubble in Southern California: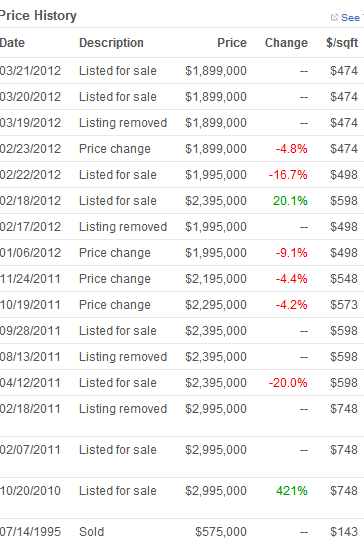 First the ad:
"Severely Rduced And Priced To Sell Quickly." Welcome To Pt. Dume! Make This Your Next Home. With Approx 4,000 Sf This Sizable Home Offers Many Possibilities. Terrific Lot On Over 1 Acre of Prime Property With Ocean Views. Connected To The Main Home Is A Wonderful Architecturally Designed Guest Suite That Would Be Great As A Home Office As Well. This Property Comes With A Beach Key. Lowest Priced Pt. Dume Home On The Market of This Size With A Beach Key. Lender Owned."
The home sold for $575,000 back in 1995.  From the property records it looks like the same owners were in the place up until it became lender owned.  In 2010 someone was trying to sell this place for a stunning $2,995,000.  Does the above home look like a $3 million property?  This was listed at this price even as the entire housing market was quickly unraveling.
In 2011 a reduction was made taking the price down to $2,395,000.  That didn't seem to work or find any suitors so it was dropped again to $2,295,000 and then $2,195,000.  Finally, in 2012 the price was dropped to $1,995,000 but brought back up to $2,395,000.  I love it when you have $400,000 price changes in one day!  If you need any proof that prices are being pulled out of thin air, just look at places like this in prime locations like Malibu.
The home is now listed at $1,899,000 which is $1,096,000 less than the 2011 price.  What changed in one year to suddenly knock this place down by over $1 million?  By the way, with the above trend why would anyone rush into buying?  Are you seeing a rush with price increases?
History of the place 
By looking at the records here it doesn't seem like the home was sold again after 1995 and equity was extracted from the place with additional loans: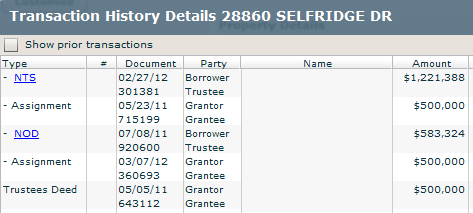 The most recent notice of default was filed on July 2011.  But looking further back, the home was already in trouble in June of 2009!  At this point the first NOD was filed for $32,929.  This isn't unusual for these prime shadow inventory properties to linger for ages.  So nearly three years later the home is now on the market and pricing action is moving one way and it certainly isn't going up.
Malibu is an interesting market.  Only a handful of foreclosures are listed on the MLS, less than five to be exact but the total shadow inventory of the area is up to 112 properties.  We're talking about properties with loan balances of $1, $2, and even $4 million.  One place I looked at had a notice of default filed and owed over $300,000 just to become current!
You have to realize that these markets have a very small pool of potential buyers.  It looks like properties that were financed with toxic loans are now coming due.  If you make $300,000 a year but have a $3 million loan it might be hard to pull that off for a long time.  It looks like the bill is coming due in many of these top locations nearly half a decade after the market popped.  Does anyone realistically think places like the above are going to soar in price anytime soon?

Did You Enjoy The Post? Subscribe to Dr. Housing Bubble's Blog to get updated housing commentary, analysis, and information.