We are creatures of habit and suffer from historical financial amnesia.  As you would expect, the market is now turning and the question now shifts to how big of a correction we are expecting.  Los Angeles has been in a decade long renting trend where the vast majority of new household formation has come in the form of renters.  I understand that many people on this blog either own or want to own but the reality is, many people are voting with their wallets and rent because prices are simply too high.  So it comes as no surprise now that sales are slumping and inventory is slowly picking up.  The housing market in Los Angeles is up 181 percent since 2000 while the CPI is up 50 percent in this similar period.  When you look at history, there is really no pattern as to how the market will respond and the reality is people do lose money in real estate which for many decades was something you were unable to utter.
Los Angeles housing turning?
It might be helpful to take a long view of the housing market in the greater Los Angeles MSA area.  "Long" for L.A. is 30 years.  Take a look at the below chart:

First, from 1990 to 2000 prices simply moved sideways in Los Angeles.  This isn't ancient history, but people like to pretend that housing values only go up in the area.

You then see the massive bubble from 2000 to 2007 followed by the crash.

Prices hit a bottom in 2009 and moved sideways until 2012.

From 2012 to today we now have another massive bull run.  In fact, prices are at a new peak.
Prices have gone up 181 percent since 2000 for the region.  But the overall inflation rate is up 50 percent during this same period.  That is a big difference.  Now one argument we hear about 2000 versus today is the mortgage rate difference.  In 2000 a 30-year fixed rate mortgage was close to 7 percent.  Today it is at 4.83 percent.  Therefore, the argument goes, you can buy more house because of the rate.  Yet this argument has some flaws because in 2012 at the bottom of the market, a 30-year fixed rate mortgage could be had for 3.3 percent and homes in L.A. were 43 percent cheaper.  If rates had everything to do with it, prices would have dropped as rates rise (the opposite has happened).  In other words, there are many other variables at play.
Sentiment is also changing at least in some headlines:

There are more articles talking about the softening market.  Crash or no crash?  Is the housing market stalling?  The market has already stalled for many middle class Californians.  In some areas a large portion of the buying has come from foreign money.  Ultimately real estate has become like a global stock; a place to speculate and invest.
Sales are definitely slowing down and the stock market has barely had any correction.  Home values are absurd in many areas of Los Angeles and the logic you get is shallow in perspective – history is defined as post-2000 and let us forget about the last housing bubble because of course that can never happen again.  The market collapsed because of NINJA loans only.  When in truth, the majority of foreclosures came at the hands of those with 30-year fixed rate mortgages.  Of course it can never happen again in the exact same way but even a minor recession will put many foreclosures back on the market.  Households are strapped to the max with debt in California.
Inventory is up 29.9 percent year-over-year in Los Angeles.  That is a big jump.  And the jump in prices in Los Angeles is not only a L.A. thing but a California trend: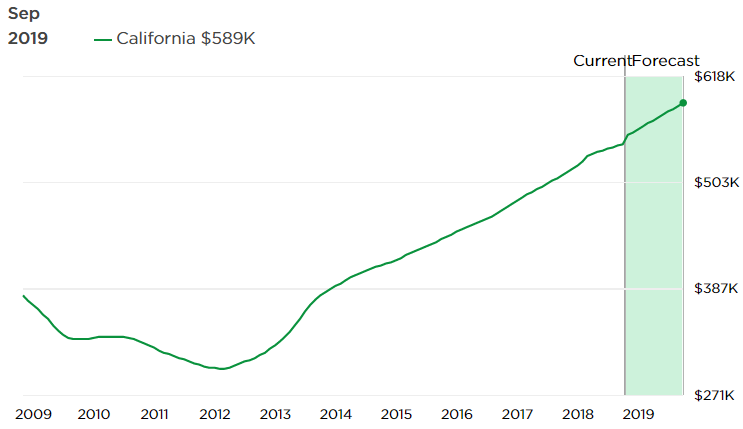 This market was predicated on a blistering hot stock market and once again, the assumption that real estate only goes up.  This slowdown is also happening during the traditionally slower selling seasons of fall and winter.  There are many people that only know a bull run in real estate now and were operating under FOM0 mechanics.  The L.A. market is definitely seeing a shift.  Will this be a bust or a minor correction will depend on the stock market and jobs (and at times those are connected).

Did You Enjoy The Post? Subscribe to Dr. Housing Bubble's Blog to get updated housing commentary, analysis, and information.