Los Angeles County continues to have the lowest homeownership rate of any large metro area in the country.  This is across all data.  Los Angeles County has 10 million people while the larger LA-OC MSA includes 13 million since it brings in Orange County.  Any way you slice the data, Los Angeles is simply not a friendly place to buy a home and the vast majority of people rent and spend a bank breaking amount per month on rents.  There are cracks forming in the system where home sale volume is weak and prices are reaching a short-term apex.  What is telling however is that the Great Recession officially ended in the summer of 2009 but the homeownership rate continues to decline for L.A.
Los Angeles and the lowest homeownership rate in the country
Los Angeles has had a bad track record in terms of homeownership even before the previous housing bubble expanded, popped, and brought the region to its knees. But L.A. constantly reinvents itself and all of those people that lost their homes have been washed away like a poorly directed 80s film.  Now we have our new CGI enhanced home buyers!  L.A. builds over the graveyard of foreclosures and does it with an Oscar worthy smile.
Despite the boom in prices and the rhetoric that all is well, the homeownership rate continues to decline:

In 2007 the homeownership rate hit 52.3 percent.  It started a slow and steady decline:

Visualized on a chart, this looks much clearer: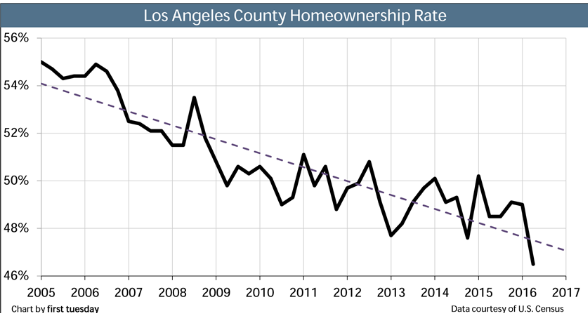 What is telling is that the change from 2015 to 2016 is the biggest decline since the drop in 2008 to 2009 when the entire market imploded.  This helps to explain the incredible tightness in the rental market or the reality that 2.3 million adult children live at home with their parents.  The problem is one that is seen across all large metro areas but is incredibly pronounced in Los Angeles for a couple of reasons:
-Overall, household incomes are lower than other expensive markets

-Prices are incredibly high compared to what people earn

-Tight supply, foreign money, and hype keep the system going
Southern California has an incredible propensity to forget the past.  I'm not talking about the Great Depression past of the 1930s but the Great Recession past of only a few years ago.  I tend to look at some housing shows as an indicator of market sentiment.  When the bubble hit, the number of shows declined and those that did air were showing foreclosures and "deal" shopping.  Today, it is commonplace to see bidding wars and people going over budget just "to get in" before it is too late.  But these shows are a few months old and when I see open houses today the fever is no longer there.  The anecdotes are becoming more the exception than the rule (just look at the chart data).  And inventory is growing even in Los Angeles:

Inventory is now back to where it was in 2014 and this is largely due to sales volume being weak: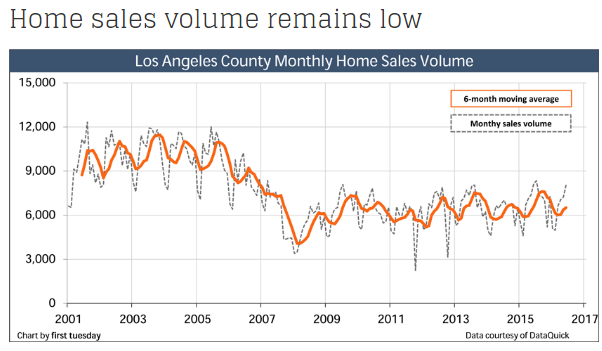 It does look like we are facing an interim peak and as we discussed in the market cycles article, things shift very slowly in real estate.  But of course, this is the cycle to end all cycles and this time is different.

Did You Enjoy The Post? Subscribe to Dr. Housing Bubble's Blog to get updated housing commentary, analysis, and information.